US President Donald Trump's point men on the Israeli-Palestinian peace process, Jared Kushner and Jason Greenblatt, will travel to Israel, Saudi Arabia and Egypt next week, Israel's Channel 10 reported Tuesday.
06/12/2018
A White House spokeswoman said a statement would soon be issued on the visit, which reportedly may be expanded to include other Washington allies in the Middle East.
Soon after coming to office Trump tapped Kushner, his son-in-law and Greenblatt, an attorney, to map out a path to reviving Israeli-Palestinian peace negotiations.
The upcoming talks will focus on the expected unveiling of their proposals within the next two months, as well as the dire humanitarian situation in the Gaza strip.
"So far no one has a clear plan for how to solve the crisis in Gaza and we want to discuss that with the Israelis and the other countries in the region," an unnamed US official was quoted as saying by the channel.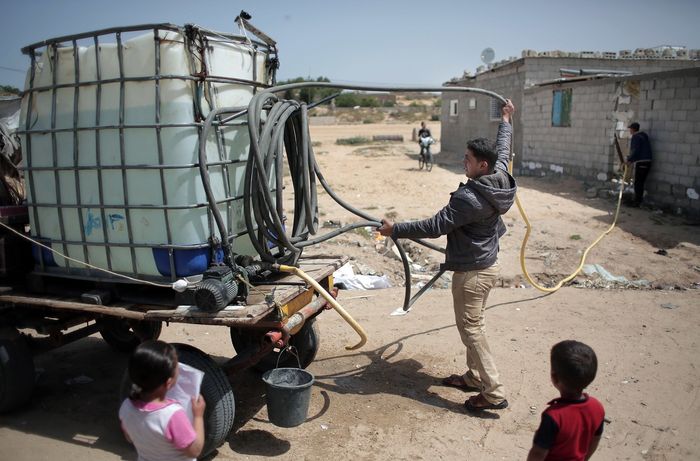 In this Saturday, April 16, 2016 photo, A Palestinian man sells drinking water in Khan Younis refugee camp, southern Gaza Strip.
AP Photo/Khalil Hamra
Gaza has labored for years under acute water and electricity shortages, struggling waste management system, Israeli and Egyptian economic blockades and sky-high unemployment.
The United Nations has warned the Hamas-run enclave is on the cusp of an explosion if action is not taken to address the crisis.
The same official quoted by Channel 10 said the two envoys also want to conduct more soundings in the region about aspects of the White House's peace proposal, adding that there is no confirmed date for revealing it.
The Palestinian leadership cut off contact with the White House after Trump decided last year to recognize Jerusalem as Israel's capital and to move the US embassy to the holy city from Tel Aviv.
The eastern parts of Jerusalem are claimed by the Palestinians as the capital of their hoped-for future state and the issue is expected to be a thorny one in Trump's plan.
Neither White House official will meet Palestinian representatives during the trip, according to the official cited in the report.
Last week Grenblatt called on Palestinians to oust their chief negotiator, Saeb Erekat, who responded that the American was a mouthpiece for Israel.
On Monday the New Yorker magazine published an expose on the deterioration of ties between the Palestinians and the Trump White House, including frequent rows between Erekat and Kushner.