11/07/2016
Two years after he was almost assassinated at event calling for right to pray at Judaism's holiest site, Yehuda Glick is now a Likud MK, and his cause has entered the halls of power
On Monday, the Temple Mount activists ascended to the Knesset. They came by the dozens to attend the Dorshei Zion organization's annual conference, which coincides with the anniversary of a visit by the Jewish sage Maimonides to the holy site 851 years ago. And they came to celebrate the recovery of former activist Yehuda Glick, who was shot four times by a Palestinian terrorist outside the organization's convention in Jerusalem two years ago to the day, according to the Hebrew calendar.
Monday's conference was the first to be held in Israel's parliament and was organized in coordination with Glick, now an energetic Likud MK, who has arguably done more than anybody else of late to inject the subject of Jewish prayer rights at the volatile, sacred compound into public discourse.
Once a fringe issue, Temple Mount activism has in recent years become increasingly mainstream in Israeli Orthodox circles, even as Palestinians attributed the year-long wave of terror attacks to their public's anger at ostensible imminent changes by Israel to arrangements on the holy site, which Israel firmly denies planning.
The growing popularity of the movement appeared to be corroborated by the location of Monday's conference, in the heart of Israel's political realm, and the appeals issued by ministers from the governing Likud and right-wing Jewish Home parties for greater access to the site. Knesset Speaker Yuli Edelstein and Glick also used the event to announce the launch of a new Temple Mount lobby in the Knesset.
The at-times quirky, at-times emotive event also featured a history lesson from a self-proclaimed "Quranic Zionist" sheikh and awards given to Israel's public security minister, to the mother of 13-year-old terror victim Hallel Ariel, who was stabbed to death in her bed in June, and to a young activist who was recently detained by police — after attempting to carry out a ritual Passover sacrifice on the Mount.
'Open the gates'
Formerly a frequent visitor to the compound, before a year-long ban on lawmakers visiting the site was implemented, Agriculture Minister Uri Ariel (Jewish Home) used his address at the Monday gathering to implore Prime Minister Benjamin Netanyahu to "open the gates" to the Temple Mount for Jewish worshipers where, under the status quo agreement with its Jordanian custodians, non-Muslims may visit but may not pray.
"Open the gates to the Temple Mount," urged Ariel. "End the disgrace, end the wretchedness, end the lack of sovereignty."
The Jewish Home minister also touched on the ongoing ban preventing him and the other legislators from visiting the site, telling audience members he was "jealous" of them.
"Unfortunately, the prime minister's advisers and he himself are preventing it, unjustly, wrongly," he added.
Ariel, who was filmed reciting a prayer on the Mount last October, was preceded on the stage by his fellow party member, Deputy Defense Minister Eli Ben Dahan, who also called for the government to change the status quo. In his previous position as deputy minister of religious affairs, Ben Dahan prepared regulations on Jewish prayer at the site, he said. "The government of Israel must adopt the regulations as soon as possible," he declared.
In her remarks, Deputy Foreign Minister Tzipi Hotovely (Likud) said Israel's Foreign Ministry would begin gifting foreign dignitaries with archaeological finds from the nearby City of David, in the wake of the recent UNESCO resolutions that ignored Jewish ties to the holy site, and in the run-up to the 50th anniversary of the Six Day War in which Israel captured the Old City and the Temple Mount.
"I urge everyone who has not ascended to the Temple Mount to visit the Temple Mount," said Hotovely.
Her fellow Likud MKs — including Edelstein, Jerusalem Minister Ze'ev Elkin, and Public Security Minister Gilad Erdan — were more tempered in their support, lavishing praise on Glick and supporting Jewish prayer at the site, but stopping short of endorsing a change to the status quo.
Accepting an award from the organization for his efforts to improve the situation at the contested site, Erdan said the issue was "very, very complicated, and very explosive."
Distinguishing between his personal views on the subject and his professional responsibilities, Erdan said, "In my personal view, our right to the Temple Mount is unshakable."
The minister, who oversees the police, added that the status quo "is discriminatory toward the Jewish people. What can you do? That's the truth."
Still, he emphasized that neither the police nor any single lawmaker can change the status quo, but only "the political leadership" — an apparent reference to Netanyahu — in coordination with Jordan and other countries, can.
Edelstein announced that he had signed up to a new lobby with Glick in the parliament to advance the issue of Temple Mount prayer.
Like many of the other speakers, Edelstein referred to the much-gabbed about UNESCO resolutions, calling them a "joke." "You can't argue with a joke," he said.
A Zionist sheikh, the mother of a terror victim
Sitting in the front row and flanked by his wife and right-wing MKs, Glick got up to shake the hands of each of the speakers. But the US-born Orthodox rabbi saved his warmest greeting — a bear hug — for Likud MK Amir Ohana, the party's sole openly gay lawmaker, who was Glick's volunteer bodyguard after the shooting.
The conference also saw a Zionist sheikh read passages from the Bible (to applause) and the Quran (less applause), arguing passionately in favor of Jewish ties to the Temple Mount.
Several activists received awards from the organization, including bereaved mother Rena Ariel, who was honored by the agriculture minister, a cousin by marriage. A composed and fervent Ariel, a founder of the "Women for the Temple" movement, accepted the recognition to a standing ovation, with a call for more visits to the site, particularly by children.
"I'm a little embarrassed that after 50 years, we need to beg to pray on the Temple Mount… We still have an opportunity to fix it, because this year is the year of Jerusalem in the education system — let's put the Temple Mount at the center, let's show the Temple Mount to the children and the families, and next year this conference will be on the Temple Mount," she said.
Also honored was activist Refael Morris, who runs the "Returning to the Mount" movement, and who was detained in April by police en route to the Temple Mount, live goat in tow, to prepare a ritual Passover sacrifice.
In his speech, Morris took an eyebrow-raising departure from the conciliatory tone adopted by most of the conference's speakers, who urged Jewish prayer alongside Christian and Muslim worship. He called for the building of a third Temple and razing the Muslim sites. "And we will also conquer Jordan and Syria," he added, and "build a real Jewish state here."
Times Of Israel
PM tells Italian president Israel was 'gravely disappointed' by Rome's abstention in UNESCO vote on Jerusalem, pleased by pledge it won't happen again
BY STUART WINER November 2, 2016, 9:08 pm
Prime Minister Benjamin Netanyahu on Wednesday told visiting Italian President Sergio Mattarella that Israel was "gravely disappointed" by Italy's abstention in a UNESCO vote last month that ignored Jewish and Christian links to the Temple Mount in Jerusalem, but was heartened to hear a subsequent pledge from Italy's prime minister that it would oppose such resolutions in the future.
He also told his guest that the conflict with the Palestinians was never about their desire for their own state, but rather about their wish to destroy the Jewish state, and he insisted that it was wrong to see West Bank settlements as the root of the problem. Palestinian Authority President Mahmoud Abbas, he asserted, won't recognize a Jewish state "in any borders."
"This conflict is not and never was about a Palestinian state, which successive Israeli governments, including this prime minister, have been willing to arrange — a demilitarized Palestinian state that recognizes the Jewish state," Netanyahu said, speaking at the start of a meeting with Mattarella at the Prime Minister's Office in Jerusalem. "It was and is about the Jewish state, and unless and until our Palestinian neighbors face this, confront these demons, give up the ghost of trying to destroy the Jewish state by this or that means, peace will be harder to achieve."
Noting that his guest had just met with the Abbas, Netanyahu charged that the PA leader "continues to refuse to accept a Jewish state in any boundaries, and this remains the core of the conflict — this persistent Palestinian refusal to accept a Jewish state in any configuration."
The prime minister declared that criticism of Jewish settlements in the West Bank, land that the Palestinians want for a future state, is misguided. "I think the focus that people (place) on settlements is wrong. (The conflict) preceded the settlements by half a century. And when we left Gaza and all the settlements (in 2005), they continued to fire rockets at us," he said.
Netanyahu said he had approached both "Hamas and President Abbas," and asked if they would recognize the Jewish state if the settlement issue is resolved. "And they won't, because the real settlement issue is the settlements of Tel Aviv, Jaffa, Haifa, Akko; the persistent refusal is to recognize a Jewish state in any borders," he said.
Netanyahu recalled having seen the Arch of Titus in Rome which depicts the spoils of war looted by the Roman army from Jerusalem after it destroyed the Second Temple in 70 AD.
"I raise this because we've just had an absurd decision of UNESCO that said that the Jewish people have no connection to the Temple Mount. Well, the Arch of Titus was built by Titus's brother, the Emperor Domitian. He wasn't a Zionist propagandist. And he obviously was depicting that long, thousands-year connection to the Temple Mount, to Jerusalem and to this country of the Jewish people."
Although Israel was disappointed by Italy's abstention from voting on the resolution, Netanyahu said he was encouraged by Italian Prime Minister Renzi's statement since then, vowing that Italy would change its voting position on future resolutions.
"UNESCO's attempt to erase Jewish history is an attempt to say that Jews really don't have any connection to our land. It's not only false, blatantly false, it also makes the achievement of peace harder," he said. "Denying our history is one of the means of denying the Jewish state. This is the bad news."
"Now, the good news. The good news, the incredible news, one that fills me with great hope, is that there is a dramatic change taking place in the Arab world, and that change is that many of the Arab countries see Israel no longer as their enemy, but as their ally, even their vital ally, in fighting against Islamist terrorism, militant Islam, either led by Iran or led by Da'esh," Netanyahu said, using the Hebrew acronym for the Islamic State group.
Times Of Israel
 07/12/2016
Al Arabiya: PM Benjamin Netanyahu tells Egyptian FM he would participate in Cairo summit with Egyptian President Abdel-Fattah el-Sissi and PA President Mahmoud Abbas • Summit would be part of regional effort to renew Israeli-Palestinian peace process.
PA President Mahmoud Abbas and Prime Minister Benjamin Netanyahu shake hands during a 2010 meeting in Washington
Prime Minister Benjamin Netanyahu is interested in taking part in a regional summit that would be part of an effort to renew direct Israeli-Palestinian peace negotiations, a number of Israeli cabinet ministers believe. By doing so, the line of thinking goes, the prime minister hopes to thwart any potential international initiative or diplomatic move by U.S. President Barack Obama in the coming months.
The ministers based their assessments on a number of recent developments, including the Israel-Turkey reconciliation agreement, the Egyptian foreign minister's visit to Israel and the approval of Arab construction in Jerusalem.
Meanwhile, Al Arabiya reported on Monday that Netanyahu told Egyptian Foreign Minister Sameh Shoukry that he would be willing to participate in a summit in Cairo with Egyptian President Abdel-Fattah el-Sissi and Palestinian Authority President Mahmoud Abbas. According to the report, Shoukry's visits to Ramallah two weeks ago and Jerusalem on Sunday were meant to lay the groundwork for such a summit, with the goal being to hold it in the near future.
In response to the Al Arabiya report, Netanyahu's office released a statement, saying, "Whether this matter was discussed or not, Israel always says that it's ready for unconditional, direct and bilateral negotiations."
At this point, Netanyahu is trying to establish an Israeli-Palestinian peace track backed by moderate Arab states (i.e. Egypt, Jordan and Saudi Arabia). This mission, however, faces two main obstacles. First, Israeli officials say Abbas is hesitant to return to the negotiating table. And second, Netanyahu is insisting the negotiations be held without preconditions (Habayit Hayehudi leader Naftali Bennett and Yisrael Beytenu leader Avigdor Lieberman will not oppose the negotiations as long as there are no preconditions). But the Palestinian Authority is asking whether the backing of Egypt, Jordan and Saudi Arabia for unconditional negotiations means those countries have given up on the PA's demand that a future Palestinian state be based on the pre-1967 borders.
At a Likud faction meeting on Monday, Netanyahu said, "I spoke with Shoukry about an array of issues of paramount importance to Israel, as well as other regional issues, such as the promotion of peace and stability, including peace between us and the Palestinians and other countries. I think that cooperation with Egypt is a security and international asset for Israel."
Also on Monday, Netanyahu met in Jerusalem with former British Prime Minister Tony Blair. A statement released by Netanyahu's office said the two discussed "the future of peace and security in the region." Netanyahu's diplomatic envoy, attorney Isaac Molho, attended the meeting.
Knesset Foreign Affairs and Defense Committee Chairman Avi Dichter (Likud) said on Monday, "The Islamic State group is causing trouble for Egypt in Sinai, and therefore Israel and Egypt both have an interest in eradicating terrorism."
The Bloomberg news agency quoted an unnamed former senior Israeli official on Monday as saying that Israel has conducted numerous drone strikes on terrorists in Sinai in recent years with Egypt's approval. The report did not include comments by any current Israeli or Egyptian officials on the matter.
israel Hayom
06/07/2016
Ahead of Putin meeting, Netanyahu says Tehran cannot be allowed to use Hezbollah as a proxy to attack Jewish state
Israel will not let Iran use the Hezbollah terror group to turn the Syrian side of the Golan Heights border into a new front, Prime Minister Benjamin Netanyahu told Russian media outlets in comments published Tuesday.
Netanyahu, who is on a two-day visit to Moscow, told the state-run Interfax news service and TASS news agency ahead of the talks that he would do everything in his power to prevent Iran from gaining a foothold in Syria, and intended to ask Russia for help in curbing the threat from Hezbollah.
"We have a red line, a boundary that we will not allow to be broken. Iran will not be allowed, using Hezbollah, to use Syrian territory to attack us and open up another terrorist front against us in the Golan," Netanyahu told TASS ahead of a meeting with Putin on Tuesday afternoon — their fourth round of talks in recent months.
The two leaders were expected to continue their ongoing discussion over security coordination between the Russian and the Israeli armies, especially their so-called deconflicting mechanism, installed to assure the Israel Defense Forces does not strike Russian jets operating in Syrian airspace.
"We have made a point of staying out of the Syrian conflict, with two exceptions: treating wounded Syrians on a humanitarian basis and preventing Iran from using Syria to attack Israel or to transfer sophisticated weapons to Hezbollah," Netanyhau noted. "We don't know what will come of Syria, but in any arrangement, it cannot be an Iranian base for terrorism and aggression," he told Interfax.
"Israel will continue to share its concerns with the Russian government regarding Hezbollah. This terrorist group has called for the murder of every Jew and therefore must be prevented from acquiring advanced weaponry from anyone. Hezbollah launched thousands of missiles at our civilians and we will not allow them to amass even more sophisticated weaponry on our border."
Netanyahu and Putin were also to mark 25 years of Israeli-Russian diplomatic relations, which were reestablished in January 1992, 25 years after the Soviet Union severed them in the wake of the 1967 Six Day War.
"Russia is an important global power and Israel is an important regional power. President Putin and I understand the value of the ties between our two countries, which have steadily improved over the last quarter of a century. Our relationship has enhanced Russia-Israel cooperation and I expect that this trip will only add to that," Netanyahu told the Russian media.
"Our coordination mechanism has already proven itself. We would both benefit from strengthening it further."
During Netanyahu's visit, Jerusalem and Moscow were also to sign a bilateral pensions agreement, which seeks to "correct a historic injustice regarding emigres from the former USSR up to 1992 who lost their eligibility for a Russian pension," the Prime Minister's Office said in a statement Sunday.
The agreement, which will only take effect after Russian authorities ratify it, was to be signed by former immigration and absorption minister Ze'ev Elkin and Russian Labor and Social Protection Minister Maxim Topilin. Payments to Soviet-born Israelis are expected to commence next year.
Tuesday's meeting in the Kremlin is the fourth contact between the two leaders in less than a year. Netanyahu visited the Russian capital in September 2015 and in April 2016. In addition, the two briefly got together last November on the sidelines of the Paris climate conference. In comparison, in the same time frame, Netanyahu has only met twice with US President Barack Obama.
06/06/2016
Dr. Anwar Eshki, the senior Saudi official who regularly meets with Israelis, states in exclusive Yedioth Achronoth interview that there was never a better time for a peace deal, if only PM Netanyahu would announce his support of the Arab peace intiative in front of the UN.
"I want to tell you a story showing how we Saudis like to describe reality: a man is walking alone in the desert as the sun is setting. Suddenly he sees a large shadow behind him. The man seizes up. The shadow approaches him menacingly. The man pulls out a gun, turns around quickly and is set to open fire. Then, at the last moment, he recognizes that it's his brother's shadow. Now, imagine what would have happened if that frightened man walking alone in the desert had opened fire and shot, of course out of self-defense and killed his brother. Because of fear, suspicion. It would have ended in disaster."
Dr. Anwar Eshki, a senior Saudi official in contact with Israelis whose identities he prefers not to disclose, and who has met the Director-General of the Israeli Foreign Ministry, Dr. Dore Gold in conferences abroad, told me the shadow represents Israeli suspicion, the walk in the wilderness symbolizes the growing Israeli isolation, as well as his concern that Israel is about to miss a unique historic opportunity.
"I assure you, from personal knowledge, that there is now a real opportunity for peace," he said in an exclusive interview with Yedioth Ahronoth. "Everyone around wants to reach an agreement. I can tell you that in the era of the former Saudi king, Abdullah, who formulated and published the Arab Peace Initiative, which was adopted by all the countries in the Arab world, there was no chance of reaching a comprehensive and true peace. Today, in the era of King Salman, it is possible. The circumstances have changed. The prospects and opportunities have improved immeasurably."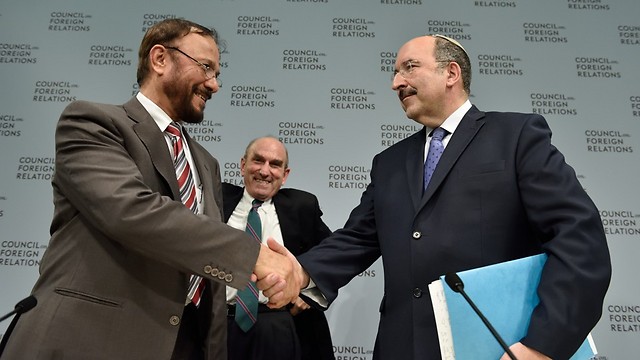 Dr. Anwar Eshki with Director-General of Israeli Foreign Ministry Dore Gold (Photo: Kaveh Sardari / Council on Foreign Relations)
The interview with Dr. Eshki was held in the lobby of the luxurious Sheraton hotel in Doha, Qatar. It was not a coincidence that we met precisely in the lobby, for all to see. "I refuse all suggestions that I hold meetings behind closed doors," said Eshki , Director of the Middle East Center for Strategic and Legal Studies in Jeddah. "I have nothing to hide. What I have to say I say directly, openly, without secrets and not behind the scenes."
On Wednesday morning, after Prime Minister Benjamin Netanyahu and Defense Minister Avigdor Lieberman announced their support of the Saudi plan – albeit cautiously and reluctantly – Dr. Eshki swang between "good step" and "the right move." No more. "This is the first step, even if it was not taken the way I would have wished it would have been. Netanyahu should announce from the UN podium in New York that he accepts and adopts the 2002 peace initiative of the Saudi king, which offers Israel a full peace and full normalization with the Arab world control in return for a full withdrawal from the occupied territories. The Saudi initiative solves your conflict with the Palestinians."
Over 14 years of upheaval and dramatic changes in the Middle East have passed since the initiative was placed on the table. Syria is almost nonexistent. A wave of revolutions and violence has swept the region. Leaders have come and gone.
"Even the leadership of Saudi Arabia has changed, and the new government is signaling to you that he is determined to achieve peace. We have common interests and we can easily designate common enemies."
Did you pass the Saudi request on to Israel that Netanyahu should announce his support for the Saudi peace plan?
"It was passed on to your people two years ago."
What answer did you receive from Jerusalem?
"More than once I was told that Netanyahu promises to declare that the Saudi peace initiative is the best solution to establish peace."
But he did not announce it at the UN.
"Therefore Israel isolated itself. They have imposed a boycott on you, they have distanced themselves from you and are engaged in a struggle against you via BDS, as Israel did not keep up promises to make peace. As a result, Israel is now in bad shape."
Suppose Netanyahu announced his support for the Saudi peace plan on the international stage. What would happen?
"Saudi Arabia will commence a procedure the goal of which will be to encourage Arab countries to begin implementing normalization with Israel, which will reflect positively on your relationship with Egypt, Jordan and other countries."
You did not mention normalization with Saudi Arabia itself.
"Egypt recently returned two islands to Saudi Arabia (Tiran and Sanafir). We plan to build the King Salman bridge, which will link Africa to Asia and will be used for the transit of passengers, vehicles and goods. On Tiran Island, which stretches over 80 square kilometers, a free trade zone is being built exempt from taxes and duties. If Israel goes along with the diplomatic process and adopts the Arab peace plan, we shall invite Israel to present goods and sell what you have to offer on the island of Tiran. Such a move will have huge economic returns for you."
How long will it take for the bridge to be built?
"It will take five years, but when Netanyahu makes the announcement, if he does, you will see officials from Saudi Arabia and Israel sitting down together. Unlike in the past, you will be surprised at how active Saudi Arabia will become."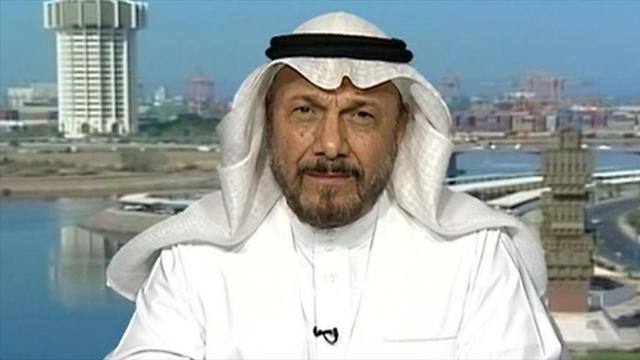 Dr. Anwar Eshki (Photo: Hispan TV)
Do you really believe the current Israeli government would agree to a full withdrawal from the West Bank?
"After Netanyahu's statement (that "the Arab peace initiative includes positive elements") it is possible to engage in a dialogue on the disputed issues and to reach agreements satisfactory to all parties."
But it is not certain that the Israeli government is willing to pay the price of peace.
"If peace is not achieved during Netanyahu's tenure, I'm telling you that peace will not be achieved at all. You and we will miss out on the opportunity, as this opportunity will not return."
In a Bookstore, on the road from Cairo
Eshki, a young-looking 73-year-old, was born in Medina in Saudi Arabia. Bookstore, via Cairo. He is a retired general in the Saudi military, a graduate of the Military College in Riyadh, has a master's degree in strategic studies and a doctorate in law from Golden Gate Bridge University in California, and has written 30 books on security issues and the Middle East so far. From 1985 to 2002 he served as Prince Bandar bin Sultan's special adviser and as the Saudi ambassador in Washington. This is how he paved his way to conferences, lectures, international conferences and high-level meetings. But he started "conversing", as he calls it, with the Israelis, only after the previous king revealed his peace plan.
How did your dialogue with Israelis begin?
"When I was still in the US, in 1982, I was already thinking about the peace process. I knew that we had to reach a peaceful solution. In the US I met Jews who thought like me, and after I returned to Saudi Arabia I started to attend conferences attended by Israelis. At first no contact was established, but I understood that an effort had to be made, and then, at the end of 2002, King Abdullah unveiled his peace plan and found to my delight that it coincided with my worldview. I was very encouraged during my first meetings with Israelis and Palestinians as well. I discovered that both sides fear their extremists who seek a violent solution.
"If at first I was cautious and reserved, the more meetings we had, the clearer it became to me that we had things to talk about. I meet Israelis with ties to the government. We meet at conferences and I hear what they have to say and I present the Saudi position. If I hear new ideas during these discussion, I pass them on to the necessary persons, and in this regard I must say that the Israelis have never lied to me. Trust has built up between us even if we do not always agree."
Are you a messenger? A mediator?
"I have conversations and they know where I come from. My government has not asked me to negotiate, and the Israeli side opposite me has not received that mission either."
As far as is known, only two people in Saudi Arabia meet openly with Israelis. One is Prince Turki al-Faisal, the former head of military intelligence and the Saudi ambassador in London, and the other is Dr. Eshki. About a year ago, Eshki met his veteran interlocutor Dr. Dore Gold at the Council on Foreign Relations in Washington, and they both shook hands in front of the cameras, revealing their relationship.
"I'll tell you a story: A month ago I was in Egypt, and I stopped on the road between Cairo and Alexandria to freshen up, and entered a bookstore and found Dore Gold's book about Saudi Arabia ("Hatred's Kingdom: How Saudi Arabia Supports the New Global Terrorism published in 2003, which deals with Saudi Arabia's financial and ideological support of organizations – SP.). This book presents the Saudis in a very negative light. But I can say that as a result of talks with Gold, and what he has heard and learnt from the Saudi side, he stopped attacking and criticizing us. I think he, and others in Israel, have stopped considering Saudi Arabia as an enemy. Some of my Israeli interlocutors even consider us as friends."
Do you have to get approval from the Saudi authorities before you meet Israelis?
"I do not as I am not a government official and do not serve in an official capacity. I run an academic research center and therefore, at my request, my meetings are always open to all. As long as I am convinced that the meetings are positive and constructive , I will continue. If I was acting in an official capacity, this would not have occurred. I would have to ask permission to meet with Israelis. Overall, I see myself as serving the interests of my country. "
After so many conversations with his associates, don't you want to meet with Netanyahu himself?
"I think it wouldn't be helpful. I would have to ask permission to meet with him, and this will make the process official. I would hate to lose what we have achieved so far.
"I reiterate: I consider all of my meetings with Israelis to have been "private conversations" and not "binding". I have followed King Abdulaziz Salman's policy according to which every Saudi citizen has to be his country's ambassador who acts to achieve its interests in every domain."
Green light from the palace
We met the day after Avigdor Lieberman's being sworn in as Defense Minister. I asked Eshki if he was worried about the appointment.
"Put it this way: I am sorry about Ya'alon and the way he was dismissed. He came across to me as a sober military man and a restraining and balancing force. In Saudi Arabia's eyes, Ya'alon knew how to connect security and government policy. But Lieberman's appointment does not really worry me nor Saudi decision-makers. We know Lieberman's worldview and I myself have written memorandums on him.
"I explained that his entry into the government has a positive and a negative side. The negative side: Netanyahu's ability to maneuver politically will be limited as Lieberman might threaten to leave the government if something doesn't please him. If Herzog had joined the government, it would have given Netanyahu flexibility in making decisions. He would have more room to maneuver. The positive side: if Lieberman agrees (to the peace plan – SP), the extremists in Israel will go along with him and will agree to it. They will not stand in Netanyahu's way. They always explain to us that Lieberman is tough outside and soft inside. That he is moderate in direct dialogue, but flexes his muscles in public so as not to lose his supporters. It may be that he will oppose it, but it is Netanyahu who decides and I meet with Dr. Dore Gold, and I know that Netanyahu trusts him. I do not believe that the Israeli government will fall due to supporting the peace plan. 75 percent of Israelis want peace and they will make sure that this government will not fall.
So you will wait patiently until the UN General Assembly which convenes in September?
"If Netanyahu is prepared to support the Arab peace initiative and to get the process started, we will convene a special session of the United Nations or the Security Council in New York. I know that Israel has reservations about the peace plan. We've already received comments and requests for ammendments. Some of them can be solved."
Are you referring to Israel's reservations regarding the border demarcation, the status and fate of the settlement blocs, the Palestinian's right of return and the status of Jerusalem?
"These are the primarily issues. And as with compared with the Saudi position of the previous king (who demanded Israel accept the plan as is – SP), today we can have meetings and deliberations to consider your requests."
All in all, you are optimistic about the political process?
"I have to be optimistic as peace is a strategic objective for Saudi Arabia. And I'm optimistic as all the parties are not content with the status quo. There is no quiet. There is no total security. There is a feeling of sourness and vigilance. When peace is achieved, it will lead to social and economic benefits for the Palestinian side, and Israel will no longer be isolated."
Until this occurs, Dr. Eshski travels around the world and adjusts his flight schedule, as necessary, to coincide with that of the Israelis who come to conferences in which they all try to bring together ideas that will yield peace.
YNet
06/03/2016
Channel 2: PM spoke to secretary on eve of Friday's Paris summit; conversation helped yield a mild concluding statement in French capital
In a telephone conversation with Secretary of State John Kerry on Thursday, Prime Minister Benjamin Netanyahu "said yes" to new efforts led by Egypt and Saudi Arabia for regional progress toward peace, an Israeli television report said.
The call was made on the eve of Friday's Paris peace summit, and was a factor in the summit's vague concluding communique, which Kerry helped negotiate, and which did not set a firm date for the international peace conference Paris wants to host by the year's end, the Channel 2 report said.
Netanyahu also telephoned France's Foreign Minister Jean-Marc Ayrault hours after the summit ended, and told him that France and its allies would best advance peace prospects if, rather than pushing their own initiative, they pressed Palestinian Authority President Mahmoud Abbas into resuming direct talks with Israel, a source close to the prime minister said. Netanyahu also told Ayrault that France's bid to host an international conference could wind up complicating regional efforts that might actually have a chance of making progress, the source said.
Dore Gold, the director general of the Foreign Ministry, told The Times of Israel earlier this week that Israel was hopeful that improved ties with Arab states would ultimately yield Arab pressure on the Palestinians for substantive progress.
"The conventional wisdom for the last few decades has been that a solution to the Palestinian issues will result in improved ties between Israel and the Arab world," Gold told The Times of Israel on Wednesday. "But there is a serious basis for thinking that, actually, the sequence is exactly the opposite — that by improving ties with the Arab states, we set the stage for a future breakthrough with the Palestinians."
Gold has recently met with several officials from Arab countries, including those with which Israel has no formal ties.
In the days leading up to Friday's summit, Netanyahu and other Israeli officials held behind-the-scenes contacts with various international figures, to try and ensure that the summit did not end with an effort to impose terms discomfiting for Israel, the Channel 2 report said. The final statement was indeed relatively vague.
Furthermore, Britain, Russia and Germany did not send their foreign ministers to the meeting, and were represented instead by lower-level officials. Kerry did attend, but did not make any dramatic comments to reporters at the event, merely speaking before the ministers met of the "need to know where it's going."
The Saudi foreign minister, Adel al-Jubeir, who did fly to Paris,used the event to stress that the 2002 Arab Peace Initiative is "still on the table," and said it was the best way to reach a solution to the decades-long Israeli-Arab conflict.
"The initiative has all the elements needed for a final resolution," al-Jubeir told reporters, adding that it could not be "diluted" and that he hoped "Israel will wise-up" to the opportunity it constitutes.
Responding to a question in Arabic, al-Jubeir said that the API, first drafted by Riyadh in 2002 and subsequently backed by the Arab League, has not been and would not be amended. Israel has raised objections to elements of the initiative, which calls for an Israeli withdrawal from all territories captured in the 1967 Six Day War and an agreed resolution to the issue of Palestinian refugees, in return for normalized relations with the Arab world.
"The Arab Peace Initiative does not need changing or adjusting, it is on the table as is," al-Jubeir said, repeating that the essence of the plan is Israel's return to the "1967 lines" and the establishment of East Jerusalem as the capital of a future Palestinian state.
Netanyahu on Monday partially endorsed the initiative, offering to negotiate with the Arab world the parameters of the plan.
"I take this opportunity to make clear that I remain committed to making peace with the Palestinians and with all our neighbors. The Arab Peace Initiative contains positive elements that could help revive constructive negotiations with the Palestinians," Netanyahu declared in the Knesset.
"We are willing to negotiate with the Arab states revisions to that initiative so that it reflects the dramatic changes in our region since 2002, but maintains the agreed goal of two states for two peoples," Netanyahu said, making his statement first in Hebrew and then repeating it in English.
Egypt's President Abdel-Fattah el-Sissi said last month that there was a "real opportunity" for Israeli-Palestinian peace, and pledged all Egyptian assistance to realize it.
The Times of Israel
06/03/2016
Netanyahu likely to approach Putin about presenting a united front in the event of French-brokered talks, political source claims.
Prime Minister Binyamin Netanyahu is traveling to Moscow next week – possibly to realign Israel's alliances with Russia after the Paris peace talk conference, a top political source claimed late Thursday.
"There's a possibility that Binyamin Netanyahu will try to harness Russian President Vladimir Putin for the peace process," the source stated to Maariv.
Whether or not Netanyahu will approach Putin over the issue will depend on the final outcome of Friday's Paris conference, the source said.
Either way, "obviously, the Palestinian issue and developments in the Middle East will be raised in conversation, as well as the war in Syria and of course economic cooperation between the two countries."
Netanyahu will make the visit Monday in honor of 25 years of the resumption of diplomatic talks between Moscow and Jerusalem.
Kremlin spokesman Dmitry Paskov said that Netanyahu and Putin will discuss – among other things – the continued implementation of border security coordination with Syria and a number of economic issues.
The spokesman did not address the question of whether they will discuss the French initiative and broach the subject of Russia's position regarding the peace process between Israel and the Palestinians.
Netanyahu himself continues to resist the entire idea of the conference on the grounds that it allows the Palestinians to avoid direct negotiations with Israel.
Russia, along with Britain, are not attending the conference.
Such a move would reflect Jerusalem's budding alliance with Moscow, days after Putin returned a tank to Israel after Netanyahu made the request to Putin during their meeting in the Kremlin earlier this year. During the same meeting, the two reached an agreement to coordinate their actions in Syria.
Netanyahu appears to be reaching out to eastern countries – not only Russia, but also China, Japan, and India – in light of Europe's insistence on supporting sanctions against Israel and on backing the Palestinian Authority (PA), as well as the US's bumbling foreign policy in the Middle East during the administration of US President Barack Obama.
Israel National News
06/02/2016
It seems that the Israeli prime minister speaks to Arab leaders as often as once a week
Prime Minister Benjamin Netanyahu has, for the first time, openly and very casually, revealed that Israel and many Arab leaders have open and ongoing dialogue.
That's revolutionary.
At a May 10th press conference, the Israeli prime minister clearly stated: "The initiative that I'm referring to are regional initiatives—meaning, aided by the Arab countries in the region to reach a real deal with the Palestinians."
In other words, Netanyahu is clearly saying that he had spoken to not one or two, but several Middle East leaders preceding the press conference. And by extension, he will continue his dialogues with these leaders in the very near future.
Knowing that there are ongoing discussions between Israel and the leaders of Arab and Muslim states in the region is a very big deal. And not just any leaders. According to Israeli intelligence sources, Netanyahu was referring to the Saudi crown prince, who doubles as the defense minister of Saudi Arabia.  He was referencing the leader of the United Arab Emirates, the President of Egypt and the King of Jordan. He was talking about talking to them about multiple topics, not only about efforts to creating a solution with the Palestinians. Conversations like those signal a new approach to problem solving and portend well for successful conclusions to conflicts and crises.
It seems that the Israeli prime minister speaks to Arab leaders as often as once a week. That's about as often as most adults speak to their parents—and probably more often than their own young adult children speak to them.
As the circle of Israeli dialogue with Arab and Muslim world widens, it becomes even more impressive. These leaders, who posture and play act before their citizen constituencies as mortal and eternal enemies, are instead, behind-the-scenes dealing with real issues and problem solving by sharing ideas and Intel.
The Israeli prime minister also regularly, but less frequently, speaks to the presidents of Ethiopia and Kenya. And now, because of a thawing in relations with Turkey, Netanyahu is also speaking regularly with President Recep Tayyip Erdogan.
For decades—and this has always been an open secret—Israel has held military discussions with countries in the region. That give-and-take began because Israel was securing good intelligence data and military exchanges with non-Arab states, such as Turkey and Iran during the reign of the Shah.  These states were extremely interested in having that information.  Those exchanges blossomed into relationships, as Israel began to help those Arab countries who wanted assistance solving internal problems with water shortages, irrigation and technology.
Finally, the path opened and evolved into real discussions about terror, radical religious groups, sharing intelligence and other issues—like the continual Palestinian crisis.
The exchange and dialogue between Saudi Arabia, Egypt, Jordan and Israel is impressive. That bond has upset the United States and Russia, which are wary of this new acquaintanceship and do not know how to deal with the discomfort. This new interaction has forced the United States out of the center of all things Middle Eastern, a position it long maintained.
Certainly, all the parties involved still need either the United States or Russia, or even both of them, but they have also made the decision to try and work out issues on a regional basis. Diplomatically speaking, that's the grown up thing to do.
Ironically, the impetus for the new status between Israel and these Arab countries was, get this, US-Iranian detente. President Barack Obama should either be patting himself on the back or hitting his head with his open hand.
Without exception, each and every country in the Middle East was so frustrated and angered by President Obama's obsession to cut a deal with Iran at any cost, that the leaders were forced to communicate with each other and find their own ways to secure their own futures. Old hostilities were put aside when faced with this new danger.  It was the result, albeit unintended, of poor US policy in the Middle East.
All of Bibi's counterparts agree Palestinian President Mahmoud Abbas is too weak to deliver a peace solution or to convince his people that peace with Israel will improve their lives.  But if the other leaders of the Arab world can sign off on a peace pact, that deal will likely secure a real and lasting new solution between Palestinians and Israelis.
Arab and Muslim leaders can force the Palestinians to do what the United States could never force them to do: strike a reasonable deal.
Observer