Moscow has placed the blame of the downing of the Russian reconnaissance plane last week on Israel, accusing it of using the IL-20 as cover to carry out the strikes on targets in Syria. Anna Ahronheim September 25, 2018 10:44 Russia has announced that it has radar data proving that Israeli jets hid behind the […]
National Security Advisor John Bolton urges Russia to reconsider plan to transfer advanced missiles to Syria. David Rosenberg, 24/09/18 20:57 John Bolton Reuters The US National Security Advisor said Tehran should be held responsible for last week's downing of a Russian military plane over Syria, and warned Monday that Russian plans to transfer advanced […]
11/10/2016
Syrian army warns Israel of "repercussions" if it attacks targets in Syria again.
The Syrian army on Wednesday warned Israel against attacking targets in Syria again, after Israeli forces attacked a Syrian military position in retaliation for a rocket from Syria hitting the Golan Heights.
The rocket was believed to be stray fire from fighting between the Syrian government forces and rebels.
In a statement quoted by the Syrian news agency SANA, the Syrian army said the Israeli attack destroyed one cannon and damaged another.
The statement warned Israeli against the repercussions of another such attack, and also reaffirmed its commitment to its fight against terrorist jihadist groups such as the Islamic State (ISIS) and the Al-Nusra Front, which it referred to as "Israel's tools".
The fighting in Syria has continuously spilled over to the Golan Heights, and the Israel Air Force has retaliated several times.
The Syrian army's claim that jihadist groups in Syria are Israeli proxies is not new. Syria's President, Bashar Al-Assad, recently claimed there is "no contradiction" between Israel and jihadist groups such as ISIS.
"Any terrorist who holds a machine gun and started killing and destroying in Syria was supported by Israel, either indirectly through the logistical support on the frontier, or sometimes by direct intervention by Israel against Syria in different areas in Syria," he said in an interview.
Two years ago, Assad's adviser claimed that Israel was sending fighters to help the rebels fighting to oust Assad.
11/07/2016
Two years after he was almost assassinated at event calling for right to pray at Judaism's holiest site, Yehuda Glick is now a Likud MK, and his cause has entered the halls of power
On Monday, the Temple Mount activists ascended to the Knesset. They came by the dozens to attend the Dorshei Zion organization's annual conference, which coincides with the anniversary of a visit by the Jewish sage Maimonides to the holy site 851 years ago. And they came to celebrate the recovery of former activist Yehuda Glick, who was shot four times by a Palestinian terrorist outside the organization's convention in Jerusalem two years ago to the day, according to the Hebrew calendar.
Monday's conference was the first to be held in Israel's parliament and was organized in coordination with Glick, now an energetic Likud MK, who has arguably done more than anybody else of late to inject the subject of Jewish prayer rights at the volatile, sacred compound into public discourse.
Once a fringe issue, Temple Mount activism has in recent years become increasingly mainstream in Israeli Orthodox circles, even as Palestinians attributed the year-long wave of terror attacks to their public's anger at ostensible imminent changes by Israel to arrangements on the holy site, which Israel firmly denies planning.
The growing popularity of the movement appeared to be corroborated by the location of Monday's conference, in the heart of Israel's political realm, and the appeals issued by ministers from the governing Likud and right-wing Jewish Home parties for greater access to the site. Knesset Speaker Yuli Edelstein and Glick also used the event to announce the launch of a new Temple Mount lobby in the Knesset.
The at-times quirky, at-times emotive event also featured a history lesson from a self-proclaimed "Quranic Zionist" sheikh and awards given to Israel's public security minister, to the mother of 13-year-old terror victim Hallel Ariel, who was stabbed to death in her bed in June, and to a young activist who was recently detained by police — after attempting to carry out a ritual Passover sacrifice on the Mount.
'Open the gates'
Formerly a frequent visitor to the compound, before a year-long ban on lawmakers visiting the site was implemented, Agriculture Minister Uri Ariel (Jewish Home) used his address at the Monday gathering to implore Prime Minister Benjamin Netanyahu to "open the gates" to the Temple Mount for Jewish worshipers where, under the status quo agreement with its Jordanian custodians, non-Muslims may visit but may not pray.
"Open the gates to the Temple Mount," urged Ariel. "End the disgrace, end the wretchedness, end the lack of sovereignty."
The Jewish Home minister also touched on the ongoing ban preventing him and the other legislators from visiting the site, telling audience members he was "jealous" of them.
"Unfortunately, the prime minister's advisers and he himself are preventing it, unjustly, wrongly," he added.
Ariel, who was filmed reciting a prayer on the Mount last October, was preceded on the stage by his fellow party member, Deputy Defense Minister Eli Ben Dahan, who also called for the government to change the status quo. In his previous position as deputy minister of religious affairs, Ben Dahan prepared regulations on Jewish prayer at the site, he said. "The government of Israel must adopt the regulations as soon as possible," he declared.
In her remarks, Deputy Foreign Minister Tzipi Hotovely (Likud) said Israel's Foreign Ministry would begin gifting foreign dignitaries with archaeological finds from the nearby City of David, in the wake of the recent UNESCO resolutions that ignored Jewish ties to the holy site, and in the run-up to the 50th anniversary of the Six Day War in which Israel captured the Old City and the Temple Mount.
"I urge everyone who has not ascended to the Temple Mount to visit the Temple Mount," said Hotovely.
Her fellow Likud MKs — including Edelstein, Jerusalem Minister Ze'ev Elkin, and Public Security Minister Gilad Erdan — were more tempered in their support, lavishing praise on Glick and supporting Jewish prayer at the site, but stopping short of endorsing a change to the status quo.
Accepting an award from the organization for his efforts to improve the situation at the contested site, Erdan said the issue was "very, very complicated, and very explosive."
Distinguishing between his personal views on the subject and his professional responsibilities, Erdan said, "In my personal view, our right to the Temple Mount is unshakable."
The minister, who oversees the police, added that the status quo "is discriminatory toward the Jewish people. What can you do? That's the truth."
Still, he emphasized that neither the police nor any single lawmaker can change the status quo, but only "the political leadership" — an apparent reference to Netanyahu — in coordination with Jordan and other countries, can.
Edelstein announced that he had signed up to a new lobby with Glick in the parliament to advance the issue of Temple Mount prayer.
Like many of the other speakers, Edelstein referred to the much-gabbed about UNESCO resolutions, calling them a "joke." "You can't argue with a joke," he said.
A Zionist sheikh, the mother of a terror victim
Sitting in the front row and flanked by his wife and right-wing MKs, Glick got up to shake the hands of each of the speakers. But the US-born Orthodox rabbi saved his warmest greeting — a bear hug — for Likud MK Amir Ohana, the party's sole openly gay lawmaker, who was Glick's volunteer bodyguard after the shooting.
The conference also saw a Zionist sheikh read passages from the Bible (to applause) and the Quran (less applause), arguing passionately in favor of Jewish ties to the Temple Mount.
Several activists received awards from the organization, including bereaved mother Rena Ariel, who was honored by the agriculture minister, a cousin by marriage. A composed and fervent Ariel, a founder of the "Women for the Temple" movement, accepted the recognition to a standing ovation, with a call for more visits to the site, particularly by children.
"I'm a little embarrassed that after 50 years, we need to beg to pray on the Temple Mount… We still have an opportunity to fix it, because this year is the year of Jerusalem in the education system — let's put the Temple Mount at the center, let's show the Temple Mount to the children and the families, and next year this conference will be on the Temple Mount," she said.
Also honored was activist Refael Morris, who runs the "Returning to the Mount" movement, and who was detained in April by police en route to the Temple Mount, live goat in tow, to prepare a ritual Passover sacrifice.
In his speech, Morris took an eyebrow-raising departure from the conciliatory tone adopted by most of the conference's speakers, who urged Jewish prayer alongside Christian and Muslim worship. He called for the building of a third Temple and razing the Muslim sites. "And we will also conquer Jordan and Syria," he added, and "build a real Jewish state here."
Times Of Israel
11/07/2016
Netanyahu's aides tell visiting envoy they expect Paris not to push processes in conflict with Israel's 'official position'
Israel will not participate in an international conference on the peace process hosted by France, Prime Minister Benjamin Netanyahu's top aides declared Monday.
The French government's special envoy to the Middle East peace process, Pierre Vimont, is visiting Israel and the Palestinian Authority this week to push Paris's plan to hold a conference in December.
He met Monday with acting National Security Adviser Yakov Nagel and Netanyahu confidant Isaac Molcho, who told him in "a unambiguous and unequivocal fashion" that real progress and a lasting peace agreement could only emerge through direct bilateral negotiations between Israel and the PA, the Prime Minister's Office said in a statement.
"Any other initiatives only distance the region from such a process," the statement continued. "It was explained to the French envoy that Israel will not participate in any international conference convened in opposition to its position."
The French initiative "greatly harms the possibilities for advancing the peace process," the statement said, arguing that it would allow PA President Mahmoud Abbas to avoid returning to direct bilateral negotiations without preconditions.
"Israel is certain and expects that France will not advance a conference or process contradicting the State of Israel's official position," it said.
Netanyahu on Monday morning was hosting his Fijian counterpart, Voreqe Bainimara, and did not meet with Vimont.
The French envoy, a soft-spoken veteran diplomat, was slated to meet with Abbas in Ramallah on Monday evening. He is to travel to the United States next week to take the outgoing administration's temperature on the planned Paris conference.
On Sunday, Vimont said that while he understands that Israel is opposed to the French initiative, it would send a positive signal if Netanyahu were to attend nonetheless.
"If at the end of the day, the Israeli government would decide to participate in the Paris conference, it will show genuine, sincere commitment to the two-state solution," he said at a conference in Tel Aviv, according to Haaretz.
The French are aware that it is currently impossible to get Israelis and Palestinians to negotiate in earnest, let alone reach a peace agreement, officials in Paris said. The proposed international conference is not intended to force either side into concessions or even to formulate a framework for a future agreement. Rather, one of its core goals is to get both parties, as well as regional and international actors, to restate clearly their commitment to the two-state solution.
"We are in no way trying to impose a solution on the two sides. It is about getting the international community involved again in the peace process," he said in Tel Aviv.
Times Of Israel
David Rosenberg, 07/11/16
Knesset committee heads to Russia to discuss Iranian threat, UNESCO fiasco.
Members of the Knesset's Foreign Affairs and Defense Committee left for Russia on Sunday to mark the 25th anniversary of renewed direct relations between Israel and the Russian government.
The delegation, headed by committee chair Avi Dichter (Likud), included MKs Robert Ilatov (Yisrael Beytenu), Aliza Lavie (Yesh Atid), and Eyal Ben-Reuven (Zionist Camp).
The MKs will meet with Russian President Vladimir Putin's Middle East envoy, Mikhail Bogdanov, Deputy Defense Minister Anatoly Antonov, and top Russian brass.
Dichter noted the warming relations between Israel and Russia, suggesting they offered a unique opportunity to gain support from Russia on issues ranging from the Iranian nuclear threat to anti-Israel incitement in the United Nations.
"A broader base for these relations will [make it easier] to present to the Russian leadership Israel`s position on anti-Israel stances in international institutions – such as UNESCO`s resolution regarding the Temple Mount, which to us is outrageous and unacceptable," said Dichter.
"My goal during this visit will be to promote more balanced and sensible positions related to Israel`s interests. Such positions may cause countries which look up to Russia to follow suit."
Specifically, Dichter said, he planned on "presenting the true intentions of Iran, which, de facto, operates as the leading terror state in the world, against Israel and other countries in the region."
The trip comes on the heels of a series of comments by senior Russian officials on Israel and the relationship between the two countries.
In October, Vladimir Putin gave a nod to Israeli anti-terror efforts during a speech at the Valdai International Discussion Club, suggesting the Jewish state was a good example of how Western nations ought to confront terrorism.
Last week, Russian Premier Dimtry Medvedev spoke with Israel's Channel 2, boasting of "warm, very good relations with Israel."
Medvedev is scheduled to visit Israel this Thursday.
However, according to Dr. Ely Carmon of the IDC's International Institute for Counter-Terrorism on Sunday, the incident does signal heightened terror threats facing Israel.
Details surrounding the incident are still hairy with the tone of both US and Jordanian officials implying that it was a deliberate attack. Yet, officials also say that the investigation is still ongoing and they have refrained from a formal public declaration about the motivation or identities of those who shot the US trainers.
The narrative provided to date by various Jordanian officials has also indicated the possibility of a spontaneous outbreak of tension between certain Jordanian and US military personnel over recent, heightened friction between the sides, with several Jordanians also hurt in the incident.
But assuming the incident was a terror attack, Carmon, who has also advised the Defense Ministry and participated in NATO workshops on terrorism, said the shooting still needed to be put into the greater picture of complex events impacting terror in Jordan, Israel and their neighbors.
He said that "US-Jordan cooperation is huge" and is a "key bridge to other states like Egypt, Saudi Arabia, Syria and Israel."
Carmon explained that "the US has an interest in a stable regime, Jordan needs assistance, including military and economic and the backing of a superpower."
For the US and Israel, Jordan is a firewall of stability against ISIS and other terror groups trying to spread their influence from Syria and Iraq.
He said ISIS, Hezbollah, Iran and other groups "are trying to get into Jordan and know it is important, but until now have had very limited success."
There has been some ISIS success in infiltrating the Beduin community in Jordan, noted Carmon, but mostly Jordan has stopped them and has recently arrested some Hezbollah-Iran cells.
The big concerns are that the last year or two have caused internal divisions within Jordan where the Muslim Brotherhood and even the broader population is not ready to fight a war with ISIS.
These seeping divisions, along with the 1.5 million Syrian and Iraqi refugees in Jordan with no horizon for an improved situation, is a combustible situation for ISIS and others to inspire "lone wolf" attackers, said Carmon.
He explained that the same threats that these terror groups pose to Jordan can also apply to Israel either by undermining Jordan as a bulwark of stability and a quiet border for Israel or by building more of a foundation for terrorists to sneak into Israel from Jordan.
However, the biggest threat that he said the attack highlighted is the escalating terror threat to Israel, Jordan and US advisers in the region after ISIS's expected fall in Mosul and other locations.
While these expected victories go a long way toward reducing ISIS's regional power, large numbers of ISIS's foreign fighters are expected to retreat, survive and pose a lower-grade but potent terror danger in the area in other ways, he said.
Israel could find itself tracking an influx of terrorists in Turkey and Jordan, but also closer to home in the Sinai, where ISIS can try to recruit Israeli-Arabs or Beduins from close range.
One interesting phenomenon he pointed out which may help Jordan push back against infiltration and terror by ISIS is the government's cooperation with other Jihadist groups, who it then co-opts to stand against ISIS.
Carmon gave Abu Muhammad al-Maqdisi, a central Salafist figure in Jordan and a former mentor of Abu Musab al-Zarqawi, and Abu Qatada, who was involved with terror groups including in England until being extradited to Jordan.
Both Jihadist leaders received some favorable treatment from Jordanian law enforcement in return for making "strong statements against ISIS," said Carmon. Their standing with the Jordanian government in turn can insulate it from criticism for fighting ISIS.
Overall, Carmon called the incident very embarrassing for Jordanian and US intelligence and counter-terror cooperation. He added that both sides hope the attack was carried out by a lone-wolf or the result of a misunderstanding, and want to resolve the matter quickly so as to stabilize cooperation.
In November 2015, a Jordanian army officer said to be inspired by ISIS killed two US private security contractors and a South African at a US-funded police training facility.
Many Jordanians oppose the government's close counter-terrorism cooperation with the US and Israel, including working with the US on airstrikes against ISIS, while receiving hundreds of millions of dollars in aid in return.
11/05/2016
Speaking with Israeli public radio, Nickolay Mladenov says that Gazans need jobs and hope more than the infrastructural projects mentioned by Israel's defense minister.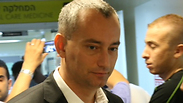 UN Middle East envoy Nikolay Mladenov said Saturday that residents of the Gaza strip need jobs and hope more than a harbor and airport, a reference to recent comments by Israel's defense minister.
In an October interview with Palestinian newspaper Al-Quds, Israel's Defense Minister Avigdor Lieberman said that another war with Palestinian militants in Gaza would lead to their complete destruction.
He suggested however that if Gaza's Hamas rulers ceased hostilities "we will be the first to invest in a port, an airport and industrial areas."
"Let's resolve the real problems that we have today. People live in desperate conditions in Gaza," he said.
"Yes, it's important to have an airport and a seaport in Gaza but I don't want us to be distracted by that from resolving the real issues that we face today."
The World Bank said in a September report that just 10.7 percent of the 11,000 houses that were totally destroyed in 2014 had so far been rebuilt and about 50 percent of partially and severely damaged houses are still awaiting repair.
The unemployment rate in the coastal territory is over 40 percent, with close to two thirds of young people out of work.
"People have lost hope," Mladenov said. "Life is gone and this is what makes Gaza more dangerous and more explosive."
But Mladenov added that he did not see Gaza and Israel heading for another war—for now.
"I think there's an understanding everywhere; in the international community, in Israel and in Gaza itself, that it is in nobody's interest right now to sleepwalk into another conflict," the envoy said.
Ynet
11/05/2016
Russian PM says his country never denied Israel's and Jews' right to Jerusalem, Temple Mount, Western Wall.
Russian Prime Minister Dmitry Medvedev spoke with Channel 2 about the Israel-Russia relationship.
During the interview Medvedev was asked about UNESCO's decision to deny history and claim Israel has no connection to the Western Wall and other holy places in Jerusalem.
"I think this subject has been blown out of proportion. UNESCO has made at least ten similar decisions, worded almost identically to this one. Our country never denied Israel's or the Jewish people's rights to Jerusalem, the Temple Mount, and the Western Wall. These are clear rights and it would be absurd to deny them. This decision is definitely not made to be anti-Israel and there's no reason to politicize it," Medvedev said.
He also noted Israel's positive relationship with Russia in many areas.
"We have a few central projects on the table. Pharmaceutics, agricultural technology, energy, and gas," he said.
However, Medvedev does not intend to cut his ties with Iran, Israel's greatest enemy.
"We have a warm relationship with Israel, a good relationship that I want to strengthen. At the same time, we have relations with other countries as well, including Iran. During the period of sanctions against Iran, I ordered Russia to stop selling missiles to Iran, and when the sanctions were lifted, I acted accordingly," Medvedev explained.
Medvedev was also asked to send a message to Russian expats in Israel.
"Israel is truly a special country for us. Many emigrants know the Russian language and mentality, and that allows us to communicate more actively. That has a lot of value. I'm counting on that, and hoping it will bear fruit," Medvedev concluded.
Israel National News
The Admiral Kuznetsov was deployed by Moscow to the Syrian coast on October 15, leading a naval task force that included the Pyotr Veliky battlecruiser along with the Severomorsk and Vice-Admiral Kulakov anti-submarine warfare destroyers.
The Kuznetsov, touted by Russia as a symbol of power, has 15 aircraft on board, including Su-33 air defense fighters, Su-25UTG ground attack aircraft, MiG-29KUB two-seater multi-role fighters as well as Ka-52K attack helicopters.
Russia's Defense Ministry said in a statement that "the goal of the campaign is to ensure a naval presence in operationally important areas of the oceans."
(Netanyahu says Russia has "variegated interests" to cooperate with Israel)
The growing Russian presence in the eastern Mediterranean sea, with an aircraft carrier capable of detecting many, if not all, Israeli military activities, coupled with the advanced S-300 and S-400 air-defense batteries it has already deployed to Syria, is a cause of concern to many.
A US Defense Official quoted by the Washington Post said Washington was "very concerned" about the deployment of the S-300s, adding that "we're not sure if any of our aircraft can defeat the S-300." And that is a concern shared by Jerusalem, as Russia has not only deployed the S-300 to Syria, but also to it's foe, Iran.
As an ally of Syrian President Bashar Assad, Moscow finds itself part of an alliance between Damascus and Tehran.
Ofer Fridman, visiting research fellow, at the Department of War Studies at King's College in London told The Jerusalem Post that "there are two different games on two different levels that the Kremlin plays in the region. The cooperation with Iran in support of Assad is strategic, while the military coordination with Israel is of a tactical nature."
Former Israeli Air Force commander, Maj.-Gen. (res.) Eitan Ben Eliyahu told the Post that despite this alliance, Moscow would "do anything to stop a conflict with Israel" but warned, "we must keep in mind that conflict with Russia could happen," and if it does, Israel would have no other choice but to destroy the S-300s.
Fridman agreed, saying that "Russian military presence in the Middle East is definitely a reason for concern, but not for panic" as "both sides are not interested in mistakes and therefore there is true coordination and cooperation that is based on mutual respect out of interest."
With both Russia and Israel carrying out military operations in war-torn Syria, the two nations have implemented a system to coordinate their actions there in order to avoid accidental clashes.
Up until the Russian intervention in Syria, Israel enjoyed air superiority in the Middle East. But the mobile S-300 and S-400 batteries are capable of engaging multiple aircraft and ballistic missiles up to 380 km. away, putting significant parts of Israel in its crosshairs.
No jet can be launched without Russian radar locking on and tracking their flight routes, except for those taking off from IAF bases in the southern Negev, .
With the S-300 and S-400, Moscow has restricted Israel's strongest deterrence, its Air Force.
Despite the restrictions, Israel allegedly struck targets in Syria after Russia deployed the S-400 to Khmeimim Air Base in the southeastern Syrian city of Latakia.
And while relations remain friendly, Israeli concerns were raised during a recent phone call from Prime Minister Benjamin Netanyahu to Russian President Vladimir Putin, as well as during a meeting of senior Israeli and Russian officials at the Foreign Ministry in Jerusalem on October 27.
According to Russia's Izvestia newspaper, Israel also requested the Russian Defense Ministry to develop new coordination procedures following the deployment of the S-300s to Syria's Tartus to avoid accidentally shooting down Israeli aircraft.
And as Fridman told the Post, "It is only a matter of time before a coordination mistake will happen."
The deployment of the S-300 has been discussed for the past several years, giving Israel time to develop new methods to blind radar and anti-aircraft units, electronic warfare that Israel is well-known for.
According to foreign reports, Israel has already quietly tested ways to defeat the S-300, activating one of the anti-aircraft systems stationed on the island of Crete during joint drills between the Greek and Israeli air forces in May of last year. That exercise allowed Israeli warplanes to gather data on how the advanced system may be blinded or fooled.
The Russians are said to have breached Israeli airspace on several recent occasions, and even while Israel immediately shoots down any aircraft that penetrates its airspace, Israel has not shot down any Russian aircraft.
JPost