Launch triggers alerts in open fields near the security fence; attack comes a week after major flareup between Israel and Islamic Jihad Judah Ari GrossToday, 10:55 pm Terrorists in the Gaza Strip fired a rocket toward Israel on Sunday night, which fell short of the border and landed inside the Palestinian enclave, the Israel Defense […]
Liberman had initially said that the Qatari fuel would be restored only if the violence was halted. Tovah Lazaroff, October 23, 2018 23:20 A fuel tanker bound for the Gaza power plant is seen in the central Gaza Strip October 9, 2018. (photo credit: IBRAHEEM ABU MUSTAFA / REUTERS) Israel has rescinded its ban the […]
No immediate reports of injuries, damage as residents of the area say they heard heard explosions, saw signs the air defense system was used Judah Ari Gross 10/11/2018 Rocket sirens blared in Israeli communities near the Gaza Strip on Thursday morning, amid reports of Israeli military activity near the border of the coastal enclave. There were […]
by Khaled Abu Toameh October 9, 2018 at 5:00 am https://www.gatestoneinstitute.org/13091/iran-gaza-strip The situation in the Gaza Strip is unlikely to witness any positive changes. Even if Hamas were to be removed from power, the Palestinians would continue to suffer under other radical groups such as Palestinian Islamic Jihad (PIJ). Even if Hamas were to wake […]
Over the past few weeks, the protests along the border fence have increased in intensity and Gazans have been hurling improvised explosive devices such as firecrackers and grenades at IDF forces. Anna Ahronheim October 4, 2018 19:01 As the summer comes to a close, the chances of war in the Gaza Strip between Israel and […]
11/05/2016
Speaking with Israeli public radio, Nickolay Mladenov says that Gazans need jobs and hope more than the infrastructural projects mentioned by Israel's defense minister.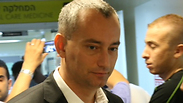 UN Middle East envoy Nikolay Mladenov said Saturday that residents of the Gaza strip need jobs and hope more than a harbor and airport, a reference to recent comments by Israel's defense minister.
In an October interview with Palestinian newspaper Al-Quds, Israel's Defense Minister Avigdor Lieberman said that another war with Palestinian militants in Gaza would lead to their complete destruction.
He suggested however that if Gaza's Hamas rulers ceased hostilities "we will be the first to invest in a port, an airport and industrial areas."
"Let's resolve the real problems that we have today. People live in desperate conditions in Gaza," he said.
"Yes, it's important to have an airport and a seaport in Gaza but I don't want us to be distracted by that from resolving the real issues that we face today."
The World Bank said in a September report that just 10.7 percent of the 11,000 houses that were totally destroyed in 2014 had so far been rebuilt and about 50 percent of partially and severely damaged houses are still awaiting repair.
The unemployment rate in the coastal territory is over 40 percent, with close to two thirds of young people out of work.
"People have lost hope," Mladenov said. "Life is gone and this is what makes Gaza more dangerous and more explosive."
But Mladenov added that he did not see Gaza and Israel heading for another war—for now.
"I think there's an understanding everywhere; in the international community, in Israel and in Gaza itself, that it is in nobody's interest right now to sleepwalk into another conflict," the envoy said.
Ynet
11/02/2016
Things are starting to fall apart in both the PA and Hamas-controlled territories.
In Gaza, Hamas quietly arrested and reportedly tortured one of its own senior leaders, Mushr al-Masri, on alleged charges of embezzlement and treason.
Reports say that al-Masri was briefly transferred to a hospital because of the beatings he endured, only to return to prison.
News reports also say that Hamas has arrested a number of its own members in recent months on charges of collaborating with Israel, and some of these people have been executed. The official cover story is that they were killed "while performing tasks of jihad."
In the West Bank, however, things look even worse for the PA.
The pro-Fatah Palestine Press Agency reports that the increasing number of clashes between various armed groups, and between these groups and PA security forces, are all part of attempts to position each group ahead of any power struggle if Abbas dies or otherwise leaves without a strong successor.
There have also been armed clashes between Fatah armed groups and other armed gangs, who are making money on illegal drugs and arms, in the Balata camp and elsewhere. The PA security forces are reportedly providing weapons to some armed groups to buy their loyalty in case things go south quickly. Unemployed youths in the camps are also susceptible to being recruited to these armed groups. The residents are very worried that a civil war will break out as soon as Abbas is gone if he doesn't designate a clear successor who is accepted by the people — a prospect that seems dim.
The planned Fatah conference in November may make things worse if it doesn't address these issues. And the increased pressure from Egypt and Gulf states on Abbas to get his act together is putting everyone on edge.
There are big problems in the territories, and things could explode sooner rather than later.
Algemeiner
07/25/2016
There are four common myths or misconceptions that infuse U.S. and European peace process diplomacy when it comes to the Israel-Palestinian conflict. The first is that there are millions of Palestinian refugees. This number is arbitrary, the result of UN sleight-of-hand. After all, the United Nations uses a different definition with regard to Palestinians than it does everywhere else in the world. The late University of Illinois Professor Fred M. Gottheil tackled this issue a decade ago in Middle Eastern Studies.
Then, there is the issue that demographic reality means that Israel must make peace now lest Palestinian population growth mean that Israel will lose its democratic character. At the root of this view, however, is blind acceptance of Palestinian Statistics Agency numbers, as Yakov Faitelson definitively showed in the Middle East Quarterly.
A third myth appeals to the humanitarian impulses embraced by so many across the political spectrum. It holds that the plight of the Palestinians (and especially the Gaza Strip which hasn't been under occupation for a decade) is a humanitarian tragedy. And while the Palestinian leadership may be tragic in its disdain for life, liberty, and the bettering opportunities and freedoms within society, the simple fact of the matter is that living standards in the Gaza Strip arebetter than those in Turkey and many other developing countries.
The fourth and perhaps most pernicious myth is that settlements are the chief impediment to fruitful peace talks. A bit of background: The Obama administration entered office putting Israeli settlements in the disputed West Bank front and center. In contrast to his predecessors, President Obama madefreezing the expansion of settlements and towns in disputed territories—both in terms of area and population—a prerequisite to further peace talks rather than a subject for diplomatic discussion. In effect, by acting as the zoning commissioner for Jerusalem rather than the leader of the free world, Obama gave Palestinian Authority President Mahmoud Abbas a free pass on his refusal to respond to previous Israeli peace offers, be they from 2000 or 2008. The Israeli government might offer talks anytime, anywhere but the Palestinian Authority could and did use Obama's initial statements as a reason not to engage.
Many journalists and diplomats believe that, under Israeli President Benjamin Netanyahu, settlement growth has been out-of-control. This, too, is false. While some Israeli activists still try to create outposts, most of the so-called 'settlement activity' is actually limited to natural growth in areas which previous rounds of peace talks indicated would be under Israeli control after a final agreement. In effect, Israeli towns build up rather than out, just as Palestinian towns often do. Now, however, new research from 'Down Under' courtesy of the Australia/Israel & Jewish Affairs Council (AIJAC) suggests that critics of Israel exaggerate 'natural growth' construction. From Aharon Shapiro:
The fact is, since Israeli Prime Minister Binyamin Netanyahu took office in 2009, on average, demand for housing in settlements for natural growth – i.e. births and marriages – has exceeded supply of new housing, even in settlement blocs Israel is expected to keep in any potential peace agreement. Far from "massively expanding", settlements are barely treading water. These statistics are available to anyone, yet diplomats continue to overemphasise the settlements issue – a counterproductive exercise which stands to diminish prospects for peace between Israel and the Palestinians – not because of the settlement reality but by propagating the myth of exaggerated Israeli settlement activity…
Three statistical trends are a matter of factual record and are beyond dispute: First, since taking office in 2009, Israeli Prime Minister Binyamin Netanyahu has built fewer homes in Israeli settlements in the West Bank than previous prime ministers going back to the 1990s, including centrist Kadima's Ehud Olmert and Ariel Sharon and centre-left Labour's Ehud Barak. [AIJAC has been keeping statistics on housing starts in Israeli settlements in the West Bank since 2000, and they can be viewed here.]
Second, as mentioned earlier, the vast majority of homes that have been built in settlements are in settlement blocs that take up a tiny fraction of the West Bank and are expected to remain part of Israel in any future peace deal as a result of negotiated land swaps with the Palestinians (land swaps being a principle that even the Arab League has endorsed).
Third – and this regrettably has not been well reported even inside Israel – the long-term trend has shown proportionally fewer housing starts in Israeli settlements than elsewhere in Israel, and also fewer housing starts in proportion to the Israel's settler population compared to the general population.
What does this mean, exactly? As I also reported in my December 2014 blog, at the end of 2013, settlers made up 4.38 percent of Israel's population. (Today, according to the latest data available, settlers have increased to 4.47% of Israel's population. As I shall reconfirm shortly, we know that this modest increase itself is entirely due to births among the settler population and not from new housing since, again, according to the long-term trend, new housing inside pre-'67 Israel outpaces construction within settlements.) If housing starts in the settlements only account for 3% of Israel's overall housing starts in an area that contains 4.47% of the population, it means that the settlement population is being underserved and cannot find enough new housing to even accommodate natural growth. Put another way, it means that if the children of settler parents (who may well have been raised in the West Bank from birth and even married a friend from the same settlement) wants to start a family close to their parents, they may not be able to do so because there simply aren't enough new houses being built to accommodate that.
Shapiro's whole article is worth reading (as is the AIJAC Review). The more scholars delve into statistics, the more apparent it is that professional peace processors have become so blind to reality that they would discount any data that does not conform to their preconceived assumptions. With so much conventional wisdom about the Palestinian-Israeli conflict unsupported by reality, is it any surprise that U.S. and European diplomacy on the issue has such a poor track record of success?
commentary magazine