11/01/2016
Russian Defense Minister Sergei Shoigu said on Tuesday a Western failure to rein in violent Islamists in Syria had indefinitely delayed the resumption of peace talks.
Shoigu said that rebels backed by Western governments had been attacking civilians in the Syrian city of Aleppo, despite a pause in Russian and Syrian air attacks.
"As a result, the prospects for the start of a negotiation process and the return to peaceful life in Syria are postponed for an indefinite period," Shoigu said.
Russia backs Syrian President Bashar al-Assad in Syria's civil war, and its military operation in Syria, now in its second year, has shored up Assad's position. That has put Moscow on a collision course with Washington and its allies who want Assad removed from office.
Since Oct. 18, Russia and its Syrian allies say they have halted air attacks in Aleppo. Western governments had alleged that the strikes had been killing civilians in large numbers, an allegation Moscow denied.
But the pause in the air attacks on Aleppo is fragile: Russian President Vladimir Putin said last month its continuation depended on the behavior of moderate rebel groups in Aleppo and their Western backers.
Shoigu, who was addressing a meeting of Russian military officials, railed against those rebels and their backers, saying they had squandered a chance for peace talks.
"It is time for our Western colleagues to determine who they are fighting against: terrorists or Russia," Shoigu said, in remarks broadcast on Russian television.
"Maybe they have forgotten at whose hands innocent people died in Belgium, in France, in Egypt and elsewhere?"
Listing attacks he said had been carried out by Western-backed rebels inside Aleppo, he said: "Is this an opposition with which we can achieve agreements?"
"In order to destroy terrorists in Syria it is necessary to act together, and not put a spanner in the works of partners. Because the rebels exploit that in their own interests."
Shoigu said he was also surprised that some European governments had refused to allow Russian navy vessels bound for Syria to dock in their Mediterranean ports to refuel or take on supplies.
But he said those refusals had not affected the naval mission, or interfered with supplies reaching the Russian military operation in Syria.
(Reporting by Katya Golubkova; Writing by Christian Lowe; Editing by Andrew Osborn)
The PA president been meeting with the leaders of Turkey, Qatar and Hamas — perhaps because his friends are abandoning him
In a turn of events no one could have foreseen mere weeks ago, Palestinian Authority President Mahmoud Abbas — until recently the ally of Egypt and Saudi in the fight against the Muslim Brotherhood and other radical Islamist groups — met on Wednesday with Khaled Mashaal, outgoing head of Hamas's politburo, and with Ismail Haniyeh, Mashaal's successor. These meetings took place after Abbas met the previous week with Turkish President Recep Tayyip Erdogan and Qatari Emir Sheikh Tamim bin Hamad al Thani.
Erdogan and Sheikh Tamim are considered strong patrons of the Muslim Brotherhood, the great rival of Egypt and its president, Abdel Fattah el-Sissi. Abbas's meetings with them, as well as his talks with Mashaal and Haniyeh, the two highest-ranking members of Hamas (the Muslim Brotherhood's Palestinian offshoot), may even lead to a historic reconciliation with Hamas, though that outcome is still a long way off. Whether such a reconciliation would be a good or a bad thing depends on whom you ask.
So what — or, rather, who — has led Abbas straight into the arms of the Muslim Brotherhood, and maybe even into those of Hamas, just days after a high-ranking Hamas official in Gaza called him a traitor?
The answer is simple: Mohammad Dahlan. This former high-ranking Fatah official, who has been challenging Abbas for several years, succeeded this week in areas where even Hamas has failed. He managed to get Cairo on his side in the fight against Abbas and proved how weak and shaky Abbas's status is in the Arab world.
In addition, Dahlan organized a series of demonstrations in the West Bank against the Palestinian Authority and Abbas — to which hundreds of Fatah activists showed up. So Abbas, who has taken some hard hits in recent weeks (including for attending the funeral of Shimon Peres, in case anyone forgot), caught on to the conspiracy being wrought against him in Cairo, Abu Dhabi (where Dahlan lives), and even Saudi Arabia (which recently cut back its aid to the PA). So Abbas decided to approach the patrons of the Muslim Brotherhood and perhaps bring about a reconciliation with Hamas — mainly with the leadership of the group's political wing abroad.
Why approach Hamas leaders in Qatar and not in Gaza?
One reason is that the high-ranking members of Hamas in Gaza seem to be collaborating with Dahlan, of all people. This means that the conventional division into various camps (pragmatic Sunnis, the Muslim Brotherhood, Shiites, jihadist Sunnis) created in recent years is once again melting before our eyes. The new Middle East transformed long ago into a juicy and tragic political-diplomatic soap opera, and we cannot predict where the plot of its next episode is headed.
The rivalry between Dahlan and Abbas surfaced in late 2010, when reports of dubious accuracy spread that Dahlan was preparing a putsch against the PA president. The reports, together with critical statements made by Dahlan against Abbas's sons, led the PA president to make a rapid move that ended with Dahlan's expulsion from the Palestinian territories in January 2011.
Dahlan has been living in the United Arab Emirates since then and trying to set up bastions of support in the Palestinian territories, particularly among the inhabitants of the refugee camps in the West Bank and Gaza. These attempts have been unsuccessful for years. But though people identified as Dahlan loyalists failed to gain status or support, they were still a chronic headache for Abbas and his security agencies. Abbas's close associates claimed that Dahlan was running armed men in places such as Qalandiya, north of Jerusalem, and Balata, near Nablus, in an attempt to perpetrate terror attacks against Israel so as to damage relations between Ramallah and Jerusalem.
But something changed over the past few months: a combination of Abbas's diminishing status and, just as important, the mobilization of the Arab quartet — Egypt, Saudi Arabia, the United Arab Emirates, and Jordan — in an effort to assist Dahlan. Cairo was instrumental in pressuring Abbas to reconcile with Dahlan and restore him to Fatah's ranks. But Abbas and Fatah's leadership insisted on not taking Dahlan back into the movement, agreeing only to "reconsider the return of his associates to Fatah."
This answer was not acceptable to Sissi, and neither was Abbas's refusal to hold a summit with Prime Minister Benjamin Netanyahu in Cairo. It was then that Egypt, without a word to the media, began to act against Abbas using classic Egyptian methods. In a move interpreted as an explicit challenge to Abbas, the Egyptians allowed Dahlan — or Abu Fadi, as he is also known — to hold a gathering of dozens of supporters in Cairo.
Then they reached understandings with Hamas that Mohammad Dahlan's wife, Jalila (Umm Fadi), would enter Gaza through the Rafah crossing, after the PA stopped her from entering via the Erez crossing. Jalila has been working in the Gaza Strip for many years, mainly in various charitable endeavors, with the permission of Hamas (which uses her as a stick to poke at Abbas). Just this week, she held a mass wedding ceremony, fully funded by the UAE, for dozens of people who were wounded in the 2014 war in Gaza, Operation Pillar of Defense. On top of all that, the Egyptians agreed to open the Rafah crossing for ten days every month, at least according to the latest update from Egypt. These incidents, of course, resulted in upgrading Dahlan's standing in Gaza, where he is perceived as the desired candidate for the PA's next president.
But Gaza is not Dahlan's last stop. Jihad Tamliya, one of his known supporters, held a conference entitled Unity Among Fatah Ranks last week in the Amari refugee camp in the heart of Ramallah. Approximately 200 Fatah members called there for the adoption of the reconciliation initiative by Egypt, Saudi Arabia, and the UAE — or, in other words, expressed their support for Dahlan and their opposition to Abbas.
Tamliya has a history of conflict and friction with Abbas — or, more precisely, with Abbas's son Tarek, who took over the management of Amari's well-known soccer club in 2014. Tamliya defeated the younger Abbas in the elections for soccer club chairmanship that took place about a year later, and was appointed in his place. His close connections with Dahlan got him marked as an "enemy of the system."
And this is where Abbas's error stands out in sharp relief. Instead of trying to bring his rivals close to him, to win back the members of Fatah who had grown close to Dahlan — most of whom are major activists in the refugee camps — he came out against them with all his might through his associates, causing even greater ferment against the PA in the refugee camps, the places with the highest explosive potential.
The inhabitants of the Qalandiya, Askar and Jenin refugee camps have for decades seen themselves as a group that the PA has neglected and discriminated against. Dahlan, who realized the potential of these places right away, recruited supporters and agents there over the past five years, while Abbas continued using force against the activists.
That is also what happened this week. Abbas, feeling that the whole world was against him, swiftly punished Tamliya by throwing him out of Fatah. This led to a demonstration against the PA by hundreds of Amari's inhabitants. Palestinian police officers arrived at the demonstration and severe clashes broke out.
"Young Palestinian men threw stones at the police officers as if they were Israeli troops," one resident told this reporter. The commotion persisted, and news of the clashes spread like wildfire over social media networks, bringing hundreds of people into the alleyways of Balata and Jenin refugee camps to demonstrate against the PA. Live ammunition was used, and at least three people were wounded. The incidents subsided, but this is most likely not the last word in the battle between Dahlan and Abbas.
Just before the end
This series of events demonstrates even more powerfully that the West Bank has entered a kind of twilight zone, a dangerous and problematic interim stage, in which the status of the Palestinian Authority and its leader are weaker than they have ever been.
On the one hand, government agencies are still operating and demonstrating their ability to govern. But on the other, Abbas is more weak and vulnerable than ever, and everybody is busy with the question of "the day after." Many members of Fatah fear that the day is fast approaching when Fatah will split over the uncompromising battle between Dahlan and Abbas, and Hamas will become more powerful still.
It should be emphasized that Dahlan is not the only one in Fatah to be marking out territory in anticipation of the fight over the succession.
The highest levels of Fatah, as a whole, are busy with Fatah's general assembly, which is set to take place in late November and can point the way to who Abbas's successor might be. Fatah's Central Council will be elected during the assembly — and according to Fatah's bylaws, it is only from the Central Council that Abbas's successor, Fatah's next chairman, may be chosen. It is also likely that the assembly will elect Fatah's deputy chairman, who could, in time, succeed to the chairmanship.
Quite a few names have been mentioned time and again in the context of the deputy position: Marwan Barghouti, who is serving his sentence in an Israeli prison for five murder convictions; Saeb Erekat, who is also the secretary-general of the PLO Executive Committee; and Nasser al-Kidwa, nephew of Yasser Arafat, whose unique feature is that he has no powerful enemies in Fatah and is considered acceptable to everyone.
There is one other big name — that of a man who has managed to strengthen his status in Fatah, mainly among the rank and file: our old acquaintance Jibril Rajoub. He was re-elected recently as chairman of the Palestinian Football Association, and has managed, through his work in athletics, to recruit quite a few young supporters. He has excellent connections among Palestinian security agencies, and almost all of the governors are his former soldiers.
Another prominent fact about Rajoub is that he is considered Mohammed Dahlan's main rival. The open hostility between them began in 2002, when Dahlan turned his back on Rajoub after the takeover of the Preventive Security Service headquarters in Beitunia and tried to incriminate him — falsely, it should be said — for the extradition to Israel of Hamas members who were in his custody.
As we mentioned before, Palestinian politics is quite the soap opera.
Times Of Israel
10/27/2016
Brig. Gen. (res.) Eli Ben-Meir, who retired from the IDF earlier this year after a three-decade army career that included stints as chief intelligence officer and head of the Military Intelligence Directorate's Research and Analysis Division, said that the cyber attack that disrupted internet service on the US East Coast last week "was a reminder for those who needed one" about the dangers posed by hackers.
Ben-Meir, who currently works as a partner in a start-up company he co-founded that deals with cyber security at the state level, spoke by phone with The Algemeiner on Wednesday ahead of two US speaking tours he will be conducting in the coming months.
Prime Minister Benjamin Netanyahu often says he wants Israel to become a global cyber power. In your view, has it reached that point yet?
"I don't know if the word power is the best, but I think Israel is one of the leading countries in, first of all, understanding that this is an existing threat — it's not something to worry about in the future, it's already here. It's a wave of warfare that we are now in the middle of. And Israel is in the top-tier of countries, in terms of — under the prime minister's directive — establishing organizations, structures, procedures and processes to defend ourselves in this new era. Also, of course, there is a lot of technology that is coming from Israel — I think 20% of cyber technology in the world today is from Israel. The bottom line is a lot of people in Israel are getting up every morning and dealing only with cyber."
How have new cyber capabilities affected the way the IDF operates?
"I won't speak about specific capabilities, but the IDF is leading a lot of technology development efforts. Also, a lot of people who serve in the IDF leave it with much experience and knowledge of cutting-edge technology and go to private-sector companies where this knowledge is used to advance a lot of what's going on. So this is an engine for the cyber industry in Israel."
How do you foresee technology affecting the future of warfare? Do you think there will always be a need for soldiers on the ground?
"It's a big debate. I don't know if anybody knows. But I think it is interesting to look at the emergence of virtual cyber warfare. This is a relatively new phenomenon. The first known cyber attack carried out by a country was Russia against Georgia in 2008. We are now seeing countries more and more using cyber as a means of warfare. And even if a country is attacked by military means, the retaliation is sometimes a cyber one. When Turkey shot down a Russian Air Force plane last year, what did the Russians do? There were political sanctions and pressure, and also — almost immediately after the incident — the Russians hacked Turkish government sites."
"I don't think you can say that we don't need armies anymore, because you need them to conquer territory, but for sure, warfare by cyber means can cause a lot of damage. Hackers can shut down facilities and national infrastructure. And countries are now losing between 0.5%-2% of their GDPs every year due to cyber attacks."
How did technology change the way intelligence was gathered over the course of your military career?
"I think we can say the means of gathering intelligence have changed dramatically, not only in the IDF but also the world in general. Still, some of the good old ways — like HUMINT (human intelligence) — are still very relevant, but technology now enables you and provides advantages to the collection of information by other means, and cyber is one of the biggest ways to do so."
What is the greatest strategic threat facing Israel right now?
"Today, I think one of the biggest problems facing, for sure Israel, but also many other countries, including the US, is not military-against-military battles, but rather small-scale clashes with terrorist groups. And the new phenomenon is terrorist groups that control territory — such as ISIS and Boko Haram, among others. Some already operate like countries — with ministers, offices and the like. But still the means they use are terror against civilians."
"And this leads to something that is not as discussed as it should be, which is that boundaries don't matter anymore. Borders between countries, certainly in the Middle East, don't exist. Just look at Syria, Libya and Yemen. Old borders established a century or more ago — such as the ones set by the Sykes-Picot Agreement – are losing their importance."
"In today's virtual world with social media, ISIS can reach someone on Philadelphia. They don't have to be there, they have a means of influencing them — the internet. And this means that a lot of what we used to do from an intelligence perspective, and also from an operational perspective, is not relevant anymore. There is a lot the Western world must do to deal with this new situation."
Does ISIS pose a major threat to Israel?
"I don't want to say it's a major threat. A terrorist organization, however strong it is and ISIS has been suffering losses recently, cannot defeat Israel. Israel is a very strong nation with a powerful military force. But there are ISIS-affiliated groups on our borders in the southern part of the Golan Heights and in the Sinai Peninsula. So there is a threat these groups will conduct terrorist attacks and cause casualties among Israelis. And the other threat is posed by ISIS' attempts to influence Muslims in Israel and get them to commit terrorist attacks. But this is not happening in big numbers. It is something that is dangerous and bothers us, but it is not a strategic threat to Israel."
Does Israel face any existential threats at the moment?
"The Iranian nuclear threat is real, although I don't want to go into whether the international agreement was good or bad. What is relevant now is Iran's military buildup because of the money it has been getting. And Iran's support of terrorism has only increased, it didn't stop that. Also, Iran's surface-to-surface missile capabilities have gotten stronger. Perhaps more importantly, Iran's growing involvement in Syria and Lebanon is very problematic. Finally, while Iran may not be doing all it can now to achieve nuclear weapons capabilities, in ten years it will be allowed to. And this is something that Israel should already be concerned about now. We shouldn't wait ten years."
"Terrorism is another threat. While Hezbollah and Hamas — like ISIS — cannot beat Israel, they can cause a lot of casualties and economic damage."
"Also, cyber warfare is a growing threat, although Israel is already doing a lot of things I would suggest other countries should also do. But we are particularly threatened because we are surrounded by different countries, entities and groups that have an interest in attacking us."
How has the Syrian civil war impacted Israel's security? And how do you see the situation in Syria playing out?
"An egg from which you make an omelet cannot be remade into an egg, it's an omelet already. So I think Syria cannot re-become the Syria we knew five or six years ago, which had its problems but was a relatively stable state with a dominant leader and you knew what was going on. Even if Bashar Assad stays in power, it's not going to be the same Syria it was, which will of course have implications. If ISIS or other terrorists ended up controlling all of Syria, this would be a big problem for Israel. But right now, it doesn't look like things are going that way. With the involvement of Russia and Iran, it seems like we will continue seeing Syria broken down into cantons and small sectarian and tribal areas."
"For Israel, the activities of Iran and Hezbollah in Syria are the most worrying thing. Iran is sending more and more personnel, fighting means and money. And Hezbollah is almost up to its head in Syria. And some Hezbollah members are on our border in the Golan Heights and that is a troubling threat to Israel that needs to be continuously monitored."
"Also, the use of chemical warfare in Syria is becoming almost a day-to-day thing. And my personal fear is that the more chemical agents are used and the more nobody does anything about it, the more it's going to become acceptable, which is very disturbing. Five years ago, nobody would have believed this could happen, but it's happening."
Do you think the time is ripe for Israel to bolster its relations with Sunni Arab states in the region?
"There are opportunities in the moderate Sunni world, because having common enemies makes us friends. So I think there is potential for cooperation. Also, although they can't say it openly, everybody understands the Israeli-Palestinian conflict is not the biggest problem in the region. Maybe not everybody, because apparently UNESCO still thinks that, but everyone who understands something knows the truth. All moderate Arab leaders see that the biggest problems today are Salafi terrorism and Iranian influence."
From a military standpoint, is the status quo in the West Bank sustainable?
"There is ongoing cooperation and a joint security interest with the Palestinian Authority. The Palestinians don't want terrorist attacks because of their potential impact and we, of course, don't want attacks to occur. So the interest is still the same, but the most significant problem is that the Palestinian leader, Mahmoud Abbas, is not getting any younger, as all of us aren't, and what will happen the day after he leaves the scene is a very, very big mystery. Will his successor be able to stabilize the area? Will he be able to deliver something? Will he carry on the joint security cooperation? These are big questions. And there are even scenarios in which Hamas could take over the West Bank."
In Gaza, do you think the situation will ever change or is Israel fated to deal with Hamas for the foreseeable future with military flare-ups every few years?
"First of all, Hamas is continuing to build itself up militarily. So there is an intent on its part to develop its capabilities, because if not, it would put its money into something else. Hamas is continuing to try to procure arms, dig tunnels and manufacture rockets for offensive purposes. I do think Hamas is still deterred from the last operation two years ago [Israel's Operation Protective Edge]. It's a big stick above their head. So Hamas' interest today is to not see another escalation in the near future. And the border with Egypt is also closed, which is hurting their force build-up effort. They are having a hard time smuggling in arms and people."
"But I can't say how long this Israeli deterrence will last. It has to do with a lot of factors, some related to Israel and Egypt and some not. When Hamas looks around, it sees that the Muslim Brotherhood has been put back in the box in the region in the last year and a half or so. So while a few years ago, Hamas may have seen a window of opportunity with the Muslim Brotherhood leading countries and growing stronger, today it understands this is no longer the case. So Hamas is not in the best position now."
"While Hamas might not want a new war with Israel, the problem is when you play with matches, something can catch fire. And there are a lot of things happening on the Gaza border. Think of a scenario in which one of these small Salafi groups fires a rocket at Sderot and it doesn't hit an open area, but instead causes casualties and we retaliate. The situation could escalate very fast, even if it is not in Hamas' interest."
Algemeiner
 07/27/2016
 Israel is successfully expanding its global network at a time of strained U.S.-Israeli relations over Palestine.

Israel's growing diplomatic, military, and economic ties across the Middle East, Africa and Asia should shatter an enduring myth: that the Israel-Palestinian conflict will make Israel an international pariah.
These ties reflect not only the foresight of Israel's leaders, the doggedness of its diplomacy and the strength of its economy, but also the rise of Iran in the region and the spread of terrorism beyond it.
Consider the irony. Israel's ties to the United States and Europe are strained over the Israeli-Palestinian conflict and, particularly with Washington, the Iranian nuclear deal – even though Israel is the lone nation in the turbulent Middle East that shares the West's values of freedom and democracy.
Meanwhile, Israel's ties to regional states, African nations and Russia and China are growing due to shared military challenges or economic opportunities – even though Israel has little in common with them.
---
To be sure, the U.S.-Israeli relationship remains a paramount concern in Jerusalem. Israel relies heavily on U.S. aid as well as America's backing at the United Nations and other global bodies. The two nations share intelligence and work together on mutual concerns in the region and beyond.
Nevertheless, Israel's growing global network is enhancing its flexibility on the world stage and reducing Washington's leverage over Jerusalem. That's good for Israel at a time of strained U.S.-Israeli relations, and it leaves America and Europe looking obsessed with an issue of reduced global concern.
Consider the contrast. Early this month, the Quartet (the United States, the European Union, Russia and the United Nations) warned that Israeli settlements threaten the viability of a two-state solution to the Israeli-Palestinian conflict, echoing the repeatedwarnings of President Barack Obama and Secretary of State John Kerry. Meanwhile, French President Francois Hollande, who hosted 28 nations in Paris last month as a "first step" toward organizing an international conference to restart peace talks, told Palestinian Authority President Mahmoud Abbas last week that he's committed to leading global efforts to find peace.
But, across the Middle East, Africa and Asia, nations have far greater concerns than the Israeli-Palestinian conflict and Jerusalem is capitalizing on the opportunities that those concerns now offer. It's working more closely with Egypt, with whom it has enjoyed a mostly cold peace since 1979, due to their shared concerns over terrorist activity in the Sinai Desert. Israel has allowed Egyptian forces back into the Sinai, while Egypt has allowed Israel to use drones to target terrorists.
---
An upcoming book about Israel's occupation of the West Bank won't tell the whole story.
---
A retired Saudi general visited Israel last week with a delegation of academics and businessmen, reflecting Riyadh's growing interest in closer ties with Jerusalem as each faces an increasingly aggressive Iran.
And in June, Israeli Prime Minister Benjamin Netanyahu announced a reconciliation agreement with Turkey, a once-close ally that now faces a host of security concerns both within and on its borders.
However important are these growing regional ties, more impressive are the inroads Israel is making in Africa after decades of isolation in the aftermath of the Six-Day War in 1967 and the Yom Kippur War in 1973 – after which a slew of African nations cut ties to the Jewish state under Arab pressure.
In early July, Netanyahu took the first trip by an Israeli leader to Africa in decades. While he was there, Tanzania announced it would open an embassy in Israel and both Kenya and Ethiopia announced they would push for Israel to receive observer status at the African Union regional bloc.
Since then, Guinea has announced that it will resume ties with Israel 49 years after cutting them, while Israeli Foreign Ministry Director General Dore Gold traveled to Chad to meet with President Idriss Deby. Meanwhile, top officials from Mali, Chad and Somalia – none of which have diplomatic relations with Israel – secretly visited the Jewish state recently, perhaps presaging stronger ties down the road.
---
Rather than the Israeli-Palestinian conflict, these African nations care about expanded trade with Israel as well as its expertise in agricultural technology, water conservation and counter-terrorism.
For Israel, Africa may be poor, but its economy is growing quickly, presentingopportunities for trade. That's important at a time when Europe is growing more slowly and threatening sanctions over Israeli settlements.
Perhaps more important, greater ties with Africa will enable Israel to better protect itselfat the United Nations and other global bodies. That two African nations, Rwanda and Nigeria, helped block Palestinian efforts in 2014 to push a deadline for statehood through the Security Council could be a sign of the future.
A wise Washington would see that its obsession with Israeli-Palestinian peace and its propensity to blame Israel unfairly for the impasse are shared by fewer nations in the volatile region and beyond.
usnews
CAIRO — The Egyptian Museum in Cairo on Thursday began putting on display the country's oldest papyruses, which date back 4,500 years, detailing the daily life of the pyramid-builders.
The items are from the 4th Dynasty of King Khufu, also known as Cheops, for whom the Great Pyramid of Giza was built as a tomb.
Egypt's Antiquities Minister Khaled el-Anany told reporters as the exhibition was unveiled that the papyruses were discovered in 2013 by an Egyptian-French mission inside caves in the port of Wadi el-Jarf. The ancient port is located 119 kilometers (74 miles) from the city of Suez.
El-Anany said, the items display are "the oldest" papyruses in Egypt. Museum chief Tarek Tawfiq said the papyruses depict the daily routine of the workers, who also transferred building material from the Red Sea port to Giza.
On display are a total of six out of the 30 discovered papyruses, according to Hussein Abdel-Bassir, another ministry official. "These show the administrative power and the central nature of the state at the time of Khufu," he said.
One of the papyruses belonged to a senior employee named Marr who played a role in the building of the pyramid and it covered a period of three months of his job, providing information about his duties — including transporting rocks through the River Nile and its canals, Abdel-Bassir said.
A second ministry official, Sabah Abdel-Razek, told the state-news agency MENA that other papyruses showed the distribution of food portions for workers, including one showing in clear Egyptian hieroglyphs the number of sheep brought in.
The discovery, according to el-Anany, also signaled that Egypt has a treasure of antiquities that are still being discovered.
foxnews
07/10/2016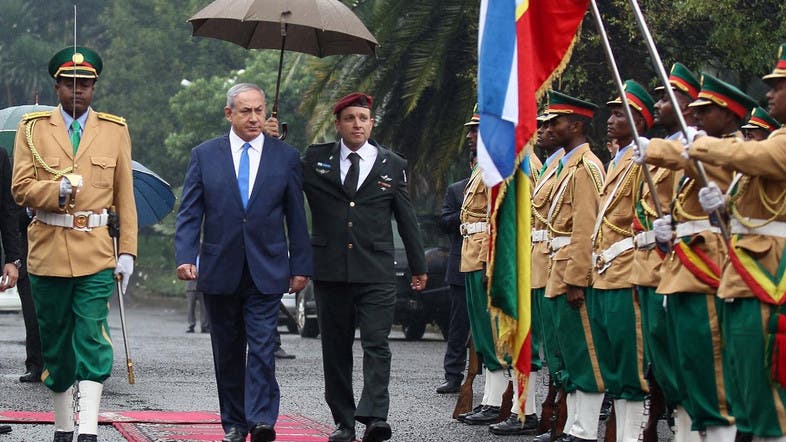 The four-day trip made by Israeli Prime Minister Benjamin Netanyahu to four African countries – Uganda, Kenya, Rwanda and Ethiopia – seems like a normal initiative to boost economic ties, but it was not seen as such in Egypt. Netanyahu was accompanied by 80 Israeli business people seeking to invest in Africa, but the trips' strategic dimension could not be overlooked by the country that is seen as the most impacted by such a step.
Egyptian ties with Africa
Dismemberment
Downplaying
05/27/2016
Palestinian, Jordanian sources say the countries are pushing for Fatah's former Gaza strongman to make gradual return to political life
Egypt, Jordan and the United Arab Emirates are preparing for the ascent of the Fatah movement's former Gaza strongman Mohammed Dahlan as next head of the Palestinian Authority, according to the Middle East Eye website.
Dahlan, the 54-year-old former head of the PA security forces in Gaza, has been living in the Gulf since he left the Palestinian territories several years ago. Dahlan has for many years been a bitter rival of Palestinian Authority President Mahmoud Abbas, 81, who in 2011 accused of him murdering late Palestinian leader Yasser Arafat.
 Dahlan fell from grace in June 2007, when Hamas drove Fatah from Gaza after days of fierce street battles, and in June 2011 he was expelled from Fatah's ruling body and lost his parliamentary immunity, following the allegations of financial corruption and murder. He was
tried by the PA
on corruption charges in 2014 in absentia, after he failed to show up for the trial.
The Middle East Eye said that it received information on the Egyptian-Jordanian-Emirati plan from separate Palestinian and Jordanian sources.
According to the report, Crown Prince of Abu Dhabi Mohammed bin Zayed is one of the prime movers of the plan. Zayed reportedly informed Jordan that differences in the Jordanian and UAE attitudes toward Abbas were affecting bilateral relations. The Emiratis at one point sought Abbas's arrest as well as a ban on him entering Jordan or using Jordan to as a departure point for foreign travel.
"The Emiratis, particularly Mohammed Bin Zayed, absolutely reject Abbas on the personal level, to the extent that they told the Jordanians explicitly that the reason the UAE is negative about Jordan is due to the fact that Jordan did not take a stand against Abbas," an unnamed senior Palestinian source was quoted by report as saying.
"The parties [the UAE, Jordan and Egypt] believe that Mahmoud Abbas has expired politically and that they should endeavor to stop any surprises by Abbas during the period when Fatah will remain under his leadership until the elections are held," the source was quoted as saying.
The plan includes reintroducing Dahlan to the Palestinian territories, initially in a role that would not directly challenge Abbas, such as parliamentary speaker.
Dahlan, however, is considered to be unpopular among Palestinians and has been accused of links to Israeli security services. His broken relationship with Abbas is also considered problematic.
Abbas is currently serving as PA president for the 11th straight year, even though elections are expected to take place every four years.
There was no confirmation of the report on from media outlets.
Times Of Israel
April 11, 2016
Turkish president Tayyip Recep Erdogan has raised another large obstacle on the road to Turkish-Israeli reconciliation and normal ties. Saudi King Salman, who is visiting Cairo, confided to his host Egyptian president Abdel-Fatteh El-Sisi that Erdogan had made it clear that he would not finally repair Ankara's ties with Israel until Sisi came forward to shake his hand, stopped being hostile and turned a new page in their relations.
This is revealed exclusively by DEBKAfile's Middle East and Cairo sources.
The king sad that by burying the hatchet with Erdogan, Sisi would pave the way to an accord between Ankara and Jerusalem, on which progress has been made in bilateral negotiations. Members of the royal Saudi entourage in Cairo confirmed the threat from Ankara, that if the Egyptian president continues to disapprove of the Turkish ruler and give him a hard time, Ankara would retaliate by raising more impediments to a rapprochement with Israel.
In this regard, Prime Minister Binyamin Netanyahu told the Sunday cabinet meeting on April 10, "Peace with Egypt is stronger than ever before, standing firm against very tough challenges to both nations." He went on to say, "The ties between Egypt and Israel provide an important buttress for the national security of both nations."
Netanyahu did not itemize those "challenges," but DEBKAfile's sources were informed that he was beaming a message to the Saudi king and Turkish president, that Israel had every confidence in its strategic pact with President El-Sisi holding up against attempts by Erdogan to drive a wedge between Cairo and Jerusalem.
His comments were also meant to encourage the Egyptian leader to withstand undue pressure coming from King Salman and extortions by the Turkish president.
On one of the issues clouding relations between Cairo and Riyadh, the king denied wholehearted Saudi support for the El-Sisi's archenemy, the Muslim Brotherhood, ousted from power three years ago in a military coup.
The Roman Temple, which dates back to the 3rd century B.C, is located in the Elephantine Island in Aswan.
Dr. Mahmoud Afifi, the head of the Egyptian Antiquities branch in the Antiquities Ministry, said that he noticed a stone with two Star of David engravings in the Roman temple.
Afifi accused the delegation of German archaeologists that has been working on the site's reconstruction of engraving the Stars of David into the Shrine's stone.
Afifi ordered the archaeologists to immediately remove the stone with the Star of David's engraving from the temple, threatening to take all legal measures against them if they would ever repeat such a move.
An Egyptian news site, Suezbalady, went even further, claiming that the two Star of David engravings that were found were drawn by a Jewish member of the German delegation, who wanted to vandalize Egyptian culture and provoke Egyptians.
The newly-appointed Egyptian Antiquities Minister, Khaled Anani, released a press statement Saturday following his visit to the Aswan shrine.
Anani stated that he had instructed the joint Egyptian-German group to submit him a scientific report about the two engravings found on one of the temple's walls. "The report will include a picture of the stone under discussion from the time it was discovered, to explore its archaeological repercussions without the two Star of David engravings, "Anani said.
"We will be aided by an expert of Islamic antiquities to understand whether the Sign of David was common in that early period", Anani announced.
Detractors of the biblical text like to assert that its passages are filled with little more than folklore and myth. But new archaeological finds have again provided evidence that biblical figures like Kind David did exist and did rule over a large portion of the ancient Near East.
Leading journals recently wrote on the discovery of eight significant sites in Turkey and northern Syria which revealed the existence of a large Philistine kingdom under the rule of Tai(ta) of Hamath.
Prof. Gershon Galil of the University of Haifa says this is clearly the same regional ruler as the "Toi, king of Hamath" referenced in II Samuel 8:10, which records that when this king "heard that David had defeated the entire army of Hadadezer, he sent his son Joram to King David, to greet him and to congratulate him on defeating Hadadezer in battle — for Hadadezer had been at war with Toi."