07/28/2016
President Sisi announced he would be inviting Netanyahu and Abbas to meet with him together in Cairo.
On Monday, during an open Q&A in the Knesset Defense Minister Avigdor Liberman stated: "Egypt is the most important and serious ally we have in the Middle East and among Arab states. I invested a lot of effort in building trust and cooperative relations." This is a very interesting statement from the man who in 1998 suggested bombing the Aswan Dam in retaliation for Egyptian support for Yasser Arafat.
Arafat is no longer around and neither is Egyptian president Hosni Mubarak, and Liberman too might not be the same old Liberman we know from yesteryear. A senior Egyptian intelligence officer very recently told me that in the eyes of the Egyptian government, Liberman is the most pragmatic man in the Israeli government and "we can work with him."
Be the first to know – Join our Facebook page.
Israel and Egypt are at peace since 1979. When Egyptian president Anwar Sadat made his historic visit to Jerusalem in November 1977, Arafat led the Arab world to break ties with Israel. The Arab League headquarters moved out of Cairo and Egypt became a pariah state among the Arabs and Muslims. In 1982 when Arafat was forced to leave Beirut, on his way to Tunis he made a point of stopping in Cairo, publicly embracing president Mubarak, who had been Sadat's deputy, and renewing his ties with Egypt – the same Egypt that made peace with Israel.
That peace treaty has survived the assassination of the Egyptian president, repeated wars between Israel and the Palestinians, and between Israel and Lebanon, the rise to power of Hamas in Gaza and the rise and fall of the Muslim Brotherhood in Egypt. With Egyptian sovereignty challenged by terrorists in Sinai, Israel has agreed to every Egyptian request to deploy more forces and weapons in Sinai, including assault helicopters, way above and beyond the limitations of the Israeli- Egyptian security annex of the peace treaty. Egyptian- Israeli security and intelligence cooperation is a key pillar of the relationship and crucial to the security of both sides. Hamas is a common enemy, as are other expressions of Islamic radicalism in the region. Those common threats have expanded beyond Israel's other borders to include Jordan and even Saudi Arabia.
Egypt is in a key place in the Middle East today. Even with its faltering economy and its very difficult war against ISIS and other terrorists in Sinai, Egypt understands that it can play an irreplaceable role in advancing broader regional stability, security and economic opportunity. Egypt is the lifeline for Gaza and Hamas knows it. The closure of almost all of the smuggling tunnels between Sinai and Gaza by Egypt has crippled the Gazan economy and Hamas has lost its main source of income. Egypt keeps the Rafah crossing into Sinai closed almost all year. The people of Gaza are paying the price for the failings and lies of their own government.
Egypt has accused Hamas of collaborating with anti-Egyptian terrorists in Sinai. Hamas leaders went to Cairo and swore to the Egyptian officials that they were not assisting any war against Egypt, but they were lying and Egyptian intelligence produced the evidence.
Egypt has made it clear that the Rafah crossing will remained closed most of the time until Hamas agrees to the redeployment of Palestinian Authority forces along the border. This is not acceptable to Hamas and yet it remains the demand of both Egypt and the PA for the reuniting of Gaza and the West Bank under one authority. Egypt, like Israel, wants to see the end of Hamas rule in Gaza.
PA President Mahmoud Abbas is in constant contact with President Sisi and sees Egypt as a steadfast ally of the Palestinian people, and yet Abbas also knows that he gets no discounts from Sisi on compromises that the Palestinians will have to make in any deal with Israel.
This includes the continued security cooperation with Israel in the West Bank.
The Egyptians seem to have a plan and they are working on its implementation. First, President Sisi announced that Egypt was willing to mediate between Israel and the Palestinians. Then Egyptian Foreign Minister Sameh Shukry visited Abbas in Ramallah. He listened very carefully to Abbas, asked some tough questions and went back to Cairo. Then he came to Jerusalem.
He listened carefully to Prime Minister Benjamin Netanyahu, asked some tough questions and then went back to Cairo.
President Sisi then announced he would be inviting Netanyahu and Abbas to meet with him together in Cairo. From my understanding, Egypt, after listening to both sides and taking note of what they want and what they can do, is now preparing to tell both sides what they have to do – which includes renewing direct Israeli- Palestinian negotiations, with the assistance of Egypt, and as I understand, with the additional presence of Jordan at the table. This is essentially the creation of the regional quartet that I have been speaking about for more than two years now.
Interestingly, in talking about this to several Israeli and Palestinian officials, I heard the very same words.
They said: "we can say no to US Secretary of State John Kerry and to President Barack Obama, but we cannot say no to President Sisi." We will see if that turns out to be true.
JPost
07/23/2016
Delegation from Riyadh arrives to push Arab Peace Initiative; 'the Saudis want to open up to Israel,' Meretz MK says
Retired Saudi general visited Israel this week, heading a delegation of academics and businessmen seeking to encourage discussion of the Saudi-led Arab Peace Initiative.
According to a report in the Haaretz daily, the delegation led by Dr. Anwar Eshki met with Foreign Ministry Director-General Dore Gold, the Coordinator of Government Activities in the Territories Maj.-Gen. Yoav Mordechai, and several Knesset members from the opposition.
Such a visit by former general Eshki, who was once a top adviser to the Saudi government, is an extremely rare occurrence. "While this wasn't an official visit, it was a highly unusual one, as Eshki couldn't have traveled to Israel without approval from the Saudi government," the newspaper report said.
The meetings with Gold and Mordechai reportedlty did not take place at official Israeli government facilities but at the King David Hotel.
The visitors also toured the West Bank city of Ramallah and met with Palestinian Authority President Mahmoud Abbas as well as other Palestinian officials, the paper said.
Knesset members Issawi Frej and Michal Rozin (Meretz) and Ksenia Svetlova (Zionist Union) who took part in the meeting, said the Saudis were eager to generate Israeli discourse on the 2002 peace initiative, which promises Israel full diplomatic ties with 57 Arab and Muslim states after cementing a peace accord with the Palestinians.
"The Saudis want to open up to Israel," Frej said. "It's a strategic move for them. They want to continue what former Egyptian president Anwar Sadat started (with the 1979 Israeli-Egyptian peace treaty). They want to get closer with Israel, and we could feel it clearly."
High-ranking Fatah official Jibril Rajoub told Lebanon's Al-Mayadeen news agency that the Saudi visit was the second of its kind, the Ynet news website reported on Saturday.
Meanwhile Eshki told Palestinian media that he had visited "Palestine and Jerusalem, but not Israel."
The visit comes as the Arab world, led by Egypt, is pushing for renewed peace negotiations between Israelis and Palestinians.
Earlier this month Egyptian Foreign Minister Sameh Shoukry visited Jerusalem, where he met with Prime Minister Benjamin Netanyahu todiscuss the long-stalled peace process. Netanyahu reportedly expressed willingness to meet with Abbas in Cairo for talks hosted by Egyptian President Abdel-Fattah el-Sissi.
Channel 2 News said Shoukry's visit to Israel was coordinated between Egypt and Saudi Arabia, whose peace initiative is backed by Sissi and much of the Arab world.
Netanyahu has rejected the initiative in its current form, but said in late May that it "contains positive elements that could help revive constructive negotiations with the Palestinians."
Eshki has met with the Foreign Ministry's Gold before. In 2015 the twoshared a stage and shook hands in Washington as they made back-to-back addresses to the Washington-based Council on Foreign Relations think tank. Both espoused Israeli-Saudi peace and identified Iran as the chief threat to regional stability.
Ehski also told Israel's Channel 10 News at the time that he and Gold had sat down together "to call for peace in the Middle East." He said "Saudis and Israelis could work together when Israel announces that it accepts the Arab Initiative."
There have been various media reports of clandestine talks between Israel and Arab powers, who have come to see the Jewish state as a possible ally against what they consider to be a far greater threat — Iran and its regional aspirations.
Netanyahu too has often spoken of growing secret ties with Arab nations, though experts have warned that the prospects of normalization of ties before peace with the Palestinians is achieved are dim.
Israel has been far more welcoming of the renewed Arab push for negotiations than that of Europe, with Gold saying this week that Jerusalem will likely boycott a French-planned international conference on the Israeli-Palestinian conflict in Paris, if it goes ahead later this year.
The Israeli government has repeatedly made plain its opposition, arguing that international conferences serve to harden Palestinian negotiating positions and insisting that only direct bilateral talks between Israelis and Palestinians can lead to progress in the stalled peace process.
06/03/2016
Channel 2: PM spoke to secretary on eve of Friday's Paris summit; conversation helped yield a mild concluding statement in French capital
In a telephone conversation with Secretary of State John Kerry on Thursday, Prime Minister Benjamin Netanyahu "said yes" to new efforts led by Egypt and Saudi Arabia for regional progress toward peace, an Israeli television report said.
The call was made on the eve of Friday's Paris peace summit, and was a factor in the summit's vague concluding communique, which Kerry helped negotiate, and which did not set a firm date for the international peace conference Paris wants to host by the year's end, the Channel 2 report said.
Netanyahu also telephoned France's Foreign Minister Jean-Marc Ayrault hours after the summit ended, and told him that France and its allies would best advance peace prospects if, rather than pushing their own initiative, they pressed Palestinian Authority President Mahmoud Abbas into resuming direct talks with Israel, a source close to the prime minister said. Netanyahu also told Ayrault that France's bid to host an international conference could wind up complicating regional efforts that might actually have a chance of making progress, the source said.
Dore Gold, the director general of the Foreign Ministry, told The Times of Israel earlier this week that Israel was hopeful that improved ties with Arab states would ultimately yield Arab pressure on the Palestinians for substantive progress.
"The conventional wisdom for the last few decades has been that a solution to the Palestinian issues will result in improved ties between Israel and the Arab world," Gold told The Times of Israel on Wednesday. "But there is a serious basis for thinking that, actually, the sequence is exactly the opposite — that by improving ties with the Arab states, we set the stage for a future breakthrough with the Palestinians."
Gold has recently met with several officials from Arab countries, including those with which Israel has no formal ties.
In the days leading up to Friday's summit, Netanyahu and other Israeli officials held behind-the-scenes contacts with various international figures, to try and ensure that the summit did not end with an effort to impose terms discomfiting for Israel, the Channel 2 report said. The final statement was indeed relatively vague.
Furthermore, Britain, Russia and Germany did not send their foreign ministers to the meeting, and were represented instead by lower-level officials. Kerry did attend, but did not make any dramatic comments to reporters at the event, merely speaking before the ministers met of the "need to know where it's going."
The Saudi foreign minister, Adel al-Jubeir, who did fly to Paris,used the event to stress that the 2002 Arab Peace Initiative is "still on the table," and said it was the best way to reach a solution to the decades-long Israeli-Arab conflict.
"The initiative has all the elements needed for a final resolution," al-Jubeir told reporters, adding that it could not be "diluted" and that he hoped "Israel will wise-up" to the opportunity it constitutes.
Responding to a question in Arabic, al-Jubeir said that the API, first drafted by Riyadh in 2002 and subsequently backed by the Arab League, has not been and would not be amended. Israel has raised objections to elements of the initiative, which calls for an Israeli withdrawal from all territories captured in the 1967 Six Day War and an agreed resolution to the issue of Palestinian refugees, in return for normalized relations with the Arab world.
"The Arab Peace Initiative does not need changing or adjusting, it is on the table as is," al-Jubeir said, repeating that the essence of the plan is Israel's return to the "1967 lines" and the establishment of East Jerusalem as the capital of a future Palestinian state.
Netanyahu on Monday partially endorsed the initiative, offering to negotiate with the Arab world the parameters of the plan.
"I take this opportunity to make clear that I remain committed to making peace with the Palestinians and with all our neighbors. The Arab Peace Initiative contains positive elements that could help revive constructive negotiations with the Palestinians," Netanyahu declared in the Knesset.
"We are willing to negotiate with the Arab states revisions to that initiative so that it reflects the dramatic changes in our region since 2002, but maintains the agreed goal of two states for two peoples," Netanyahu said, making his statement first in Hebrew and then repeating it in English.
Egypt's President Abdel-Fattah el-Sissi said last month that there was a "real opportunity" for Israeli-Palestinian peace, and pledged all Egyptian assistance to realize it.
The Times of Israel
06/03/2016
Half-day international meet ends with statement calling for conference by year's end, assertion that two-state solution 'is the only way'
A half-day international conference in Paris on kick-starting the Israeli-Palestinian peace process ended Friday with a reaffirmation of a "negotiated two-state solution," the announcement of a planned summit between the two parties by year's end, and a warning that "the status quo is not sustainable."
The communiqué in full:
"The Participants met in Paris on June 3, 2016 to reaffirm their support for a just, lasting and comprehensive solution to the Israeli-Palestinian conflict.
"They reaffirmed that a negotiated two-state solution is the only way to achieve an enduring peace, with two states, Israel and Palestine, living side by side in peace and security. They are alarmed that actions on the ground, in particular continued acts of violence and ongoing settlement activity, are dangerously imperiling the prospects for a two-state solution.
"The Participants underscored that the status quo is not sustainable, and stressed the importance of both sides demonstrating, with policies and actions, a genuine commitment to the two-state solution in order to rebuild trust and create the conditions for fully ending the Israeli occupation that began in 1967 and resolving all permanent status issues through direct negotiations based on resolutions 242 (1967), 338 (1973), and also recalling relevant United Nations Security Council resolutions and highlighting the importance of the implementation of the Arab Peace Initiative.
"The Participants discussed possible ways in which the international community could help advance the prospects for peace, including by providing meaningful incentives to the parties to make peace. The Participants also highlighted the potential for regional peace and security as envisioned by the Arab Peace Initiative.
"The Participants highlighted the key role of the Quartet and key regional stakeholders. They welcomed the interested countries' offer to contribute to this effort. They also welcomed France's offer to coordinate it, and the prospect of convening before the end of the year an international conference."
The Times of Israel
06/02/2016
It seems that the Israeli prime minister speaks to Arab leaders as often as once a week
Prime Minister Benjamin Netanyahu has, for the first time, openly and very casually, revealed that Israel and many Arab leaders have open and ongoing dialogue.
That's revolutionary.
At a May 10th press conference, the Israeli prime minister clearly stated: "The initiative that I'm referring to are regional initiatives—meaning, aided by the Arab countries in the region to reach a real deal with the Palestinians."
In other words, Netanyahu is clearly saying that he had spoken to not one or two, but several Middle East leaders preceding the press conference. And by extension, he will continue his dialogues with these leaders in the very near future.
Knowing that there are ongoing discussions between Israel and the leaders of Arab and Muslim states in the region is a very big deal. And not just any leaders. According to Israeli intelligence sources, Netanyahu was referring to the Saudi crown prince, who doubles as the defense minister of Saudi Arabia.  He was referencing the leader of the United Arab Emirates, the President of Egypt and the King of Jordan. He was talking about talking to them about multiple topics, not only about efforts to creating a solution with the Palestinians. Conversations like those signal a new approach to problem solving and portend well for successful conclusions to conflicts and crises.
It seems that the Israeli prime minister speaks to Arab leaders as often as once a week. That's about as often as most adults speak to their parents—and probably more often than their own young adult children speak to them.
As the circle of Israeli dialogue with Arab and Muslim world widens, it becomes even more impressive. These leaders, who posture and play act before their citizen constituencies as mortal and eternal enemies, are instead, behind-the-scenes dealing with real issues and problem solving by sharing ideas and Intel.
The Israeli prime minister also regularly, but less frequently, speaks to the presidents of Ethiopia and Kenya. And now, because of a thawing in relations with Turkey, Netanyahu is also speaking regularly with President Recep Tayyip Erdogan.
For decades—and this has always been an open secret—Israel has held military discussions with countries in the region. That give-and-take began because Israel was securing good intelligence data and military exchanges with non-Arab states, such as Turkey and Iran during the reign of the Shah.  These states were extremely interested in having that information.  Those exchanges blossomed into relationships, as Israel began to help those Arab countries who wanted assistance solving internal problems with water shortages, irrigation and technology.
Finally, the path opened and evolved into real discussions about terror, radical religious groups, sharing intelligence and other issues—like the continual Palestinian crisis.
The exchange and dialogue between Saudi Arabia, Egypt, Jordan and Israel is impressive. That bond has upset the United States and Russia, which are wary of this new acquaintanceship and do not know how to deal with the discomfort. This new interaction has forced the United States out of the center of all things Middle Eastern, a position it long maintained.
Certainly, all the parties involved still need either the United States or Russia, or even both of them, but they have also made the decision to try and work out issues on a regional basis. Diplomatically speaking, that's the grown up thing to do.
Ironically, the impetus for the new status between Israel and these Arab countries was, get this, US-Iranian detente. President Barack Obama should either be patting himself on the back or hitting his head with his open hand.
Without exception, each and every country in the Middle East was so frustrated and angered by President Obama's obsession to cut a deal with Iran at any cost, that the leaders were forced to communicate with each other and find their own ways to secure their own futures. Old hostilities were put aside when faced with this new danger.  It was the result, albeit unintended, of poor US policy in the Middle East.
All of Bibi's counterparts agree Palestinian President Mahmoud Abbas is too weak to deliver a peace solution or to convince his people that peace with Israel will improve their lives.  But if the other leaders of the Arab world can sign off on a peace pact, that deal will likely secure a real and lasting new solution between Palestinians and Israelis.
Arab and Muslim leaders can force the Palestinians to do what the United States could never force them to do: strike a reasonable deal.
Observer
06/01/2016
Israel's efforts at impacting the results of Friday's scheduled Middle East summit in Paris is focused on discussions with the Americans, The Jerusalem Post has learned.
The US, which publicly has taken a wait-and-see approach to the French-led summit, is considered to be the dominant actor whose positions will go a long way toward determining the outcome of the conference.
Israel is holding intensive talks with Washington regarding how the meeting will proceed, and what conclusions will emerge. One of the big questions will be whether the meeting will be a one time event, or whether workshops will be set up that will necessitate intensive follow-up by the international community.
While at first it seemed as if a report by the Quartet — made up of the US, Russia, EU and UN — spelling out the reasons for the current diplomatic logjam and recommending ways to move forwards was expected to be released before the summit, now it appears that the document will be released only afterward, perhaps taking into account what happens at the Paris meeting. The report has already been written.
Prime Minister Benjamin Netanyahu – who has come out adamantly against the meeting – spoke out against it again Wednesday night at a graduation ceremony at Bar Ilan's medical school in Safed.
"The way to peace does not go through international conferences that seek to impose agreements, make the Palestinians' demands more extreme and thereby make peace more remote," he said.
Instead, Netanyahu added, the way to peace is through direct negotiations without any preconditions.
"This is the way it was when we reached peace with Egypt and with Jordan, and this is the way it needs to be with the Palestinians," he said. "If the countries gathered this week in Paris really want to advance the peace, they should join my call to Abu Mazen [Palestinian Authority President Mahmoud Abbas] co come to direct negotiations. That is the way to peace, there is no other."
Some 30-countries and international organizations are expected to attend the summit to discuss the parameters of what the international community believes should be the basis for direct negotiations between the sides down the line. Neither Israel nor the Palestinian Authority have been invited to attend. The PA has come out in favor of the parley. US Secretary of State John Kerry, and his Russian counterpart Sergey Lavrov, are both expected at the meeting. The diplomatic moves are expected to be among the topics that Netanyahu will discuss next week with Russian President Vladimir Putin in Moscow.
In Washington, State Department spokesman John Kirby said on Tuesday that US Secretary of State John Kerry was "looking forward" to attending the summit "to see what possibilities there may be, what options can be pursued."
Kirby said that nothing has changed regarding Washington's "commitment to trying to get at a two-state solution. And if good ideas and alternatives and palatable ways forward come out of this initiative started by the French, well, then that's all to the good."
Kirby noted that Kerry has said many times that "the first and most important thing is that the leaders themselves in the region have got to be leaders. They've got to make some tough decisions. And they have to show in real ways, not just rhetoric, that they're willing to take the steps necessary to get us to a two-state solution, and to date they haven't done that. So the Secretary's been very clear that he's not going to shut down any avenue for discussion or debate or consideration of ideas. This isn't about going to please the French or anybody else, it's to try to have a meaningful conversation about a path forward."
Kirby, meanwhile, welcomed Netanyahu's comments earlier this week that the 2002 Arab peace initiative could form the basis of negotiations.
"As the Secretary himself has said many times, the Arab Peace Initiative can play a critical role in advancing peace in the region. We continue to call on both sides, as I said before, to demonstrate with policies and actions their commitments to the two-state solution, and we're ready to support them in any way."
Netanyahu alluded again on Wednesday to a wider regional initiative, saying that "we are not giving up the search for pathways to peace, including with the assistance of important developments in the region."
In parallel to the French summit, a meeting that Jerusalem fears may seek to place a timeline on negotiations, there has been talk in recent weeks of a regional meeting in Cairo, during which Netanyahu and Abbas would meet in an Egyptian-sponsored framework. This is Jerusalem's preferred option.
One of Israel's concern about the French initiative is that the summit will call for an international conference to launch direct negotiations later in the year, and will put a deadline on those talks.
Paris has indicated regarding previous initiatives it has floated over the past year that if after a specified amount of time negotiations do not produce results, it would recognize a Palestinian state. Israel's position is that this only hardens the Palestinian negotiating position, since they will have no incentive to genuinely negotiate if they know that if no agreement is reached, they will get international recognition anyway.
JPost
05/31/2016
Netanyahu offers to negotiate revisions to 2002 bid; new Defense Minister Liberman also sees 'very positive elements' to it
In a dramatic declaration, Prime Minister Benjamin Netanyahu on Monday partially endorsed the Arab Peace Initiative, offering to negotiate with the Arab world the parameters of the plan, which promises Israel full diplomatic ties with 57 Arab and Muslim states after cementing a peace accord with the Palestinians.
"I take this opportunity to make clear that I remain committed to making peace with the Palestinians and with all our neighbors. The Arab Peace Initiative contains positive elements that could help revive constructive negotiations with the Palestinians," Netanyahu declared in the Knesset.
"We are willing to negotiate with the Arab states revisions to that initiative so that it reflects the dramatic changes in our region since 2002″ — when the proposal was first floated — "but maintains the agreed goal of two states for two peoples," Netanyahu said, making his statement first in Hebrew and then repeating it in English.
The prime minister concluded his remarks by welcoming a recent speech by Egyptian President Abdel-Fattah el-Sissi, who offered Cairo's assistance in helping Israelis and Palestinians reach a peace agreement. Netanyahu did not mention his frequently reiterated conditions for any peace deal with Ramallah, namely that any Palestinian state must be demilitarized and has to recognize Israel as the national home of the Jewish people.
Netanyahu also did not mention the new French peace initiative, which will kick off Friday with a conference in Paris where the foreign ministers of some of the world's most important states are expected, including the top diplomats from the United States, Egypt and Saudi Arabia.
Standing next to Netanyahu, incoming Defense Minister Avigdor Liberman said he fully endorsed the prime minister's statement, including his call for an agreement leading to two states for two peoples. His party, Yisrael Beytenu, has long supported Netanyahu's 2009 Bar-Ilan speech, in which he for the first time accepted, in principle, the idea of Palestinian statehood, Liberman said.
"President Sissi's speech was very important; it creates a genuine opportunity that obligates us to pick up the gauntlet," the new defense minister said. "I certainly agree that in the Arab Peace Initiative there are some very positive elements that will enable us to conduct serious dialogue with our neighbors in the region."
Proposed by Saudi Arabia and later adopted by the Arab League 14 years ago, the Arab Peace Initiative says that 57 Arab and Muslim states will establish "full diplomatic and normal relations" with Israel, in exchange for a "comprehensive peace agreement" with the Palestinians.
In 2002, the Israeli government was curious but perceived the initiative as a take-it-or-leave-it proposition it couldn't possibly embrace. "On the surface, the proposal looked appealing, with its provision that the Arab states welcome peace with Israel — something they had been unwilling to do since the state's inception," the son of then-prime minister Ariel Sharon, Gilad Sharon, wrote in a 2011 memoir of his father. "But the details made the offer unacceptable."
Originally, the initiative demanded a "full Israeli withdrawal from all the Arab territories occupied since June 1967," the establishment of a Palestinian state with East Jerusalem as its capital, and a "just" and "agreed upon" solution to the Palestinian refugee question. Over the years, the initiative has been partially embraced by some in the Israeli left, but the required withdrawal from the Golan Heights and the open-ended nature of the refugee issue made the initiative a nonstarter for many Israelis.
In 2013, the Arab League showed some flexibility in allowing that, to reach a final settlement of the Israeli-Palestinian conflict, "comparable," mutually agreed and "minor" land swaps could be possible.
Exactly one year ago, Netanyahu for the first time had some good words about the initiative, though he stopped short of fully endorsing it. "This initiative is 13 years old, and the situation in the Middle East has changed since it was first proposed," he told reporters on May 28, 2015. "But the general idea — to try to reach understandings with leading Arab countries — is a good idea."
In recent months Netanyahu has frequently touted what he has described as warming ties with Sunni Arab nations, with which Israel has grown to share many regional security interests. His and Liberman's statements embracing peace talks with the Palestinians come amid domestic and international criticism over the appointment of Liberman, widely perceived as a hardliner, to the sensitive post of defense minister, and over his party joining the coalition to form what has been referred to by pundits as "the most right-wing" government in Israel's history.
The Times of Israel
05/22/2016
Jerusalem (TPS) – Prime Minister Benjamin Netanyahu said on Sunday night that the Arab nations in the region can help facilitate a "real deal with the Palestinians," adding that he has been discussing the issue with regional leaders "over the last few hours."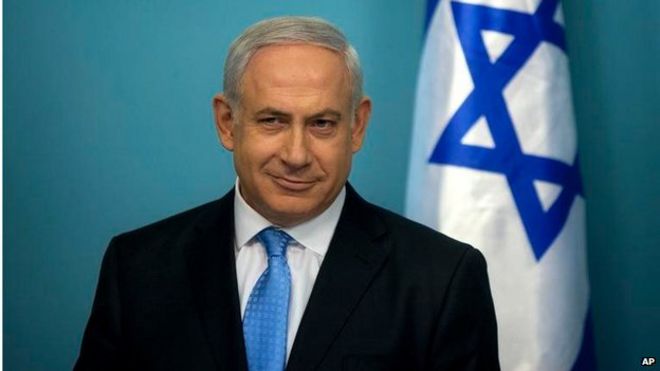 "The initiatives I'm referring to are regional initiatives – meaning, aided by the Arab countries in the region to reach a real deal with the Palestinians," Netanyahu said in a press conference following a meeting with Czech Prime Minister Bohuslav Sobotka at Jerusalem's King David Hotel. "We always thought it would be the opposite," Netanyahu acknowledged, "but that is the direction today. I am constantly trying, including over the last few hours, to further contacts with various leaders in the region to help in this direction."
Netanyahu's comments come on the eve of his meeting with French Prime Minister Manuel Valls ahead of an international peace conference planned to take place in Paris at the beginning of June. Netanyahu has so far forcefully rejected the French conference, arguing that only direct talks between Israel and the Palestinians could advance peace and suggesting that the forum was biased against Israel.
The latest remarks, however, suggest that Netanyahu places more confidence in the efforts of regional Arab governments than in European peacemaking conferences.
"We have many common interests with leading Arab countries in the region, and I think that one of those interests is to advance a process for real peace between us and the Palestinians, and perhaps with their help we can overcome those a few obstacles," Netanyahu said.
Netanyahu's comments seemed to allude to a striking speech by Egyptian President Abdel Fattah al-Sisi last week in which he offered to act as a moderator between Israel and the Palestinians. Netanyahu immediately welcomed al-Sisi's remarks, issuing a statement that "Israel is ready to participate with Egypt and other Arab states in advancing both the diplomatic process and stability in the region. I appreciate President al-Sisi's work and also draw encouragement from his leadership on this important issue."
Israel and Czechia signed a series of bilateral agreements relating to science, technology, tourism, and cybersecurity – the Czech embassy even has a special "cyber attaché." But Netanyahu also thanked Prime Minister Sobotka for "the fairness of the Czech position in international forums."
"Israel is often portrayed as not wanting peace. Nothing could be further from the truth. We pursue peace; we're going to continue to pursuing peace with an expanded government, including various initiatives and possibilities within our region," Netanyahu said. "I want to assure you that we'll be happy to take up any suggestions and any help that you can give us in this common pursuit for peace."
JewishPress