The Russian leader updates the PA President on his recent talks with the Israeli leader; Abbas complains about the US moving its embassy to Jerusalem
07/14/2018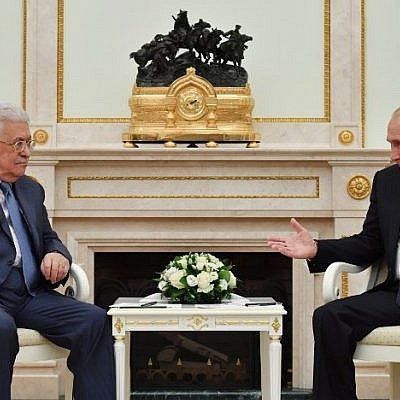 MOSCOW — Palestinian Authority President Mahmoud Abbas was in Moscow on Saturday to meet  with Vladimir Putin, just days after the Russian leader hosted Prime Minister Benjamin Netanyahu.
"I'm glad of the opportunity to tell you about the contact we have had with your neighbors, and leaders of various countries," Putin told him as they met at the Kremlin, in quotes carried by Russian agencies.
"I know that the situation in the region is difficult and we are grateful that you have used the World Cup as a reason to come to Moscow," Putin said, adding that he was glad of the opportunity to discuss the problems facing the Palestinians.
Abbas told the Russian leader of his concerns over US President Donald Trump's decision to move the country's embassy to Jerusalem, as well as Israeli settlement activity.
"We are resisting attempts by the Americans to impose their decisions on the most sensitive problems of Palestine," Russian news agencies quoted him as saying in translated remarks.
The talks came as Palestinians in Gaza fired dozens of rockets and mortar shells into Israel and the IDF bombed dozens of Hamas targets in the widest day time air strikes since the 2014 war.
Abbas has been imposing sanctions on Hamas in a bid to force the terrorist group to give up control of the coastal enclave, which it seized from Abbas' Fatah group in 2007.
There was no word on whether Abbas discussed Gaza with the Russian leader.
Netanyahu was in Moscow on Wednesday where the situation in Syria was the main focus of his meeting with Putin.
Times of Israel Staff contributed to this report