Tekin told i24NEWS that Ince's pledge to visit Gaza could also fit in to a 'new phase with the Israeli govt'
06/24/2018
Israel will be watching closely snap presidential and legislative elections in Turkey, seen as the biggest test for President Recep Tayyip Erdogan of his 15 years in power, amid renewed tensions with the Turkish strongman who has threatened to review economic ties with the Jewish state over recent violence on the Gaza border.
Though domestic issues such as the economy and Erdogan's rapid consolidation of power and suppression of opposition have been central issues in election campaigning, Erdogan's continuing economic ties with Israel has been a point of criticism pounced on by his resurgent opposition challenger Muharrem Ince.
Both Erdogan and Ince have threatened to review economic ties with Israel following the elections in response to the US decision to recognize Jerusalem as Israel's capital and what Turkey has said to be excessive use of force against Gazans holding mass protests along the border since March 30.
But Ince has accused Erdogan of orchestrating a "secret deal" with Israel, noting how "oil and seed trade" continues unabated alongside demonstrations Erdogan organized to show solidarity with the Palestinian people.
"President Erdogan has been very outspoken about Turkey's view. What he states is the feeling of 80 million Turks, be it in the [current] government, be it in the opposition — all political parties in Turkey have the same sense of affiliation with Palestine and Jerusalem," Egeman Bagis, a top political adviser to Erdogan told i24NEWS in an interview in Istanbul.
"Prime Minister [Benjamin] Netanyahu and his team have to realize that our bilateral issues and our bilateral relations will be affected by how Israel treats Jerusalem, how Israel treats Palestine, and the civilian Palestinian people," Bagis said.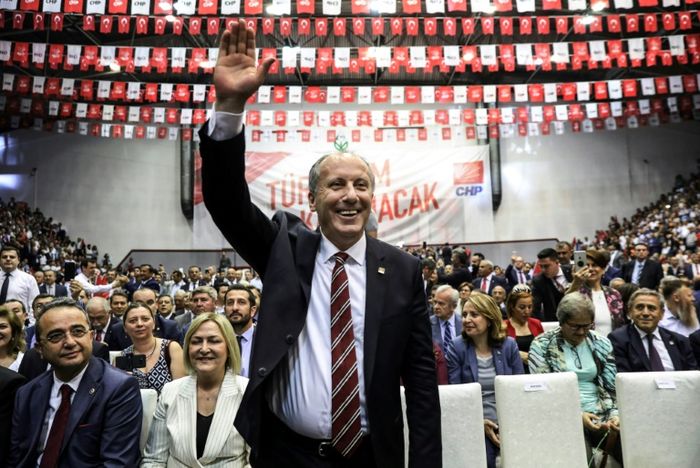 With impassioned campaign speeches across the country Muharrem Ince has emerged as the leading standard bearer of the opposition to Erdogan 
ADEM ALTAN (AFP/File)
Israel's relations with Turkey took a blow in the aftermath of the opening of the US embassy in Jerusalem, as more than 60 Palestinians were killed in clashes with Israeli troops on the volatile Israel-Gaza border packed with some 40,000 protesters.
As Erdogan and Netanyahu traded barbs, both countries withdrew their respective diplomats. Israel, meanwhile, said it would hold a parliamentary debate on recognizing the Armenian genocide.
Israel has so far refrained from acknowledging the 1915-1917 killings of some 1.5 million Armenians in the Ottoman era as a genocide due to its diplomatic ties with Turkey and Azerbaijan.
Bagis said that for Israel to do so would be "unwise" and an "insult to the victims of the Holocaust" dismissing the provocative move as "Israel trying to take revenge for Turkey's stand on Palestine today."
"We are ready to face our own history if [Israel is] ready to face theirs," Bagis said. "But Israel should not intervene and try to use what happened in 1915 as an excuse to further worsen relations between Israel and Turkey today."
Despite the acrimonious relationship between Erdogan and Netanyahu, Bagis said that Turkey recognizes that the Israeli premier is nonetheless its counterpart in efforts to revive the Israeli-Palestinian peace process.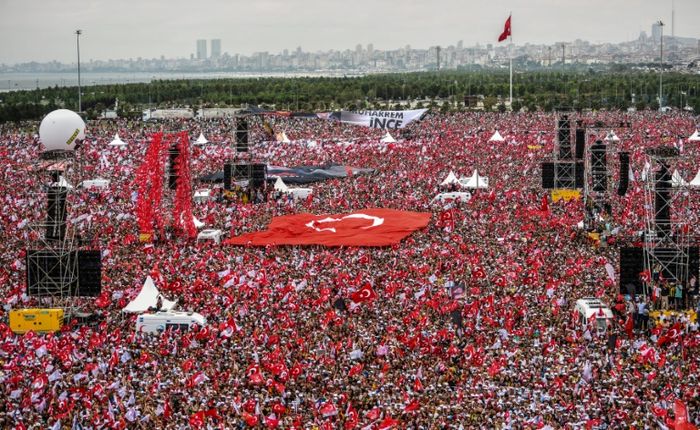 Supporters of Muharrem Ince turned out in their thousands ahead of Turkey's elections 
Bulent Kilic (AFP)
"He should realize that the interest of his own people, of his own country, lies in better relations with Turkey and the other countries in the region. And to achieve those better conditions, he has to go back to the Middle East peace process and he has to respect the rights of the Palestinian people and he has to work towards a two-state solution," Bagis said.
"We want to see two states living side by side in peace, cooperating, trading, and supporting each other," he added, noting that positive steps in that direction would likely lead to improved ties with other Middle Eastern countries including Jordan, Saudi Arabia, and other Gulf nations.
Until then, Bagis said, "Netanyahu, who has unfortunately [Palestinian] blood on his hands…should be the last person to criticize President Erdogan on human rights, on the Kurdish issue, or on any other issue whatsoever."
While Erdogan has positioned himself as a champion of the Palestinian cause, often calling Hamas "freedom fighters," Former Secretary General and Istanbul MP for the Republican People's Party (CHP) Gursel Tekin condemned the legitimization of what he called "illegitimate organizations."
"You cannot solve problems by trying to legitimize illegitimate organisations in another country. This applies to Turkey as well as Israel, Iran and the U.S. Diplomacy should prevail over these tactics. You cannot get rid of terror in the Middle East if you are legitimizing terrorist organizations," Tekin said in support of opposition leader Ince.
Seeing Israel as an integral part of establishing peace in the Middle East, Tekin told i24NEWSthat Ince's pledge to visit Gaza could also fit in to a "new phase with the Israeli government."
"Of course when we talk about establishing peace in the middle east, we cannot exclude Israel since Israel is also a part of this process….Israel and Turkey should certainly try out amicability. This amicability will be beneficial to all."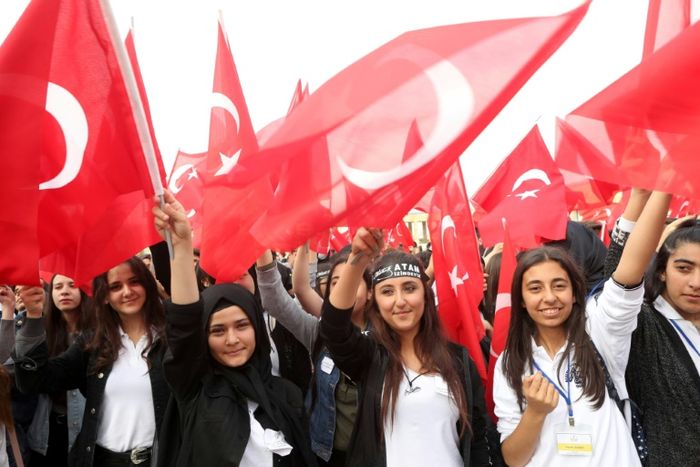 People wave Turkish flags as they hold a commemoration at the mausoleum of Mustafa Kemal Ataturk, Turkey's first president
ADEM ALTAN (AFP)
Despite insistence from the Palestinian Authority to remove the United States from its role as peace broker in the Israeli-Palestinian conflict, Tekin still stressed the importance of the US in the process.
"I believe a new peace process should start with the participation of the U.S., the Middle East countries, Egypt, Israel and the West. As for Turkey, we can make significant contributions to this peace process."