It's not an Assad victory — it's a frozen conflict.
Syria increasingly seems to be moving toward de facto partition accompanied by ongoing low-level military conflict and a functional, but sluggish politics — a so-called frozen conflict. This may have been the goal all along for Russian President Vladimir Putin, who has initiated and managed such conflicts elsewhere, including in Georgia and Ukraine.
Other significant players in Syria, including Israel, the United States, Turkey, and the remaining Sunni Arab rebels, may likewise discover they'd be satisfied with this new reality. The clearest losers, by contrast, would be the Assad regime and Iran.
What are the indications Syria is moving in the direction of frozen conflict? Consider the recent visit by Syrian President Bashar al-Assad to Russia to meet with Putin. At the press conference following the meeting, Putin told reporters that, "Following the Syrian Army's notable successes in fighting terrorism, and with the activation of the political process, the foreign forces based in Syria will start to withdraw from the country." This seemed to hint that the Russian president wasn't interested in assisting the Assad regime's reconquest of the entirety of Syria. And absent the Russian air support that the Syrian military has relied on in major combat operations (including the siege of Aleppo and the destruction of rebel-controlled Eastern Ghouta), such reconquest would be impossible.
Some have speculated that Putin was referring only to the withdrawal of foreign forces opposed to the regime. In the past, Moscow has sought to differentiate between its own presence in Syria (at the invitation of the "legitimate" Syrian authorities) and the uninvited presence of other foreign elements. On this occasion, however, Russia's Syria envoy, Alexander Lavrentiev, clarified that the president was referring to "all foreign military forces stationed in Syria, including American, Turkish, Hezbollah, and Iranian [forces]."
The Russian statement was followed by an angry response from Tehran. Iran's Foreign Ministry spokesman Bahram Qasemi told reporters in Tehran that, "No one can force Iran to do anything. … As long as terrorism exists and the Syrian government wants, Iran will have presence [in Syria]." The dueling statements are just one indication among many of differences between Moscow and some of its allies about the future of Syria. There's also Moscow's acquiescence to recent large-scale Israeli air actions against Iranian targets in Syria, and its apparent granting of permission to the Turks to establish a sizeable enclave in northwest Syria. Assad, meanwhile, has rejected a Russian plan for the drafting of a new Syrian constitution that would limit his powers.
Moscow's pattern of behavior elsewhere suggests that it is comfortable with the maintenance of unresolved conflicts, at relatively low cost. In Ukraine, for example, the conflict in the Donbass remains far from resolution. But by holding parts of Donetsk and Luhansk provinces, Russia ensures that it can disrupt Ukraine's internal affairs at will, and that its plans and strategy are the most urgent issue facing any Ukrainian government.
In Syria, of course, Russia is backing the government, rather than an insurgency of its own making, as in Ukraine. But Moscow is now making clear that its interests don't entirely overlap with Assad's.
This wasn't immediately apparent when Russian aircraft first appeared over the skies of Syria on Sept. 30, 2015. They were received with a crescendo of triumphant editorials in pro-Iran and pro-Hezbollah regional media. An article in the Lebanese newspaper Al-Akhbar at the time by its editor, Ibrahim al-Amin, heralded the birth of the "4 + 1" alliance, which would include Iran, Iraq, Assad's Syria, Hezbollah — and Russia. The reality today suggests a more complex picture.
Russia appears largely to have made the points it wished to make in Syria. Its intervention kept the Assad regime from probable defeat in 2015. The regime's fortunes have since been reversed. It now controls around 60 percent of Syrian territory. The last enclaves of Islamic State control in the vicinity of Damascus were emptied out this week. No danger of rebel victory remains.
Russia has proved the efficacy of its brutal air tactics and weapons systems, and the relative skill and dedication of its revamped army. It has preserved the integrity of its naval bases in Tartus and Latakia, and the Khmeimim air base. It has made its point that Moscow sticks by its allies. And it has killed many North Caucasian jihadis who had made their way to the rebellion.
But Putin evidently has little interest in the job al-Amin, the pro-Hezbollah editor, wanted to offer him: leader of the region's militant Shiite bloc. Rather, Moscow wishes to make itself the key power broker in the Syrian context, the address through which all must pass in pursuit of their goals. But for this, of course, Russia must be able to grant each party part of what it wants, rather than coming down firmly on any side.
05/25/2018
Strikes near military airport outside Homs reported Thursday; Iranian missiles targeted and destroyed; Syrian army claims its missile defense "confronted the attacked and prevented it from achieving its aim".
Israeli airstrikes in Syria were reported on Thursday evening southwest of Homs near a military airport close to al-Qasr.
Large explosions were reported Thursday, with varied reports from Syrian and Hezbollah media on the strikes. Hezbollah reported four missiles fired at the al-Dabaa airport, with Arab media reporting more. Sky News Arabia reported sounds of Israel jets in Lebanese airspace ahead of the strikes.
SANA news agency reported Thursday that "One of our military airports in the central region was exposed to hostile missile aggression," claiming "our air defense systems confronted the attack and prevented it from achieving its aim."
The strikes reportedly targeted Iranian missiles at the site. The base was known for harboring Hezbollah and Iranian Revolutionary Guard Forces, as well as would "host multiple militia recruitment centers & training facilities."
S-200 air defense missiles were fired at the incoming missiles, with no damages reported.
As with most covert operations in Syria, the IDF and Ministry of Defense refused to comment on the reports.
The developments follow strikes on Syrian Army positions in the Deir ez-Zor province early Thursday. Both the Syrian Army and Hezbollah reported US Coalition Air Force strikes on Syrian Army positions. Hezbollah reported strikes on two Syrian army posts and near T2-an energy installation close to the border with Iraq. Syria's SANA first released reports of the attacks, citing a Syrian army source. It claimed "Some of our military sites between Albu Kamal and Hamimia were exposed at dawn today to aggression launched by US coalition jets."
A reported 12 militants were killed in the strikes.
The US military and Pentagon denied the reports, a spokesman for the Central Commander stating "We have no operational reporting of a US-led coalition strike against pro-Syrian regime targets or forces."
Israel Air Force Commander Maj.-Gen. Amikam Norkin recently confirmed that the IDF continues its operations in Syria since the May 10 confirmed operation on over 15 Iranian bases in Syria. He reported that the IDF is mainly preventing weapons shipments to Hezbollah, as well as on Iranian bases and efforts.
Norkin recently stated that the IDF "has been watching what the Iranians were doing around us. The Quds Force is set up at the T-4 base, which is some 250 kilometers from Israel. From this base they tried to attack using an armed drone that infiltrated Israel several months ago from our eastern border. After that incident, we determined that they were continuing to store weapons at the base, including aerial defense capabilities that we attacked over the past month."
He added, "In recent weeks, we realized Iran had sent missiles and long-range rockets to Syria, including [BM-27] Uragan launchers that we attacked north of Damascus."
Amir will address this and much more during his Middle East Current Events Update on Friday, May 25, 2018. Tune in our Facebook page at 7:00 pm (Nashville time). The update will be added on Saturday to Youtube.
05/25/2018
On the seventh day of the auspicious month of Ramadan, the heads of government branches, officials, government authorities, a group of senior managers as well as political, social and cultural activists met with Ayatollah Khamenei this evening May 23, 2018.
The Leader of the Revolution, while meeting with government authorities and officials during the eventful month of Ramadan this evening said: "Since the beginning of the revolution till today, the US has harbored deep animosity towards the Islamic Republic, and it has plotted various political, economic, military and propaganda schemes against the Islamic Republic. All these actions aimed at 'overthrowing' the Islamic Republic, a word which is repeated constantly, is not something new."
His eminence continued: "All their plots have failed. You can compare the Islamic Republic now to forty years ago, and see that it is moving forward with various capabilities. So, all their plots have failed… just like Tom from the well-known Tom and Jerry cartoon; and they will fail again in the future. We have no doubt in the failure of the enemy; and anyone who is familiar with Islamic thought knows this. The current US president will have no better fate than that of his predecessors, like Bush, the other Neocons, and Reagan; he and will be lost in history."
6 experiences Iran earned from the JCPOA
The Leader of the Revolution, in today's meeting with the government officials and authorities, stated: "The introduction to every decision is that we refer to our own experiences, if we do not learn from past experiences, we will surely be at loss. We have several experiences before us, as I refer to some salient examples, all of you will admit: these are important for decision making, today, and for the next generations."
Ayatollah Khamenei reminded his audience: "The first lesson is that the Islamic Republic government cannot interact with the US. This is the first experience. Why? Because the US does not perform its commitments. Don't say this is only true for the administration of Trump. No! The previous administration in the US, with whom we had meetings and talks, behaved in the same manner, but they rejected the agreement in a different manner. They also threatened [us] and went against their commitments. This is an answer to all those who, repeatedly, over time asked me, "why don't we negotiate with the US, or why don't we develop relations with the US?"
Mentioning that the second experience is related to the depth of the US's animosity towards Iran, the Leader of the Revolution added: "The animosity of the US is not based on an issue like the nuclear issue, but it goes beyond such matters: the Islamic Republic is a government that has grown powerful, it, in no way, compromises with the US, and has risen the flag of Islam. The US is strongly opposed to such a government. The US seeks to obliterate the factors of power in the Islamic Republic."
He went on to say: "The third experience is that flexibility with regard to this enemy will not make it less aggressive, but it makes him more aggressive. When the Iranian government at the time of George W. Bush Senior showed some flexibility, the US named it the Axis of Evil. If you want to do something to reduce the animosity, do it; but it is not realized through flexibility and compromise."
Referring to the fifth experience that consisted of the cooperation of Europe with the US on important issues, he stressed: "We do not want to fight with Europe, but these three countries have proved that, on the most sensitive issues, they follow the US. The immoral behaviour of France as the bad police in nuclear negotiations and the obstructionism of the UK in production of Yellow Cake were some examples."
He then added: "The sixth experience is to never rely on the JCPOA and foreign matters for our domestic matters… we should not attach domestic matters to some affairs which are out of our control."
During the meeting with a group of officials, the Leader of the Revolution also said: "We must learn from our mistakes, and from our experience, and must not be satisfied with marginal effects. For example, it is said that the U.S. lost face in this JCPOA business. That is right. But did we negotiate so that they lose face, or did we negotiate to lift the sanctions? Now they are saying that there will be secondary sanctions."
Ayatollah Khamenei further asserted: Or, it is said that the relationship between the U.S. and Europe has deteriorated. But did we sit at the negotiations table for this? Of course, Europe will not stand in the United States' way. Let's be realistic and not count on probabilities. It was said at the beginning of the negotiations that 100 billion dollars would enter the country. This was not true. Now, the insolent president of the United States sometimes even says that 150 billion dollars was given to Iran by them. What nonsense. When did you ever give us anything?
What we project about our interests must be true and told to the people clearly."
Iran will resume halted nuclear activities if Europe fails to provide guarantees
Mentioning that the economy of Iran cannot be resolved by the European[s in] JCPOA, the Leader of the Revolution emphasized: "There is much evidence. Some European companies have left. Some of them are leaving, or they say they are not sure if they will remain. The heads of European countries say different things. For our economy, we cannot rely on JCPOA and the Europeans. These three countries acted against their word some thirteen or fourteen years ago; in the nuclear negotiations, they promised and didn't keep their promise, now they should prove that they won't repeat the same untruthfulness and prevarication this time. During the last two years, the US violated the JCPOA several times, and Europe remained silent. Europe must compensate for that silence." He deemed the continuation of the JCPOA possible only if Europe provides six concrete guarantees:
The US has rejected the Resolution 2231; Europe needs to issue a resolution against the US's violation of it.
Europe must promise not to raise the issues of missiles and regional affairs of the Islamic Republic.
Europe must encounter any sanction against the Islamic Republic and explicitly stand to US's sanctions.
Europe must guarantee that Iran's oil will be completely sold. If the US can damage the sale of our oil, we must be able to sell as much oil as we want. Europeans must guarantee that they compensate for the loss, and that they buy Iran's oil.
European banks must guarantee transactions with the Islamic Republic. We have no conflicts with regard to these three countries; but we do not trust them, based on previous experience."
Ayatollah Khamenei added:"If the Europeans linger over our demands, Iran has the right to resume its nuclear activities. When we see that the JCPOA was useless, one way forward is to restart those halted activities."
He finally stressed: "Our enemy has placed the war room in the treasury department, instead of the Ministry of Defense. In the same way, we must place the entity for encountering the malignancy of this enemy in the economic center of the government, and the foreign ministry must cooperate."
The full text of the speech will soon be uploaded on the website.
VIENNA (Reuters) – Nations that remain in the Iran nuclear deal meet on Friday for the first time since U.S. President Donald Trump left the pact, but diplomats see limited scope to salvage it after Washington vowed to be tougher than ever on Tehran.
05/25/2018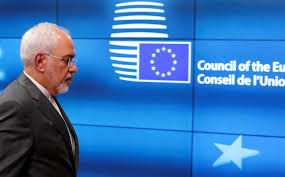 Washington vowed to be tougher than ever on Tehran.
British, Chinese, French, German and Russian officials will try to flesh out with Iran's deputy foreign minister a strategy to save the deal by keeping oil and investment flowing, while circumventing U.S. sanctions that risk hurting the economy.
The 2015 accord rests on lifting sanctions and allowing business with Iran in exchange for Tehran curbing its nuclear program. The deal's proponents say it is crucial to forestalling a nuclear Iran and preventing wider war in the Middle East.
But U.S. Secretary of State Mike Pompeo on Monday threatened the Islamic Republic with "the strongest sanctions in history" if it did not change its behavior in the Middle East."Pompeo was like taking a cold shower," said a European diplomat. "We'll try to cling to the deal hoping that there is a possibility of a transaction, but we're under no illusions."
At the heart of Friday's talks, chaired by the European Union, Iranian officials will seek guarantees from the Europeans that they can protect trade. They will also want assurances that all parties will continue to buy Iranian oil.
Iran's supreme leader set out a series of conditions on Wednesday for Iran to stay in the deal.
"This is a very important meeting that will show whether the other parties are serious about the deal or not," an Iranian official told Reuters. "We will understand whether, as our leader, said, the European can give us reliable guarantees or not."
Highlighting how difficult it will be, the U.S. Treasury announced Thursday more sanctions on several Iranian and Turkish companies and a number of aircraft in a move targeting four Iranian airlines.
Some Western companies have already quit Iran or said they may have to leave because of U.S. sanctions.
Iran's Foreign Minister Mohammed Javad Zarif said he expected the other signatories to present "a new package" that would be within the boundaries of the agreement, but did not include "any other issues."
Trump denounced the accord, completed under his predecessor Barack Obama, because it did not cover Iran's ballistic missile program, its role in Middle East conflicts or what happens after the deal begins to expire in 2025.
While European nations share those concerns, they have said that as long as Tehran meets its commitments, they would remain in the deal.
The U.N. atomic watchdog policing the pact said on Thursday Iran continued to comply with the terms of the deal, but could be faster and more proactive in allowing snap inspections.
Iran slams U.S. sanctions push
"The European desire to remain in the agreement does not, however, detract from the concerns we have with regard to Iran," France's foreign ministry spokeswoman said on Thursday.
"That is why we proposed to establish a comprehensive negotiating framework with Iran. We want Iran to understand the value of a cooperative approach."
Additional reporting by Parisa Hafezi in Ankara; Editing by Matthew Mpoke Bigg
05/24/2018
ST PETERSBURG (Sputnik) – Russia is ready to use euros rather than US dollars in foreign trade if the European Union declares its stance against expansion of the US anti-Russian sanctions, Russian Finance Minister Anton Siluanov said Thursday.
"As we see, restrictions imposed by the US partners are of an extraterritorial nature… If our European partners declare their unequivocal position [against the expansion of sanctions], we certainly see a way out in using the European currency, the European infrastructure organizations for financial settlements, for payments for goods, services, which often fall under various kinds of restrictions," Siluanov noted speaking at the St. Petersburg International Economic Forum (SPIEF).
The minister went on saying that Russia would use European currency and the EU financial institutions in order to pay for goods and services which currently fall under defferent kinds of restrictions if Europe "declared its unequivocal position" on the necessity of lifting anti-Russian sanctions.
He also pointed out that Russia had already been developing ways of domestic currency settlements with its trade partners.
The European Union, which initially backed the US anti-Russian sanctions, has recently criticized Washington's policy of imposing various restrictions on other countries, especially after Europe itself had been hit by the US steel and aluminum tariffs. Tensions between transatlantic partners further escalated after US President Donald Trump announced that Washington was withdrawing from the nuclear agreement with Iran and reimposing sanctions on this country.SPIEF, held annually in Russia's second largest city of St. Petersburg, is a major global platform for communication between business representatives and the discussion of crucial economic issues.
Sputnik, which is a multimedia international news and information agency, is the official media partner of the forum.
North Korea says it is willing to go ahead with talks with U.S. in order to resolve matters of concern.
Elad Benari, 25/05/18
North Korea on Thursday night, through its official news agency KCNA, reacted to U.S. President Donald Trump's cancellation of a summit with its leader Kim Jong Un.
According to the report, Pyongyang indicated it was still prepared to go ahead with talks and solve matters of concern "whenever, however" with the United States.
"Kim Jong Un has made utmost efforts to hold a summit with U.S. President Donald Trump," said KCNA, as quoted by the Reuters news agency.
The country was "still willing to resolve issues with the United States whenever, however", it added.
Trump's "decision to scrap U.S.-North Korea summit is not in line with the world's wishes", said the North Korean news agency.
In announcing the cancellation of the summit earlier on Thursday, Trump cited Pyongyang's "open hostility" towards the U.S. in recent statements.
The two leaders had been scheduled to hold the historic meeting at a summit on June 12 in Singapore.
The president's letter to Kim Jong Un was released a day after Trump hinted that the summit could be delayed.
"It may not work out for June 12," the president said at a White House meeting with South Korean President Moon Jae-in. "If it does not happen, maybe it will happen later."
"There are certain conditions we want to happen. I think we'll get those conditions. And if we don't, we won't have the meeting. You never know about deals," Trump continued. "I've made a lot of deals. You never really know."
North Korea last week said that the summit between Trump and Kim is at risk because of joint military exercises between the U.S. and South Korea.
Now that Donald Trump has exited the 2015 JCPOA nuclear deal with Iran, there is more at stake for the other signatories than either their belief in the deal's virtues or their eagerness to salvage economic opportunities. Maintaining the deal without the US would deliver a severe blow to American credibility and perceptions of US power. China has long experience circumventing sanctions regimes, but the environment surrounding the reimposed sanctions is likely to be unusually confrontational.
Chinese businessman Sheng Kuan Li didn't worry about sanctions when he decided, in 2010, to invest $200 million in a steel mill in Iran. That mill started producing ingots and billet within months of the lifting of punitive measures against the Islamic Republic as part of the 2015 international nuclear agreement with Iran.
As he had no operations in the US, Li was not concerned about being targeted by the US Treasury Department. Moreover, he circumvented financial restrictions on Iran by funding the investment through what he called a "private transfer," a money swap based on trust that avoided regular banking channels.
In doing this, Li was following the standard Chinese practice of evading the sanctions regime by using alternative routes or establishing alternative institutions that are in effect immune. In another example, Beijing established the Bank of Kunlun in order to continue to purchase Iranian oil while sanctions were in place.
MAY 24, 2018 4:31 PM
The Chinese experience in circumventing earlier sanctions will come in handy once again. By walking away from the 2015 JCPOA agreement and reintroducing punitive economic measures, Donald Trump is now making a renewed effort to isolate Iran and force it to make further concessions on its nuclear and ballistic missiles programs, as well as its regional role in the Middle East. Beijing has rejected these steps.
Chinese Foreign Ministry spokesman, Geng Shuang, said in response to Trump's announcement that the People's Republic remains committed to the deal and will "maintain communication with all parties and continue to protect and execute the agreement fully."
Beijing's likely willingness to circumvent US sanctions is one factor that will influence Iran's decision on whether it will stick to the agreement. Iran's decision will also depend on the readiness and ability of the other signatories — Britain, France, Germany, and Russia — to stand up to the US.
Europe, like China, has rejected Trump's move. It will therefore need to find ways of shielding European companies from potential US punitive action. One possibility would be to use alternative Chinese financial networks.
However, this time around, rejecting and violating US sanctions may prove — for China as well as the other signatories — to be a trickier undertaking. Last time, Beijing and the other signatories were part of an international consensus that aimed at forcing Tehran to accept restrictions on its nuclear program, even if they at times circumvented the sanctions.
China and the other signatories are now likely to be operating in a far more confrontational environment. The subtext of Trump's decision, as well the position of Saudi Arabia and Israel, appears to be a policy that seeks to achieve regime change in Tehran.
Riyadh and the United Arab Emirates recently suggested that they are willing to quietly sanction those who fail to support them in their 11-month-old economic and diplomatic boycott of Qatar. There is little reason to doubt that they would do the same in their confrontation with Iran. Saudi Crown Prince Mohammad bin Salman has, after all, described the dispute with Qatar as "trivial" in comparison to the kingdom's existential battle with the Islamic Republic.
Saudi Arabia demonstrated its assertiveness by forcing major multinational financial institutions to choose sides in the Gulf spat. In response to Saudi pressure, JP Morgan and HSBC walked away last month from a $12 billion bond sale. Earlier, Doha Bank, Qatar's fifth-biggest lender, was forced to reduce the size of a two-year, $575 million bank loan that it had raised in December 2015 to $400 million. It did this because when it sought a one-year extension of the facility, Chinese, Hong Kong, and Japanese banks opted not to participate.
In Beijing's case, its concerted effort to remain above the fray of the Middle East's multiple conflicts could be severely compromised if it were forced to take sides in a conflict between Iran — a country with which Beijing feels it has much in common and that it has assisted in developing its ballistic and nuclear programs — and Riyadh, a newer friend that is economically important to the People's Republic.
To be sure, greater Saudi assertiveness does not mean that the kingdom does not have to tread carefully in seeking to penalize China and others for their potential refusal to go along with Trump's confronting of Iran.
Saudi Arabia desperately needs foreign investment to implement Prince Mohammad's Vision 2030, a far-reaching plan for social and economic reform that aims to diversify the kingdom's conservative society and oil-dependent economy, and turn it into a 21st century, knowledge-based state.
China, moreover, is one of Saudi Arabia's foremost oil export markets. While the Saudi military remains focused on US and European arms purchases, Beijing — at a time when a military confrontation between the kingdom and Iran is not beyond the realm of the possible — is a source of weaponry that the US has been unwilling to sell to Saudis so far.
With Washington refusing to share its most advanced drone technology, Beijing agreed last year to open its first overseas defense production facility in Saudi Arabia. State-owned China Aerospace Science and Technology Corporation (CASC) will manufacture its CH-4 Caihong, or Rainbow drone, as well as associated equipment in Saudi Arabia. The CH-4 is comparable to the US armed MQ-9 Reaper drone.
The stakes in the battle to save the Iranian nuclear deal in the wake of Trump's decision go far beyond either a belief that the deal is serving its purpose of curbing potential Iranian nuclear ambitions, or a desire to pursue economic opportunity.
Leveraging its experience, an effort by China together with Russia and Europe that keeps the Iranian nuclear deal in place and thwarts US sanctions would deliver one of the heaviest body blows to US credibility and perceptions of US power since Trump came to office in January of last year.
Said a Middle Eastern diplomat: "A successful countering of US sanctions would demonstrate beyond doubt limits to America's ability to impose its will. That would have wide-reaching consequences, not in the least question marks in Saudi Arabia and Israel on the degree to which they can risk continuing putting most of their eggs in Washington's basket."
SANA earlier reported sounds of explosions heard near the Dabaa airport near the city of Homs.
BY 
REUTERS, YASSER OKBI/MAARIV MAY 24, 2018
Syrian state media said a military airport near Homs had come under missile attack which was repelled by its air defense systems on Thursday.
"One of our military airports in the central region was exposed to hostile missile aggression, and our air defense systems confronted the attack and prevented it from achieving its aim," state news agency SANA said.
SANA earlier reported sounds of explosions heard near the Dabaa airport, about 12 miles southwest of the central Syrian city of Homs and 6 miles from the Lebanese border.
Pentagon spokesman Lieutenant Colonel Kone Faulkner, when asked about reports of the attack, said the US-led coalition fighting Islamic State in Syria did not carry it out and the coalition does not target Syrian government positions.
British-based war monitor the Syrian Observatory for Human Rights said troops belonging to Hezbollah and other militias allied to Syrian President Bashar al-Assad are stationed in the Dabaa military airport. It had no information on casualties.
Lebanese sources stated that Israeli military aircraft were spotted above Beirut. According to additional Lebanese reports the Syrian air defense system shot down an Israeli fighter jet using an S200 missile.
Syrian reports also support the claim that the air defense system intercepted missiles launched by Israeli fighter jets.
Eyewitness reports claim that fires are raging in the area outside the Dabaa airport.
Reports from the Syrian opposition point to an Israeli attack on a Syrian Revolutionary Guard air missile base at the Dabaa airport west of Homs, by the Lebanese border.
A top officer in the Syrian opposition estimated that four missiles destroyed the air defense systems. According to reports, there are a number of dead and wounded.
An Israeli military spokeswoman declined to comment.
In recent months Israel has carried out several airstrikes in Syria, targeting Iranian and Iranian-linked targets.  Israeli leaders have repeatedly asserted that Jerusalem would not allow Iran to gain a foothold in southern Syria.
This is a developing story.
Observer says Israel most likely behind attack; Syrian state media confirms missiles fired at airfield south of the city of Homs, which was also reportedly hit by IDF on May 10
A military air base in western Syria was hit in an airstrikes Thursday night, sparking large explosions, which were heard throughout the area, state media reported.
The targets of the strike were munitions depots belonging to the Iran-backed Hezbollah terrorist group, located on an air base south of the city of Homs, according to the Britain-based Syrian Observatory for Human Rights monitoring group, which also said the strikes were most likely carried out by Israel.
"Six missiles were fired at the Daba'a military airport and surrounding area in the western sector of Homs province, targeting Lebanese Hezbollah weapons warehouses," Rami Abd el-Rahman, director of the Observatory, told AFP. The Observatory identified Israel as the likely perpetrator. "The missiles would have been fired by Israel," el-Rahman said.
The Israel Defense Forces refused to comment on the attack.
The Daba'a air base, also known as al-Qusair air base, and the surrounding area are known to be a stronghold for Hezbollah and Iran-backed militias. It was also reportedly struck by Israel in skirmishes against Syrian and Iranian forces on May 10.
A military source told state media that the incoming missile attack was intercepted. This is a common claim by SANA, including in cases where the outlet later acknowledged that strikes hit their target.
"One of our military airports in the central region was targeted by a missile attack. Our air defenses responded to the aggression and prevented it from achieving its objective," the source told SANA.
Qalaat Al Mudiq

@QalaatAlMudiq
Conflicting accounts emerged about the exact number of missiles fired at the Syrian air base. Various Syrian and Lebanese outlets reported that it was between two and eight.
The military source did not identify who Syria believed had carried out the attack, though some Syrian media outlets assumed it was Israel, which has been conducting regular airstrikes in the country in recent years, more in the past few months.
Earlier on Thursday night, Lebanese media outlets reported that Israeli jets were flying through the country's airspace.
Syrian media outlets reported that S-200 anti-aircraft missiles were fired during the attack on the air base.
On Wednesday, a senior Israeli Air Force official issued a stern warning to Syria, telling the country that if its air defense systems fired on Israeli jets, they would be targeted in return.
"All batteries that fire on Israeli aircraft will be destroyed. All batteries that do not fire on us will not be destroyed," the senior officer told reporters, speaking on condition of anonymi
Thursday night's reported airstrike came two weeks after a major skirmish between Israel, Iran, and Syria. On May 10, Iran's Islamic Revolutionary Guard Corps's al-Quds Force launched 32 rockets at Israel's forward defensive line on the Golan Heights border, Israel said. Four of them were shot down; the rest fell short of Israeli territory. In response, over the next two hours, Israeli jets fired dozens of missiles at Iranian targets in Syria and destroyed a number of Syrian air defense systems.
For years, Israel has been waging a quiet campaign against Iranian interests in the country. That campaign came to light and stepped up considerably in February, when an Iranian drone carrying explosives briefly entered Israeli airspace before it was shot down and Israel launched a counterattack on the T-4 air base in central Syria from which the drone had been piloted.
During the aerial bombardment, an Israeli F-16 was shot down by a Syrian anti-aircraft missile, prompting the air force to launch a second round of strikes, this time against Syria's air defenses.
Last month, Israel conducted another strike on the T-4 air base to destroy a recently delivered Iranian advanced anti-aircraft system, killing at least seven members of Iran's Islamic Revolutionary Guard Corps, including a senior officer.
Iran immediately vowed revenge, and the Israeli military has set out to thwart those attempts at reprisal by targeting Iranian weapons systems in Syria, in an effort dubbed "Operation Chess."
Israel has repeatedly stated that it will not allow Iran to set up a permanent military entrenchment in Syria and is prepared to take military action to prevent such a presence. Recent weeks have also seen the IAF stepping up its efforts to keep Iran from carrying out reprisals against Israel for an airstrike on April 9, according to Israeli officials.
"We're not doing this because we're aggressive, but because we constantly have to be actively defending the State of Israel," the officer said. "This is the only thing preventing offensive measures by Iran."
In addition to conducting military operations to thwart Iranian efforts, the army this week also appeared to be turning to public threats, both overt and somewhat more subtle, against Iran and its allies.
On Tuesday, IAF chief Amikam Norkin revealed that Israel had used its F-35 fighter jets to conduct airstrikes in Syria, making it the first country in the world to use the fifth-generation aircraft operationally, a hint to Iran of Israel's operational capability.
Norkin also made the announcement while standing in front of a picture of the stealth aircraft flying in the skies over Beirut — which Iran's main proxy, Hezbollah, calls home.
On Wednesday, Prime Minister Benjamin Netanyahu vowed that Israel "will not let Iran establish military bases in Syria, and we will not let Iran develop nuclear weapons," during a visit to a conference of foreign air force officials at the Tel Nof airbase in central Israel.
"The Israeli Air Force plays a crucial role in implementing this policy and it has done so consistently and effectively now for the past several years," Netanyahu said.
Agencies contributed to this report
– US President Donald Trump decided to break off a planned summit with North Korean leader Kim Jong Un after Pyongyang broke a series of promises and cut off direct communication with the United States, a senior White House official said on Thursday.
Briefing reporters on condition of anonymity, the official also cited a statement from North Korea earlier on Thursday warning that it was prepared for a nuclear showdown with Washington.
"This strange lack of judgment, combined with the broken promises over the past weeks and North Korea's suspension of direct communication with the United States, suggests a profound lack of good faith," the official said. "There has been a trail of broken promises that has given the United States pause."