07/26/2017
At the beginning of last week, the Supreme Leader of the Houtis, the insurgent Shiite group in Yemen, Abdul Malik Badreddin al Houthi,  has vowed to fight  in any future conflict between Hezbollah and Israel. This group is officially known as Ansar Allah.
"The Yemeni nation (Zaydi Shiite obedience) is ready to take part in any future confrontation against the Israeli enemy,"  Houthi said . He continued his declaration of war by saying that Israel "should take us into consideration in all future conflicts against Hezbollah and the Palestinian people". Houti also addressed Hezbollah leader Hassan Nasrallah in his statement, which was then republished on the Hezbollah website of Al Manar .
"Your bet on the Yemenis is well advised. Israel must be wary of any Yemeni participation in all its armed confrontations with Hezbollah or the Palestinian "Palestinian Hamas",  Houthi said, addressing Nasrallah .  In a speech last month, Nasrallah said that in any future war against Israel, the Jewish state would  meet resistance from fighters  from "Iran, Iraq, Yemen, Afghanistan, Of Pakistan. "
Both Iran and Hezbollah were involved in supporting the Houti rebels in their campaign in Yemen.
In 2012, the US State Department formally accused Iran of supporting the Houtis. In its  2012 Country Terrorism Report , the Department said that "Iran is actively supporting the Houtie tribe in northern Yemen, including its activities to build military capabilities that could pose more serious threats to the security and Stability of Yemen and the surrounding region ".
Iran and Hezbollah have been  providing training, money and weapons  for more than a decade, according to the State Department. This   support could only increase  according to a report released by Reuters at the beginning of the year.
The Iranian Revolutionary Guard Corps (IRGC) is believed to have transferred  rockets  and  missile disabilities. In addition, the US military  intercepted several shipments of weapons  from Iran, which are thought to be destined for the Houtis. Iranian senior officials also  spoke of the Iranian regime's support  for Yemeni insurgents.
It is not thought that Allah is directly subordinate to Tehran, in the same way as Hezbollah or other minions. However, support for the insurgent group gives Tehran the ability to spread its influence throughout the Middle East. In addition, it allows Iran to fight and challenge both Saudi Arabian troops and other Gulf Emirates, as well as their influence in Yemen.
By  CALEB WEISS  | 24 July 2017 | Weiss.caleb2@gmail.com | @ Weissenberg7
Left Party's Annette Groth also urges Germany, EU states to review arms sales to Israel
By Erbil Basay
BERLIN
A German politician has called on the European Union to suspend its partnership agreement with Israel over human rights violations against Palestinians.
"The EU should suspend its partnership agreement with Israel. We have been demanding this for many years. This can be done very easily," Annette Groth, a Left Party MP in southern Baden-Wurttemberg state, told Anadolu Agency this week.
Groth also urged the German government and other EU member states to review their arms sales to Israel "immediately," adding that the U.S. administration should also act against recent Israeli security measures in Jerusalem.
She also said if the Israeli government tried to change the status of Al-Aqsa Mosque it would be an "ugly" move to which the international community should react.
Anger has spilled across the West Bank since last week when Israel shut the Al-Aqsa Mosque, venerated by Muslims and Jews — who call the site Temple Mount — following a deadly shootout.
The mosque was reopened after two days, with Israel installing metal detectors and cameras at its gates.
Three Palestinians were killed last Friday in protests against the Israeli measures around the holy site. Three Israelis were also killed in an attack in a settlement in the West Bank.
Israel's security cabinet decided late on Monday to remove the metal detectors. A statement released after the meeting said a new surveillance system using "smart checks" based on advanced technology would be put in place.
Jerusalem is sacred to Muslims, Jews and Christians, and Al-Aqsa Mosque represents the Islamic world's third holiest site after the cities of Mecca and Medina in Saudi Arabia.
By SETH J. FRANTZMAN
"It is to be stressed that the nearest watch post is 13 kilometers far from the zone of separation between Israel and Syria near the Golan Heights. The zone has been approved in accordance with the international agreements," said Operational Directorate of the Russian General Staff Col. Gen. Sergei Rudskoy on Monday. This was part of the recent ceasefire agreement and Russia had told the US, Jordan and Israel about it's new post. It is supposed to monitor the "de-escalation" zone.
The full deployment, set up on July 21 and 22, included "two checkpoints and 10 observations posts were established around another de-escalation zone near the country's southwestern border with Israel and Jordan." According to Asharq al-Aswat the arrangement removes Hezbollah from the immediate area and specifies that Iran will not be part of the monitoring.  Other details have been posted online.
So the "Russians are coming." Let's take a look back at how this came about. Back on July 18 Prime Minister Benjamin Netanyahu suddenly said he was opposed to the proviso of the ceasefire in Syria. Reports noted that there were concerns that it would allow the regime and therefore Iran to come down to Israel's Golan border. Russian Foreign Minister Lavrov noted "I can guarantee that the American side, and we, did the best we can to make sure that Israel's security interests are fully taken into consideration."
In the past Israel has had cordial relations with Russia about concerns regarding Hezbollah and Iran in Syria and the Golan. Israel has also braced for an endgame on the Golan, realizing that Syrian rebels it has worked with over the years may eventually be defeated. Israel has also repeatedly warned Iran and Hezbollah that it will not tolerate meddling on the Golan, bases or weapons transfers.
Russia, Jordan and the US concluded a Syrian ceasefire agreement on July 7. Israel wasn't mentioned, but its presence was at the table. Iran and the Syrian regime were not mentioned either, but they were at the table, in spirit, as well. This creates a complex situation in southern Syria. For five years, since serious fighting broke out between the rebels and the regime, Israel has watched the conflict unfold on the Golan. It formed a relationship with Syrian rebel groups on the border, one that, according to sources, involved the provision of minor amounts of humanitarian aid and taking in medical cases.  These groups were a multiplicity of local and larger regional rebel groups, and Israel had to balance these groups against fear of more extreme jihadists from Nusra and ISIS creeping into the border area, which both did. Against this was arrayed a multiplicity of regime supporters, including Hezbollah, Iran, local regime supporters and eventually Russia. Much of the politics along the Golan was local as well, such as when rebels attacked the regime-held Druze village of Khadr, setting off controversy on Israel's side of the Golan among Golan Druze.
Once Russia intervened in the Syrian civil war and upped its airpower in 2015, Israel's ability to act as it pleased along the Golan and in the air over Syria became circumscribed. Nevertheless Israel continued to act, allegedly strikingHezbollah-bound arms convoys. But the question that was always asked was what happens when Russia comes down to the Golan? Netanyahu opened a clear channel of communications with Putin on this issue. They spoke inFebruary 2016, in December 2017, in March 2017 (on a visit to Moscow) and most recently in early July 2017.
Since Putin and Trump, with Jordan in the wings, signed on to a a Syrian ceasefire deal along the Golan and southern Syria, many commentators have claimed that Trump has basically given part of Syria to Putin. On July 20 it emerged that the US administration was winding up support for some Syrian rebel groups in a largely failed CIA program that . had gone on for years. A commentator at CNN claimed that the US was giving Syria a "gift." The cutoff of aid "marks a victory for Assad, Russia, Iran," said others. Trump "officially hands Syria over to Russia," claimed Haaretz. The Atlantic had chided Trump for "escalating" in Syria with Tomahawk strikes in April, but now de-escalating was also bad. Thoughts that Trump might try to reverse the gains of the regime in the southeast, near the US training base in Tanf, went unheeded in Washington. The US was unclear what to do with its Pentagon-backed anti-ISIS rebels it had trained there. Yet, a White House official told The Jerusalem Post that the administration shared Israel's concerns about Iran's "rush through Syria."
So, now the Russians are on the Golan, well close to it at any rate. This complicates Israel's desire to operate openly against arms shipments to Hezbollah and potentially provides a cover for Iran and Hezbollah.
But Russia has assured Israel many times about Israel's concerns regarding Hezbollah in Syria. In February 2017 Deputy Foreign Minister Syromolotov indicated Hezbollah would leave Syria when the war was over. Lavrov has saidhe understands Israel's concerns and Russia's ambassador to Israel has indicated that it would prevent arms flows to Hezbollah. However Russia has chided Israel (in March 2017) about strikes in Syria, probably to please Assad demands. In December 2016 reports emerged that Hezbollah had even promised Russia it would not attack Israel, at least from the Golan. Hezbollah denied these claims.
Given all the background and evidence of Russia-Israel understandings, what does all this mean. It is part of a long, slow, process of the Syrian regime consolidating control with Russian support. The concern for Israel is that although Russia is a stable backer of the regime, one that could guarantee quiet on the Golan, the other allies of Syria threaten Israel. Because the Syrian regime is weak and has come to rely on Hezbollah, Shia mercenaries and Iran on the ground, while relying on Russia in the air (and limited special forces on the ground), the fear is that these other organizations are always present wherever the regime reconquers territory. Israel has a pragmatic relationship with the Syrian rebels, one of mutual interest, there is no deep abiding alliance on either side. But both Israel and the rebels loathe Hezbollah and Iran. The Syrian regime, although it claimed to "resist" Israel, kept the Golan quiet for decades, Assad's father even admitted to the CIA in the 1970s that it was futile to try to defeat Israel militarily. Hezbollah doesn't think the same way and it might be in Hezbollah's interests to try to drag Israel into a confrontation with Russia and try to hide under Russian airpower.
The idea that the Americans have "handed" over southern Syria to the Syrian regime is misleading. The Jordanians play the big role with the Southern Front Syrian rebels and they have to decide what is next. The US wasn't playing a role in the Golan, at least not a consequential one. So the concept that the US was balancing Russia in the Golan is mistaken. Also the concept that the US in the past five years has worked to interdict Iranian involvement in the Syrian conflict, and that somehow now Iran has "won" in Syria is mistaken. The previous US administration did little or nothing to stop Iran shipping tens of thousands of Shia recruits to Damascus and propping up the regime. Iran was emboldened by the Iran deal and received cash infusions that has allowed it to help Damascus. So the claim that Iran has suddenly gained much in Syria is wrong, Iran has been gaining for five years.
Having Russian soldiers close to Israel's border is certainly a new phenomenon, but Israel read the tea-leaves on Syria long ago when it comes to Russia. This is why Netanyahu didn't rely on Washington to send messages to Putin, but went directly to Moscow in 2015 to open a line of "de-confliction" regarding Syria and has since spoken many times with Putin about Syria. Israel knows that going via Washington to Moscow has not helped. So the Russians are coming to the Golan. The future is beginning to take shape there.
Touring northern border, PM says Islamic Republic and its proxies seek to threaten Israel with precision weapons
BY TIMES OF ISRAEL STAFF July 25, 2017
"The situation here is changing rapidly, IS is in retreat, but Iran is seeking to fill the void," he said during a tour of the Golan Heights with Defense Minister Avigdor Liberman and IDF Chief of Staff Gadi Eisenkot. "Iran together with Hezbollah are creating a northern arc here, with the help of precision weapons."
"We are dealing with these new threats to the State of Israel. We are paying close attention to a range of threats to the State of Israel," he added.
Netanyahu has warned repeatedly of Iranian attempts to establish military infrastructure with which to threaten Israel from the Syrian side of the Golan Heights, recently telling a number of Central European leaders that Iran, via its proxies, have and are still trying to create "a terror front" against Israel there.
Israel has repeatedly said it will not allow Iran to set up a permanent presence in Syria and has carried out a number of airstrikes in Syria against suspected shipments of "game-changing" weapons bound for the Hezbollah terror group.
Earlier this month, Netanyahu said that he opposes the deal brokered by the United States and Russia that led to an open-ended ceasefire in southern Syria, saying it does not sufficiently address Iranian military ambitions in the area.
The prime minister said that while the plan aims to keep Iran 20 kilometers (12 miles) away from the Israeli border, it did not address Iran's plans to cement its presence in Syria, which, he said, included the establishment of a naval and air force bases.
Apprehensions over Iranian designs in the region were further stoked by recent movements of Shiite Muslim militias — loyal to Iran and fighting alongside Syrian government forces — toward Jordan's border with Syria, and to another strategic area in the southeast, close to where the two countries meet Iraq.
In addition to Israel, a number of Sunni countries in the area have also warned against Iranian efforts to establish a "Shiite crescent" stretching from Tehran to Beirut via its allies in Baghdad and Damascus, with which to pursue its regional ambitions.
Agencies contributed to this report.
DEBKAfile Exclusive Report July 25, 2017, 4:08 PM (IDT)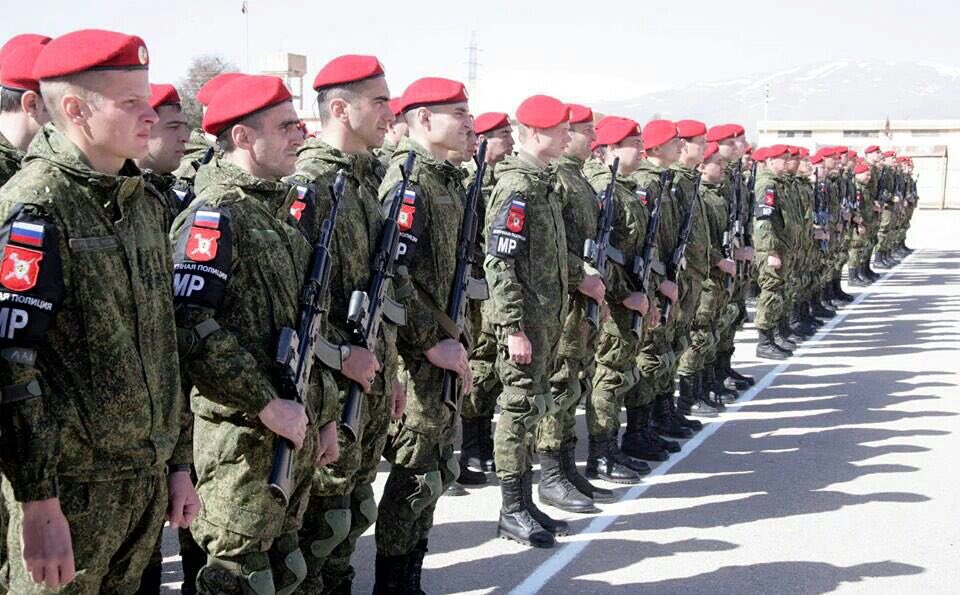 Russia has quietly moved troops to a point in southern Syria that is 8km from Israel's Golan border, in the face of Israeli objections, DEBKAfile reports exclusively. Moscow used the uproar over the Temple Mount standoff and the diplomatic crisis between Israel and Jordan to cover its creeping troop deployment almost up do Syria's borders with Israel and Jordan.
Tuesday, July 15, Prime Minister Binyamin Netanyahu, Defense Minister Avidor Lieberman and Chief of Staff Lt. Gen. Gady Eisenkott visited Bashan Division headquarters on the Golan for a rundown on the Russian deployment just opposite. (see photo)
DEBKAfile's military sources report that some 800 Russian troops face Israel and another 400 are positioned on the border with Jordan. They have set up a roadblock east of Quneitra 8km from Israeli positions on the Golan. They have also strung an additional four to six lookout posts, some of them 13km from Israeli military positions, along the 64km Syrian-Israeli border – from Mount Hermon in the north, up to a point south of Qunetra in the south.
Most of the Russian troops were recruited in Chechnya, Dagestan and Ingushetia, republics known for their Muslim extremist activity.
Israel has repeatedly objected to the proximity of this Russian military presence, and asked the Trump administration to prevent it. But the protests from Jerusalem went unheeded in Washington and Moscow. President Donald Trump and Defense Secretary James Mattis regard the creation of US-Russian sponsored ceasefire zones in southwestern Syria as an essential component of their military cooperation in Syria and the war on ISIS.
DEBKAfile's military sources report that, on Monday, July 24, Moscow announced the Russian deployment after the fact in messages to Washington, Jerusalem and Amman. They were all too engrossed in coping with the crises that had sprung up over Temple Mount and in relations between Jerusalem and Amman to pay much attention to this Russian fait accompli.
According to the announcement by Col.-Gen Sergey Rudskoy, Chief of the Main Operational Directorate of the Russian General Staff, the Russian units were in already in place on July 21 and 22:
"We informed our colleagues from the United States, Jordan and Israel, through military diplomatic channels in advance of the deployment of the Russian-controlled forces around the perimeter of the de-escalation zone in southern Syria," he wrote.
DEBKAfile recalls that the Russians brought into embattled Daraa earlier this month to monitor the first ceasefire zone did not require Hizballah to withdraw. Iran's Lebanese proxy is still there. Israel fears that Hizballah will repeat this exercise in the second ceasefire zone and establish a presence opposite the Golan without the Russians raising a finger to keep them out.
In his strongest statement since the Temple Mount crisis began, Turkish president also calls on world's Muslims to actively defend the mosque
Barak Ravid Jul 25, 2017
Responding to Israel's decision, Temple Mount Authority 'opposes any technological measures'
Analysis Netanyahu was forced to backtrack once again – but this time it was his own fault
For second time this week, protests against Israel's Temple Mount moves in front of Istanbul synagogue
Turkish President Recip Tayyip Erdogan said in an Ankara speech at an AKP party meeting in parliament that Israel is trying to take the Al-Aqsa Mosque from Muslims under the guise of efforts to fight terrorism.
"Everyone who knows Israel is aware that restrictions on Al-Aqsa mosque are not due to safety concerns," Erdogan said in his strongest statement since the crisis began on the Temple Mount.
The Turkish president was one of the prominent leaders of the Muslim world that attacked Israel in recent days following the placement of metal detectors at entrances to the Temple Mount. Erdogan, who serves as the rotating president of the Organization of Islamic Cooperation, held a series of phone calls with Arab and Muslim leaders and even raised the issue in a meeting with Saudi King Salman bin Abd al-Aziz earlier this week.
Erdogan called on the world's Muslims to take an active part of the defense of the Al-Aqsa Mosque. "When Israeli soldiers carelessly pollute the grounds of Al-Aqsa with their combat boots by using simple issues as a pretext and then easily spill blood there, the reason [they are able to do that] is we [Muslims] have not done enough to stake our claim over Jerusalem."
The Turkish president also came out against the recent attacks against synagogues in Turkey by Muslim extremists, saying that it is a mistake to respond to one injustice by causing another.
On Saturday, Erdogan condemned Israel over the crisis and what he described as excessive use of force against Muslim worshippers. "Closing Temple Mount for days and imposing restrictions on Muslims is unacceptable," Erdogan said. "I call on the international community to intervene."
President Reuven Rivlin and Erdogan discussed the Temple Mount crisis in a phone call on Thursday. The Israeli President's Residence said that the call took place at Erdogan's request. A senior Israeli official said that the Foreign Ministry opposed to the call taking place, and even passed on a negative assessment of it earlier in the day.
The President's Residence said that during their conversation, Rivlin clarified to his Turkish counterpart that "the terror attack that occurred last Friday at the Temple Mount, a sacred site for all of us, is an unacceptable crossing of a red line that jeopardizes our ability to live together."
haaretz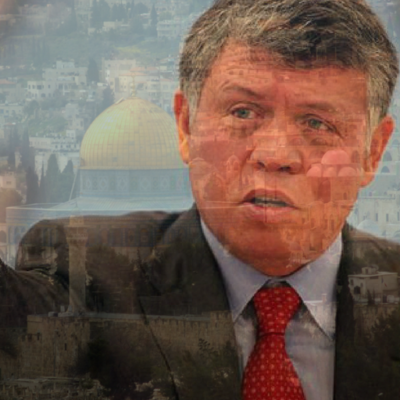 Despite the feud that surfaced between the Hashemites and Turkey during the Temple Mount standoff, it was Turkey's brute force through funding the Palestinian Arab riots that pushed Israel into a corner not King Abdullah's negotiations. Erdogan and his government's long arm reached into Jerusalem to show that strength still rules when it comes to decision making in the Middle East.
After Abbas, with Turkish backing threatened to ignite another intifada, King Abdullah of Jordan and the Netanyahu government came to an agreement over Temple Mount Security.  With the terror attack on Neve Tsuf-Halamish resuting in the murder of three Jews, an attempted terror attack in Petach Tikvah as well as in Amman against Israel's embassy staff, the Intifada threat appeared real.
The agreement between Israel and Jordan has yet to be publicised, but a report aired on Israel's Channel 10 indicates the metal detectors will be removed and in their place will be an alternative set of security precautions. With Turkey set to win the Palestinian street, Jordan and Israel had to find a fast remedy to the unravelling security situation.
The UN Security Council put pressure on Israel as well and allowed Islamic violence to win the day out of fear of continued Islamic violence.
Despite the assurances that King Abduallah gave Netanyahu, the street will not stop at the removal of the metal detectors, but will push further with their new backer in Ankara.
07/24/2017
The criticism comes after six people are killed in the worst spate of Israeli-Palestinian violence for years.
Turkey has condemned the "excessive" use of force by its regional ally Israel following deadly violence around a contentious Jerusalem holy site.
The country's president Recep Tayyip Erdogan made the criticism after clashes at a shrine in the walled Old City, known as the Temple Mount by Jews and Haram al Sharif by Muslims.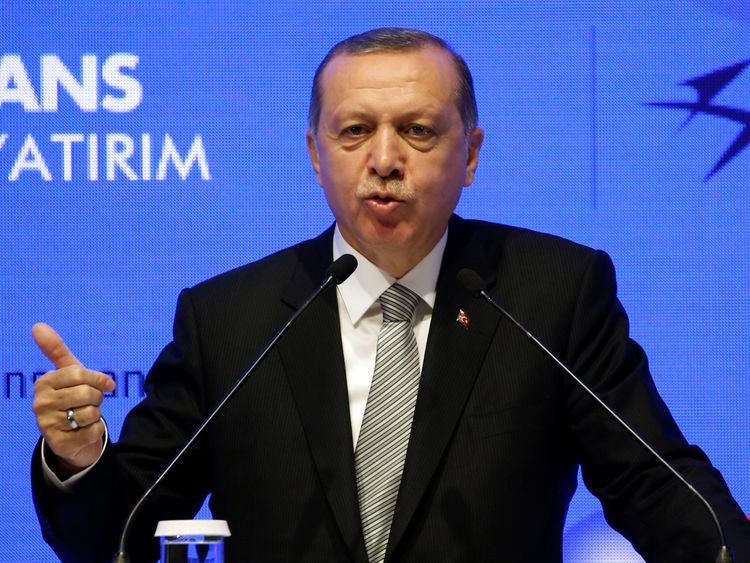 Bloody protests were sparked by the installation of metal detectors at entrances to the sacred compound, which includes the al Aqsa Mosque, following the killing of two Israeli police officers last week.
Three Palestinians died in confrontations with Israeli security forces after Friday prayers that were held outside in opposition to the security measures.
Hours later, three Israelis were stabbed to death in a Jewish settlement in the occupied West Bank.
Security forces have raided the home of the 20-year-old Palestinian attacker, who had been shot and taken to hospital.
Israeli defence minister Avigdor Lieberman said the attacker's home would be demolished.
More troops have also been sent into the West Bank and placed on high alert.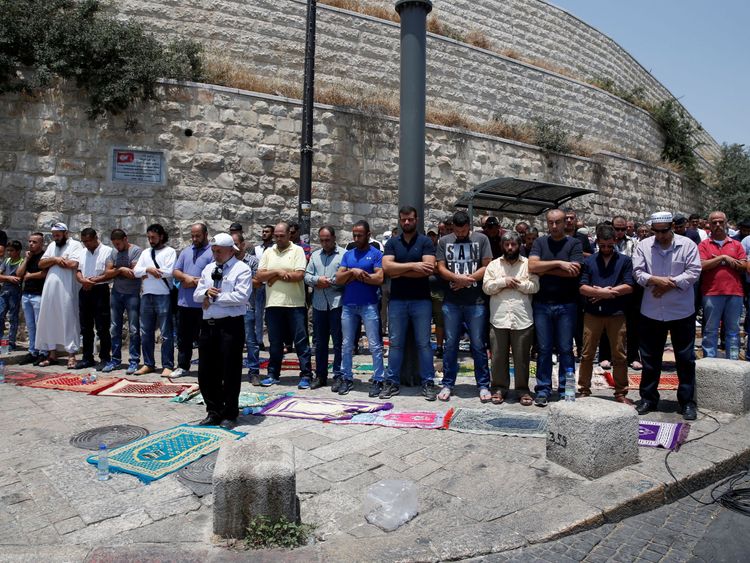 The killings represented the worst Israeli-Palestinian violence for years.
Responding to the clashes at the holy site, Mr Erdogan said: "I condemn Israel's insistence on its position despite all warnings… and the excessive use of force by Israeli forces against our brothers gathered for Friday prayers."
Palestinian President Mahmoud Abbas ordered the suspension of all official contact with Israel until the removal of metal detectors at the site.