Iran's new ballistic missile is capable of carrying several warheads and of reaching much of the Middle East
DPA and Reuters Sep 23, 2017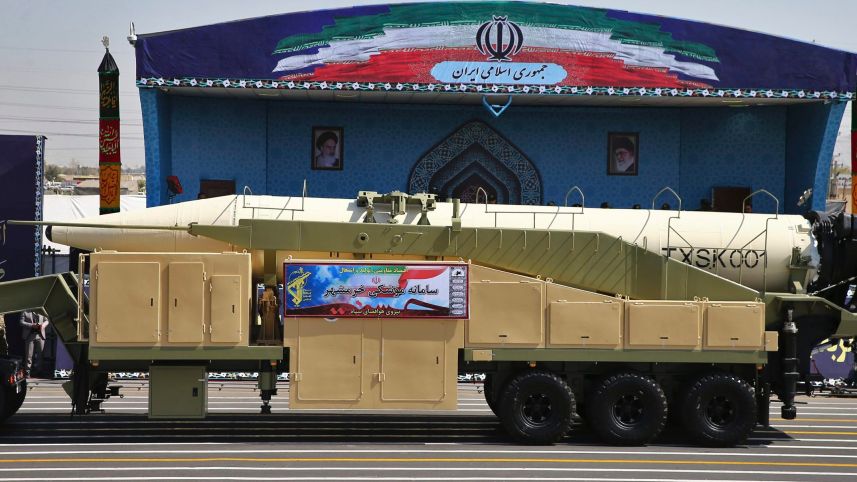 Defying Trump, Iran reveals new missile that can reach Israel
Israel: IAEA received info about suspected Iranian nuclear sites but didn't inspect many of them
Russia warns Trump: Collapse of Iran deal would discourage North Korea from stopping nukes
Iran has successfully tested a new ballistic missile that can carry multiple warheads and travel up to 2,000 kilometers, state media reported Saturday.
The new ballistic missile is capable of carrying several warheads and of reaching much of the Middle East, including Israel.
The launch comes after US President Donald Trump told world leaders at the United Nations this week that the 2015 nuclear agreement with Iran was "an embarrassment" and "one of the worst" deals the US had ever struck.
Iranian President Hassan Rohani responded by saying it would "a great pity" if the deal was "destroyed by rogue newcomers to the world of politics."
The US has placed a number of sanctions on Iranian individuals, businesses and institutions in response to its missile tests.
Tehran says the tests are solely for defensive purposes and notes that the nuclear accord does cover its missile program.
Haaretz
Head of Iran-backed terror group denies seeking violence, but says his troops are ready to fight if religiously obligated
The head of the Lebanese terrorist group Hezbollah said it was prepared to wage war against Israel, the United States and parts of the Arab world, but claimed the Iranian proxy was not seeking out violence in the region.
"We are not advocates of war or fighting, but if our religious obligation is to fight, we will fight, even if [former US president George W.] Bush, [US President Donald) Trump, Israel, some Arabs and the entire world stand in our face," said Hassan Nasrallah, according to Lebanese media reports.
"We are not afraid of anything," he added.
"A real resistance fighter… is one who performs his religious assignment to the fullest," Nasrallah said in a televised sermon.
Nasrallah's remarks on Thursday came after a Hezbollah commander said earlier this week that the terror group has 10,000 fighters in southern Syriaready to confront Israel.
Israel has recently been warning of Iran and its proxy Hezbollah over their efforts to establish a new front against Israel in southern Syria. On Tuesday, Prime Minister Benjamin Netanyahu told the United Nations General Assembly that Israel was prepared to take action against Iranian efforts to expand its military presence on its northern borders.
"We will act to prevent Iran from establishing permanent military bases in Syria for its air, sea and ground forces. We will act to prevent Iran from producing deadly weapons in Syria or in Lebanon for use against us," he said.
Three days after Netanyahu's speech, Arabic-language media outlets reported Israeli warplanes struck a Hezbollah weapons depot outside Damascus early Friday morning.
According to reports and a monitoring group, the three separate strikes were carried out near the Damascus International Airport, an area known to be a Hezbollah stronghold.
"Israeli warplanes targeted with rocket fire a weapons depot belonging to Hezbollah near the airport," said Rami Abdel Rahman, director of the Syrian Observatory for Human Rights.
There were no reports of casualties or damage.
Israel has for years has been widely believed to have carried out airstrikes on advanced weapons systems in Syria — including Russian-made anti-aircraft missiles and Iranian-made missiles — as well as Hezbollah positions, but it rarely confirms such operations on an individual basis.
Earlier this month, Israel allegedly struck a facility in northwestern Syria, where the regime was said to have stockpiled chemical weapons and missiles, killing two people.
Jerusalem fears that the Iranian presence in southern Syria, near the Golan Heights, would serve as a springboard for terrorist groups to attack Israel in the future.
On Tuesday, the Israeli Air Force shot down an Iranian-built drone launched by Hezbollah with a Patriot missile after it attempted to cross into Israeli airspace.
The military also scrambled fighter jets to the area, but ultimately did not need to use them as the interceptor missile was able to destroy the target.
AFP contributed to this report.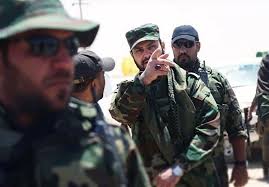 BAGHDAD (Reuters) – In late May, an Iraqi cleric called Akram Kaabi visited militia fighters in a desolate Iraqi town near the Syrian border. Kaabi, who heads a Shi'ite Muslim militia named Harakat Hezbollah al Nujaba, was decked out in a camouflage uniform and led the fighters in prayer on mats laid on the dusty ground. A video of the session showed heavily armed militiamen standing guard.
The event took place in Qayrawan, a town the Nujaba militia had seized back from Islamic State, the radical Sunni Muslim group. Nujaba, whose name means 'the Virtuous,' have also fought across the border in Syria, where they have lent support to President Bashar al-Assad in the fight against Islamic State and others.
The Nujaba group, which has about 10,000 fighters, is now one of the most important militias in Iraq. Though made up of Iraqis, it is loyal to Iran and is helping Tehran create a supply route through Iraq to Damascus, according to Iraqi lawmaker Shakhwan Abdullah, retired Lebanese general Elias Farhat, and other current and former officials in Iraq. The route will run through a string of small cities including Qayrawan. To open it up, Iranian-backed militias are pushing into southeast Syria near the border with Iraq, where U.S. forces are based.
The Nujaba militia is one example of the way Iran is seeking to expand its Shi'ite influence in Iraq and across the wider region. In the 1980s, Shi'ite-dominated Iran was at war with Iraq, where Sunni Muslims held power despite being a minority of the population. But after the fall of Saddam Hussein, the Shi'ite majority in Iraq took control of the government.
Since then, ties between the Shi'ite-led governments in Tehran and Baghdad have become stronger, and Iran has acquired growing influence in Iraq. Iranian money and religious backing are now key to the Iraqi government's power.
Kaabi has repeatedly said that Nujaba is allied with Iran. Last autumn, he said his group follows "Velayat-e Faqih," or Guardianship of the Jurist, the ideological cornerstone of Iran's theocratic system of government, according to the Iranian Tasnim news agency.
Current and former Iraqi officials told Reuters they worry Nujaba will help Iran make a decisive strategic breakthrough.
"If Iran can open this road they will have access through Iraq and Syria all the way to Hezbollah in Lebanon," said Farhat, the retired Lebanese army general.
Iran, which backs Syria's Assad, has stated that it wants to see its influence extend through Iraq to its allies in Damascus and beyond to Hezbollah, a Shi'ite militant group in Lebanon it has long supported.
A security adviser who works with a number of governments in the Middle East said Iran needs road access to Damascus to supply the conflict in Syria. "There is a very high cost for air transport for the militias. Troops and small supplies are easy to transport but it's hard to load heavy weapons on airplanes," said the adviser, who asked not to be identified because of the sensitivity of the subject.
"The goal is to open a road on both sides for logistics … They want to bring in artillery, rockets and heavy equipment like bulldozers," the adviser said.
In Iraq, the Nujaba fights under the umbrella of the Popular Mobilization Forces (PMF), which encompass tens of thousands of Shi'ite militiamen. Last year Iraq's parliament passed a law that put these fighters under the control of the Iraqi government. But current and former officials in Iraq and militia members say many of the militias have been armed and trained by Iran's Revolutionary Guards.
A representative at an Iranian Revolutionary Guards office in Tehran declined to comment on the Nujaba militia.
Iraqi Prime Minister Haider al-Abadi and other senior Iraqi officials have not spoken out in public about Nujaba or the new road. But some players within Iraq's governing coalition want to distance Iraq from Iran.
Ayad Allawi, a vice president, is Shi'ite, but he has a nationalist outlook and wants to prevent the conflict in Syria from spilling over further into Iraq. He said in an interview: "The government of Iraq should prevent them (Shi'ite militias) from going to Syria. We are not supposed to supply fighting people to support a dictatorship in Syria."
Asked to comment on Iran-backed militias moving into southeast Syria near where American forces are based, U.S. Army Colonel Ryan Dillon, a spokesman for the U.S.-led coalition fighting Islamic State, said: "The Coalition reserves the right to protect itself and its vetted Syrian partners against any threat."
A U.S. State Department official said: "The United States remains deeply concerned about the Iranian regime's malign activities across the Middle East which undermine regional stability, security and prosperity."
The current route that Iran is pushing to open through Iraq was not its first choice. Soon after Iran became involved in the Syria conflict in 2011, the Iranians attempted to open a logistical supply line through the Kurdish region of northern Iraq to Syria, lawmaker Abdullah, who is a member of the Iraqi parliament's security and defense committee, told Reuters. But Massoud Barzani, the president of the Kurdistan region of Iraq, resisted the move, said Abdullah, who is a member of Barzani's Kurdistan Democratic Party (KDP).
The new route bypasses the Kurdish region but could still destabilize the country, according to Abdullah.
"All the groups in Iraq other than Shi'ites will be under threat if Iran can make this road," Abdullah said. "Sunnis will be displaced. The Kurdistan region will be under threat and Christians will be under threat."
IRANIAN TRAINING
The United States has long held that Kaabi was fighting for Iran even before he became leader of the Nujaba. In 2008, when Kaabi was involved with another militia, the U.S. Treasury designated him an individual who threatened the peace and stability of Iraq. The United States blocked any assets Kaabi may have had under U.S. jurisdiction and prohibited U.S. citizens from dealing with him.
Kaabi later formed his own militia, and during the Syria conflict Nujaba gelled as a fighting force. The group initially marshaled fighters in 2013 to defend Sayeda Zeinab, a shrine south of Damascus that is revered by Shi'ites. Nujaba was then drawn deep into the conflict against Islamic State, also known by the Arabic acronym Daesh.
"Daesh became an opportunity for many of these people. When Daesh came, they became needed," said an Iraqi former senior government official. "They flourished and expanded the group: more arms, more money, more people. The money was coming from Iran."
Nujaba fighters move their forces inside Syria toward the Iraqi border in this handout picture released by Tasnim News Agency on June 14, 2017. Tasnim News Agency/Handout via REUTERS
Hashim al-Moussawi, spokesman for Nujaba, said: "We couldn't find any support for Iraq from America or Arab or Islamic countries, except Iran. Iran supported Iraq with arms and advisers."
Some members of the Nujaba militia fight because of their strong religious beliefs, but many are poor Shi'ites from the southern region of Iraq tempted by payments of up to $1,500 per month from Iran, according to the security adviser.
The Iranian Revolutionary Guards representative said Iran's link with the Nujaba was not an issue he could discuss.
Those Nujaba fighters who have training are sent to Damascus on direct flights from Baghdad or Najaf, according to the security adviser. Others head for three-month training courses in southern Iraq which focus on the use of heavy machine guns, rocket-propelled grenades and sniper rifles.
Some train with Hezbollah in Lebanon and then cross by land into Syria, according to the security adviser; in Iran there is specialized training in de-mining, communication and operating drones. Kaabi has said that the group has Yasir drones, an Iranian copy of the Boeing ScanEagle, used for reconnaissance.
The Nujaba spokesman declined to comment on training, saying it was a confidential military issue.
COMBAT FOOTAGE
Iranian funds have allowed Nujaba to start its own satellite television station, called Al Nujaba TV, according to the security adviser. It broadcasts slickly edited combat footage, news shows and martial songs rallying supporters.
Nujaba fighters gather during an operation in southeast Syria near the border with Iraq and Jordan, in this handout picture released by Tasnim News Agency on July 17, 2017. Tasnim News Agency/Handout via REUTERS
In 2014, the Nujaba released a song dedicated to Qassem Soleimani, the head of the Iranian Revolutionary Guards' Quds Force, the branch of the group that oversees operations outside Iran's borders. The video praises Soleimani for fighting the American military and Islamic State, and is interspersed with images of Nujaba fighters firing machine guns.
Photos and videos posted on hardline Iranian news sites and Nujaba's website show Soleimani and Kaabi at what the websites say are frontline positions in Syria. Reuters was unable to confirm the locations.
Videos posted online in 2016 show Nujaba military parades around Aleppo, featuring armored personnel carriers, anti-tank rockets and pickup trucks mounted with heavy machine guns. Other clips show Nujaba members engaged in street fighting in southern Aleppo.
The Nujaba spokesman said around 500 Nujaba fighters have been killed in combat between Syria and Iraq. The war dead are memorialized in online postings, and last April the militia group posted a large billboard praising its martyrs near the gate of Baghdad University.
After Nujaba's efforts in Aleppo, Kaabi was invited for a high-profile visit to Iran. He was interviewed on prime-time TV and met with top officials including parliament speaker Ali Larijani and former Revolutionary Guards commander Mohsen Rezaie. He also met Iran's Supreme Leader Ayatollah Khamenei in a separate visit.
"GOLAN" BRIGADE
The group is already looking beyond the conflicts in Syria and Iraq. In March, it announced the formation of a "Golan" brigade to push Israel out of the Golan Heights, which Israel has occupied since 1981.
The move "sharpens the threat posed by the presence of Iran and Hezbollah in Syria in general, and on the Syrian side of the Golan Heights in particular," Israeli intelligence minister Israel Katz told the Jerusalem Post after the announcement.
 A key question for both Iraq and Syria is what happens with the Nujaba and similar Shi'ite militia groups if, as seems likely, Islamic State is pushed out of both countries.
Iran's Khamenei said in late June that no attempts should be made to weaken Iraq's Popular Mobilization Forces. "The objection of the Americans to (the PMF) is that they want Iraq to lose an important component of its power," Khamenei said in a meeting with Iraqi Prime Minister Haidar al Abadi in Tehran, according to a report posted on Khamenei's official website. "Don't trust the Americans under any circumstances."
Tensions between Iran and the United States are reflected in confrontations between U.S. forces and Iranian-backed militias in the border areas of Syria and Iraq. In mid-May, the United States bombed a convoy of what it said were pro-Syrian government fighters moving near a U.S. base in al Tanf in southern Syria. Iranian news and militia websites reported Shi'ite militia fighters allied with Iran moved into the area at the time.
The United States targeted forces in the same area twice more in June and also downed an armed drone in southeast Syria. The drone was most likely made by Iran, a U.S. official said. It fired on Syrian forces being trained by the United States.
In mid-June, Nujaba fighters deployed in southeast Syria with trucks armed with heavy machine guns, according to reports on the Nujaba site and Iranian news sites. The group posted photographs online of their convoys on highways near the Iraqi border.
"The Americans and Shi'ite fighters are within artillery range of each other now in Syria," the international security adviser said.
As Iran's goal of forging a land route through Iraq to Syria edges nearer, Shi'ite allies are showing new assertiveness. In early August Kaabi sent a letter, published on Nujaba's website, to the leader of Hezbollah in Lebanon, expressing pan-Shi'ite solidarity.
"Our fate and future are the same," Kaabi said, declaring that they were waging the same war but on "different battlefields." He added: "We announce our complete solidarity and support with your loud cry against the oppressive Zionist regime."
When it comes to defending our country, we will ask nobody for their permission', says Iranian president
09/22/2017
Iran unveiled what it said was a new ballistic missile with range of 2,000km, capable of carrying several warheads, during commemorations for the Iran-Iraq war and days after the US president called Tehran a "corrupt dictatorship".
Videos showed the missile, called the "Quran" being paraded through Tehran.
Iran's president, Hassan Rouhani, earlier told the parade that Iran would not stop boosting its military and Iran had complied with a deal with world powers that ended its nuclear programme in return for sanctions relief.
رونمایی از جدیدترین #موشک_بالستیک ایران با نام "خرمشهر" / برد خرمشهر 2 هزار کیلومتر است
"We will increase our military power as a deterrent. We will strengthen our missile capabilities … We will not seek permission from anyone to defend our country," he said in a speech broadcast on state television.
"All countries in the world supported the nuclear deal in the United Nations General Assembly this year… except the United States and the Zionist regime [Israel]."
The military parades were the start of commemoration for the "Sacred Defence Week", which marks the onset the the Iran-Iraq war 37 years ago.
'Embarrassment'
Rouhani's statement came days after the US president, Donald Trump, called Iran a "murderous regime" and "corrupt dictatorship" during his speech to the UN General Assembly.
Trump called the international nuclear deal an "embarrassment".
"We cannot let a murderous regime continue these destabilising activities while building dangerous missiles and we cannot abide by an agreement if it provides cover for the eventual construction of a nuclear programme," he said.
We will not seek permission from anyone to defend our country

– Hassan Rouhani, Iranian president
"Believe me. It is time for the entire world to join us in demanding that Iran's government end its pursuit of death and destruction.
"Frankly, that deal is an embarrassment to the United States, and I don't think you've heard the last of it."
The Iran nuclear deal has to be recertified by Trump in October.
Rex Tillerson, Trump's secretary of state, has said the nuclear agreement must be changed or the US could not stick with it.
Iran has said its nuclear accord cannot be renegotiated.
Thus far, the UN nuclear watchdog and the US State Department have reported that Tehran has complied with the terms of the nuclear deal. Development of non-nuclear missile systems are not part of the deal.
Iranian-backed Lebanese terror group is an army with 'infantry, rockets, tanks, elite forces,' building tunnels, military bases for future war, according to source
Hezbollah has more than 10,000 fighters in southern Syria ready to confront Israel, a commander for the Iranian-backed Lebanese terror group has said.
"Hezbollah has over 10,000 fighters deployed in southern Syria. Hezbollah is an army of infantry, rockets, tanks, elite forces," the Hezbollah officialtold the Middle East Eye this week, amid tensions surrounding the shooting down by the Israeli Air Force on Tuesday of an Iranian-built drone launched by the group as it attempted to cross into airspace.
The commander said the fighters were based in areas surrounding the Golan Heights and that tunnels and military bases were being built for a possible confrontation with Israel
"We are operating as we do in south Lebanon, but of course in a veiled manner," he said.
Speaking of the truce in southern Syria, under the auspices of Russia and the United Nations, the commander said that the "de-escalation plan is better for us. We are working with more freedom, there are no more bombings."
The commander said that the next war with Israel may start from Syria but "what really matters is where will it end, will it be in Netanya, Haifa or Kiryat Shmona?"
On Tuesday, Israel used a Patriot missile to shoot down the drone launched by Hezbollah and scrambled fighter jets to the area where the device was set to cross into Israeli airspace, but ultimately did not need to use them as the interceptor missile was able to destroy the target.
The Patriot interceptor missile was launched from a military installation in northern Israel, near the city of Safed.
After the drone breached the "Bravo line" that marks the Syrian border and entered the demilitarized zone — but not Israeli airspace — the IDF "decided to intercept it," army spokesperson Lt. Col. Yonatan Conricus said Tuesday.
In a statement, the IDF said it "will not allow any infiltration or approach toward the Golan Heights area by terrorist figures from Iranian forces, Hezbollah, Shiite militias or Islamic Jihad."
According to Conricus, the air force monitored the unmanned aerial vehicle from its take-off at Damascus airport to the demilitarized zone that separates the Israeli and Syrian Golan Heights.
"We monitor everything that flies toward the State of Israel and follow it closely for any potential threat," he said.
Conricus said Military Intelligence was able to identify the drone as Iranian-built and Hezbollah-launched based on the army's arrays of sensors in the area and its years of experience monitoring the group.
The spokesperson said the drone appeared to be performing reconnaissance mission in the area. It was not immediately clear if the drone was armed.
Shortly after the incident, Defense Minister Avigdor Liberman warned that any country or terrorist group that threatens Israel will "pay a dear price, very dear."
The debris from the drone landed near the Syrian city of Quneitra so the IDF was not able to recover it, he said.
The Patriot missile system was designed by the United States to intercept incoming missiles and aircraft. It has been deployed in Israel since the 1990s, but first saw anti-aircraft combat during the 2014 Gaza war, when a battery shot down an unmanned Hamas aircraft over the port of Ashdod.
Israel has long been concerned by its nemesis Iran's ongoing efforts to establish itself in southern Syria, near the Golan Heights.
Jerusalem fears that the Iranian presence in that area would serve as a springboard for terrorist groups to attack Israel in the future.
Prime Minister Benjamin Netanyahu has reportedly been negotiating with his counterparts in the United States and Russia to establish an Iran-free area around surrounding the border, but to no avail yet.
Earlier this month, tens of thousands of Israeli soldiers participated in the largest military drill since 1998, simulating war with Hezbollah for 10 days.
The exercised was named "Or HaDagan" after Meir Dagan, a former Mossad chief and IDF general who died last year.
Israel last fought a full-scare war with Hezbollah in 2006's Second Lebanon War, and tensions have remained high even as the northern border has remained relatively quiet since.
This exercise was touted as a chance to practice failures or military shortcomings exposed during the war.
Led by Hassan Nasrallah, Hezbollah is believed to have an arsenal of between 100,000 and 150,000 short-, medium- and long-range missiles and a fighting force of some 50,000 soldiers, including reservists.
While Israeli military officers often discuss a future conflict with the terrorist group as a matter of "when, not if," the assessment of the IDF is that Hezbollah is not currently interested in renewed warfare with Israel at present, due to its active involvement in the Syrian civil war, which have caused it significant strategic problems.
 The Iranian president took the floor at the United Nations General Assembly's 72nd session minutes after Trump announced he had made up his mind about the much-contested nuclear deal.
The president of Iran responded to fighting words from US President Donald Trump at the UN General Assembly on Wednesday, warning the American administration that its effort to undermine its 2015 nuclear deal with world powers would only hurt US credibility on the world stage.
Hassan Rouhani characterized Trump's speech the day before– in which the US president referred to Iran's government as a murderous, rogue regime– as "ignorant, absurd and hateful rhetoric," "ridiculously baseless," and unfit to be heard at the august United Nations. And he said that Iran would respond forcefully if the US left the accord.
"Just imagine for a minute how the Middle East would look had the JCPOA not been concluded," Rouhani asked. "Imagine that along with civil wars, Takfiri terror, humanitarian nightmares, and complex sociopolitical crises in West Asia, that there was a manufactured nuclear crisis. How would we all fare?"
"I declare before you that the Islamic Republic of Iran will not be the first country to violate the agreement," he continued, "but it will respond decisively and resolutely to its violation by any party. It will be a great pity if this agreement were to be destroyed by 'rogue' newcomers to the world of politics: the world will have lost a great opportunity."
Rouhani several times referred to the Israeli government as a "rogue Zionist regime," and claimed that the Jewish state "threatens regional and global security with its nuclear arsenal." It is "audacious," he said, for such a state to preach to the world on the need for nuclear non-proliferation.
"Throughout its history, Iran has been the bastion of tolerance for various religions and ethnicities," Rouhani said. "We are the same people who rescued the Jews from Babylonian servitude; opened our arms to welcome Armenian Christians in our midst, and created the 'Iranian cultural continent' with a unique mix of diverse religions and ethnicities."
"I represent the same Iran that has historically assisted the oppressed: centuries ago, we supported the rights of the Jewish people and today we insist on the restoration of the rights of the Palestinian people," he added.
One day before, in his first speech to the UN body, Trump lambasted Iran as a top global threat and characterized its nuclear agreement with world powers– formally known as the Joint Comprehensive Plan of Action– as an "embarrassment" to the United States.
"The Iranian government masks a corrupt dictatorship behind the false guise of a democracy," Trump said, characterizing the Islamic Republic as an "economically depleted" nation whose main exports are "violence, bloodshed and chaos."
Iran's Rouhani defends nuclear deal in election debate (credit: REUTERS)
The nuclear deal brokered by the Obama administration is "an embarrassment to the United States, and I don't think you've heard the last of it, believe me," Trump continued. "We cannot abide by an agreement if it provides cover for the eventual construction of a nuclear program​."​
"It is time for the entire world to insist the Iranian government end its pursuit of death and destruction," he added.
In recent days, the president has repeatedly suggested he is prepared to alter US engagement in the nuclear accord– possibly by decertifying Iran's compliance to the deal under US law next month, a move which would allow the US to stay within the JCPOA whilst kicking off an internal congressional debate over its merits.
On Wednesday, he told reporters that he had already decided how to proceed.
"I have decided," he said, sat alongside Palestinian President Mahmoud Abbas. "I'll let you know what the decision is."
Trump met on Monday with Prime Minister Benjamin Netanyahu to discuss a path forward with Iran. Speaking with reporters after their meeting, Netanyahu said that the Americans are looking for ways to fix the agreement, and that his government offered them concrete proposals to consider.
In his own speech, Netanyahu praised the Trump administration's position and called on world powers to "fix or nix" the flawed accord.
UNITED NATIONS (Reuters) – Egyptian President Abdel Fattah al-Sisi urged Palestinians to overcome their differences and be ready to co-exist with each other and with Israelis in safety and security.
09/19/2017′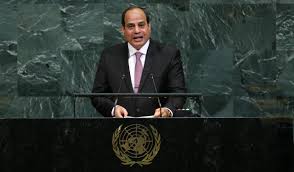 "I tell the Palestinian people it's extremely important … to overcome the differences and not to lose opportunities and to be ready to accept co-existence with the other, with Israelis in safety and security," Sisi told the annual U.N. General Assembly gathering of world leaders in New York.
Following Egyptian-mediated reconciliation talks with Palestinian President Mahmoud Abbas' Western-backed Fatah faction, Islamist Hamas said on Sunday it would dissolve its "administrative committee" to enable Abbas' administration to retake control in the Gaza Strip.
Hamas urged Abbas on Tuesday to respond by ending his sanctions on the impoverished enclave.
Addressing the Israelis, Sisi said: "We have an excellent experience in Egypt in peace with you for longer than 40 years."
"We can repeat this experience and this excellent step once again – the peace and security of the Israeli citizens together with the peace and security of the Palestinian citizens," Sisi told the 193-member General Assembly to a round of applause.
Israel and Egypt signed a 1979 treaty that began with overtures toward peace in 1977.
Qatar's Emir Sheikh Tamim bin Hamad al-Thani also appealed on Tuesday, during his speech to the General Assembly, for the Palestinians "to complete national reconciliation and unify positions and words in confronting the dangers and challenges facing the Palestinian cause and the future of the Palestinian people."
Following attempts to prevent Iranian militias from joining in Syria and Iraq, US military forces are evacuating a base in the region, thus allowing Iranian control in the region.
09/19/2017
Although US President Donald Trump spoke earlier against Iran, US special forces evacuated their military base in southeastern Syria, thus allowing Iranian militias to take control of the region.
The decision to leave the Al-Zaqaf base, which sits on the border between Syria and Iraq, brings an end to the US effort to prevent Iranian militias from settling in the region. Even earlier, US forces failed to prevent Assad's military and Hezbollah from crossing the Euphrates to the east with the help of a Russian backed pontoon bridge.
As reported last week by JOL, Russia and the US rejected Israel's request to forbid Iranian militias to settle closer than 60 kilometers (37 miles) from Israel's border and instead agreed that the militias could be as close as 5 kilometers (3 miles) away from Israel.
Iran's effort to strengthen its influence in the Middle East continues, especially in Syria and Lebanon.